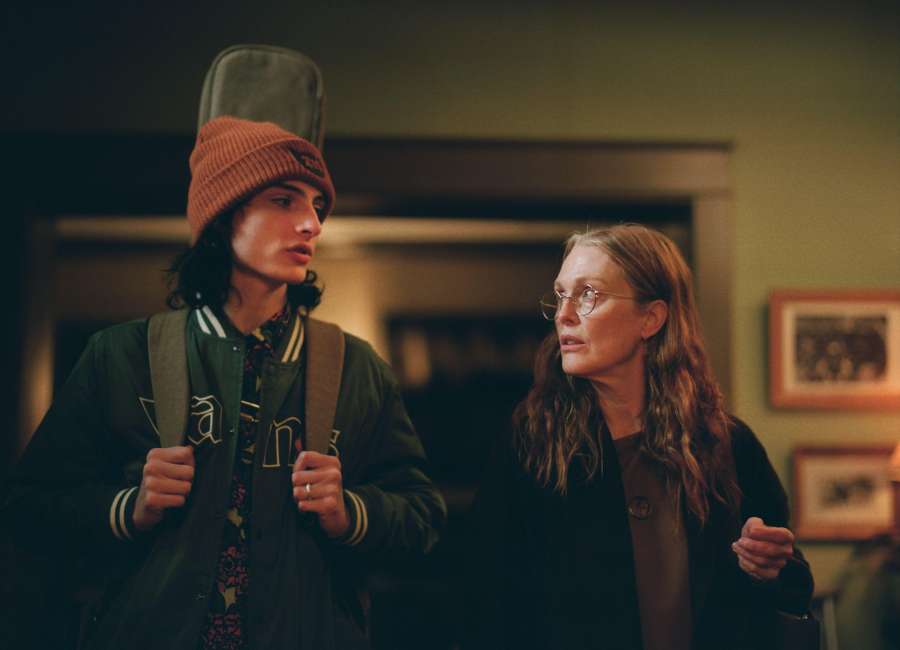 Review By: Jonathan W. Hickman
Film Details:
Director: Jesse Eisenberg
Cast: Julianne Moore, Finn Wolfhard, Bill Bryk, Jay O. Sanders, and Alisha Boe
MPAA Rating: R
Running Time: 1 hour, 28 minutes
In theatrical release
With "When You Finish Saving the World," writer/director Jesse Eisenberg pens a story about shallow characters that think they are the deepest people in every room they inhabit. They are shallow but have something essential to contribute.
Julianne Moore and "Stranger Things" star Finn Wolfhard play mother and son, Evelyn and Ziggy Katz. She is consumed by her work running a shelter for abused women. He spends most of his time isolated in his bedroom, composing music for his 20 thousand followers on social media. They are dismissive of each other's pursuits, and both have no time for the family patriarch, a lonely academic named Roger (Jay O. Sanders).
It would be easy to paint Evelyn as a saint. After all, her job provides a vital community service, and the pay isn't likely very high. But the reward she receives from doing good is a kind of drug, and her addiction to helping others makes her oblivious to the important needs of her family. But there's time to fix all that while keeping the shelter operating at peak capacity.
Ziggy's obsessive behavior is understandable. He's in high school, doesn't yet drive, and has problems connecting with people outside the digital realm. When he attends a club gathering of politically active students, he realizes that his music and understanding of the world may be too limited. It's the limitation of youth, and his mind is still very much a sponge, begging to soak up a universe of precious knowledge.
The thing that separates Ziggy from Evelyn, besides maturity, is that Ziggy is honest. Frankly, I'd say he's the most honest character in the film. Part of that honesty is his innocence, and that quality is on the brink of being lost forever.
Watching youngsters read poems and give speeches at the club impacts the impressionable boy. Ziggy is growing, but that process isn't immediate.
His quest to become a social media influencer is transparent; he doesn't hide it. And when he admits his manipulation to a sensitive and well-informed girl named Lila (Alisha Boe), Ziggy expects her to recognize the dual value in putting her social justice message to song for his followers. It's not a popular thing to articulate, but there are riches in trying to save the world. And you can become famous doing it too.
Wolfhard's performance includes singing several songs. And his voice, reminiscent of the strained vocals of a young Kurt Cobain, conveys sincerity even as his character struggles to comprehend the meaning of the words he mouths.
I won't spoil Lila's response to Ziggy's heartfelt confession, but Eisenberg's finely crafted script lets no one off the hook. His movie contains a salient honesty that I found refreshing and uncluttered, even if my read of the characters might run somewhat counter to Eisenberg's intentions.
Emma Stone (the Oscar-winning actress) serves as a producer through the production company Fruit Tree, which she formed with her husband, director Dave McCary (see 2017's "Brigsby Bear"). Stone worked with Eisenberg on the "Zombieland" films that were shot here in Coweta County. "Saving the World" demonstrates that the Stone/Eisenberg connection is a good one. Let's hope their working relationship continues.
The path to Eisenberg's screenplay started with a five-hour radio drama featuring the Katz family released on Audible during the pandemic. That project, which I've not listened to, is reportedly much different than "Saving the World." Starting with an audio production had to have provided Eisenberg with a laboratory to explore ideas that eventually were incorporated into his movie.
What surprised me about this little mother/son drama is its authenticity within the quirky cinematic confines. The characters are prickly and odd and engaging in the way that all good Sundance films always are. The narrative expertly celebrates self-indulgent people who offer society so much while failing to recognize the damaging personal effect of their preoccupations.
Because Evelyn has professionally done so much good, she thinks she has it all figured out until it dawns on her that she's clueless about one of the most personal things in her life—her relationship with her son. If she listens to her heart, this realization will lead to emotional growth.
Eisenberg smartly concludes his first directorial effort with a moment of ambiguity, and it is a valuable epiphany. This technique is common and not always satisfying. But here he's gifted two actors, in Moore and Wolfhard, that convincingly look into each other eyes in a passionate way that tells us that change for their characters is possible. That slight possibility left me with a hopeful feeling.