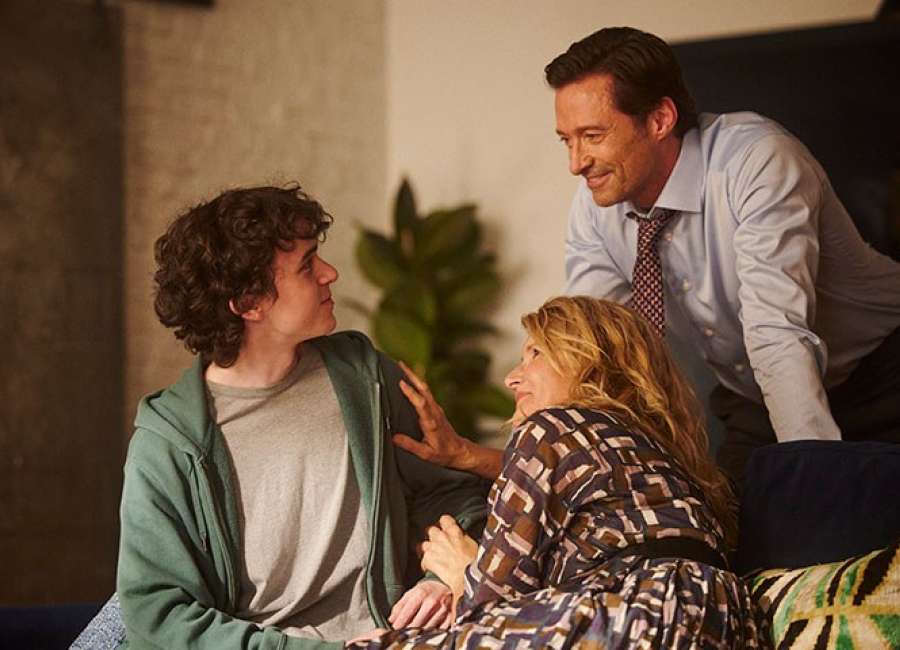 Review By: Jonathan W. Hickman
Director: Florian Zeller
Cast: Hugh Jackman, Laura Dern, Vanessa Kirby, Zen McGrath, and Anthony Hopkins
MPAA Rating: PG-13
Running Time: 2 hours, 3 minutes
Available in theatrical release
Playwright turned director Florian Zeller's "The Son" is marred by a cold, detached, elusive quality. The problematic drama tells the story of one family's struggles with divorce, teenage depression, and regret. It's a familiar and straightforward tale without a standout moment built around a strong central performance that made the filmmaker's "The Father" so remarkable.
In his movie directing debut in 2020, French writer Zeller found Oscar gold by skillfully adapting his play, "The Father." I'll never forget Anthony Hopkins' peerless and brave performance as an older man who can no longer tell the present from the past. The trick in translating the stage elements to the screen had Zeller using his camera to put the viewer in the mind of the unreliable subject. We went on a dark journey into an abyss from which no one returns.
If you want a good cry, watch "The Father." Hopkins is so good in that movie that maybe I overlooked Zeller's arguably clunky transition from directing for the stage to crafting cinematic narratives. The much more conventional "The Son" is a step backward for him. It doesn't possess the same engaging performances or unique perspective that helped make his award-winner special.
"The Son" is a prequel to "The Father." The two stories are part of a well-traveled play trilogy, including "The Mother." Like fellow playwright turned film director Martin McDonagh (see this year's "The Banshees of Inisherin"), Zeller's first movie showed that he could make the jump to film effectively. But with his second attempt, "The Son," maybe he's got more to learn about the visual medium.
In "The Son," Hugh Jackman plays Peter, a confident, politically connected attorney once married to Kate (Laura Dern). They have a 17-year-old son named Nicholas (Zen McGrath). Two years ago, Peter left Kate for a younger woman named Beth (Vanessa Kirby), with whom he lives in a trendy inner-city apartment with a newborn baby.
Peter's comfortable wealth and career success provide him with the resources to tackle almost any problem. But when Nicholas has trouble at school and asks to move in with him and Beth, Peter's control is undermined. And remembrances from his vacant childhood haunt him.
Seeking solutions, Peter finds his son a therapist, reasons with Beth, and allows the boy to move in. "He'll live in the back room," he reassures Beth. His comforting tone doesn't have the same confidence he exhibits in his business dealings. And there's a creeping sense of guilt lurking.
In the film's most effective sequence, Peter visits his father (played by Anthony Hopkins). He sees the old-world powerbroker in his native habitat, surrounded by dark wood and servants at his beck and call. But there's not a lot of love there and nary a father/son warmth that Peter desperately needs.
Hopkins gives a towering supporting turn here, but it is buried within a movie with little to recommend. Jackman is solid if also undermined by Zeller's taciturn choices that have the camera linger on Peter's blank stare. It's meant to tell the viewer something profound, to convey significant longing, but all I got was a man lost in thought, bothered, but more adrift than contemplative. Peter seems inconvenienced and little else.
Dern gets the thankless role of the suffering ex-wife. In one wince-inducing scene, Kate professes her love for Peter, despite his behavior that makes him unworthy of her affection. Like so much in the film, conversations feel artificial to the point of being flat, tarnished by wooden dialogue that few actors could make natural.
The aspect of teenage depression should have been given more focus. McGrath might have found a greater dimension to his character had the script explored Nicholas' confused point of view. But Zeller is telling the other son's story here. And a late attempt to use the gimmicks of "The Father" feels wholly tacked on.
The shame is that Zeller cannot use the camera and his talented cast, and Jackman in particular, to put us into the place of his protagonist. While Peter is surface with everyone in his public persona, we don't see the real man in private. A barrier exists between Peter and the viewer that's impossible to penetrate.
If there is a saving grace to "The Son," it's that it is an essentially uncomplicated narrative, but one that still clocks in at over 2 hours of running time. Viewers that may have been frustrated by "The Father's" complex structure will find "The Son" less of a labor.
But by relying on unadventurous story-telling techniques, Zeller leaves us with little to latch onto visually. And because his screenplay is also direct and uncomplicated, there's nothing to distinguish it from other family dramas, many of which get serialized on television.
The utterly televisual characteristics of the staid "The Son" hold it back. Hopefully, Zeller's next project will be more ambitious and capture the magic he mustered in his first effort.