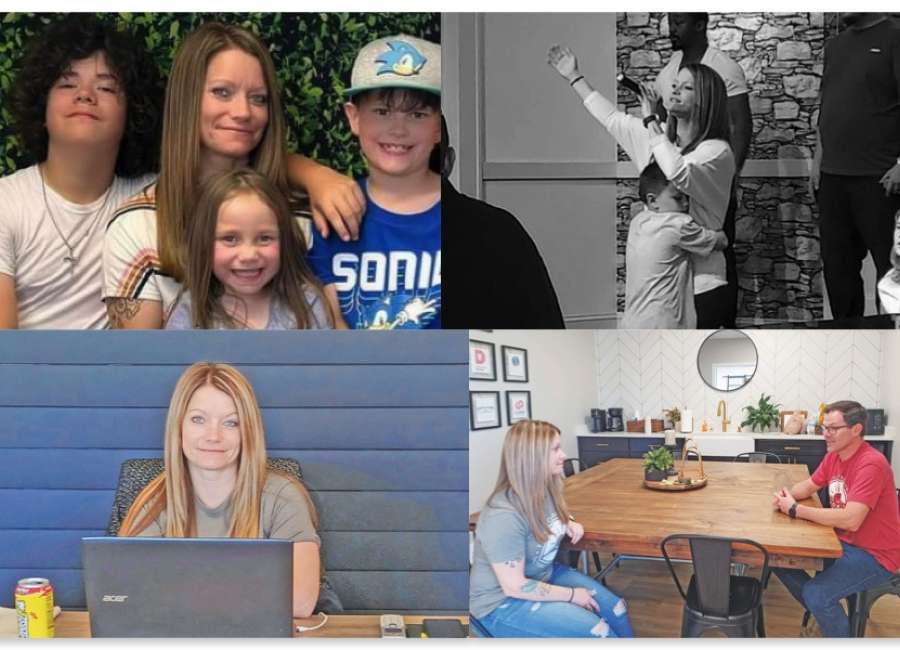 By Laura Camper / laura@newnan.com
Katie McCauley, a new employee at Coweta FORCE, is hoping to become a productive member of society, she said.
Not too long ago, McCauley, 35, was separated from her children. A convicted felon, she was relying on the substances she used to get her through the day. She'd been in jail for burglary, theft and drug charges in relation to her substance abuse. She'd signed over custody of her three children to a friend.
She was defeated, resigned to never being able to kick the habit that was slowly killing her.
"I tried everything from rehab to detox to being in jail," McCauley said. "Nothing ever worked for me."
The addiction problem
McCauley is not alone. According to the National Institute of Drug Addiction, in 2020, more than 40 million Americans had at least one substance use disorder. It's a problem that has long reaching effects in this country.
"Some research shows that an estimated 65 percent of the U.S. prison population has an active SUD," the National Institute of Drug Addiction website notes. "Another 20 percent percent did not meet the official criteria for an SUD, but were under the influence of drugs or alcohol at the time of their crime."
People in recovery are at risk for relapse for years, possibly their whole lives, because of brain changes that their drug use caused over time. The drugs damage a person's self control and ability to resist the urge to use drugs, according to the institute.
Addiction is not something that is predictable. Many things can factor into whether a person becomes addicted including environment, genes and developmental issues.
But it is treatable. NIAD refers to substance addiction as a chronic disease that has to be managed like diabetes, asthma or heart disease.
The other side
What changed things for McCauley, she said, was that she applied for and was accepted to the Family Treatment Court, and she found an improved relationship with God.
Once accepted to the Family Treatment Court, she was mandated, among other things, to attend self-help meetings. That's when McCauley found Coweta FORCE. She connected with a peer coach there and started coming on a regular basis.
At the same time, McCauley started to see her children again and tried to rebuild a relationship with them, she said.
"My middle son was not even a year old when I signed over custody, so when he first started coming around me, he didn't even know who I was," she said. "He was calling another woman Mama. So it definitely took some time to rebuild that relationship. And my daughter was the same as my youngest son."
Her oldest, though, knew her and wanted to go home with her.
"It was very hard," she said. "I'm trying to recover and having to deal with that, the consequences of my past actions. It was very tough, very tough."
Also in the early part of her recovery, maybe six weeks in, her daughter's father overdosed, McCauley said.
"I was trying to urge him to get clean as well," she said. "So, when I found out he overdosed, it rocked my world and crushed me."
It was the 12-step program and God that got her through, McCauley said.
God and the 12 steps
Twelve-step programs, by their nature, teach a person to rely on a higher power, said Karen Turley, pastoral care counselor for Crossroads Church.
"I would say the cornerstone of the 12-step program is a relationship with God," Turley said.
Even in a secular setting, the programs start talking about a higher power in the second step, she said.
"It helps people," Turley said. "They're starting off trying to figure out if there's something out there more powerful than their addiction."
The shame that comes with addiction can keep them from coming to terms with their past. But to know that there is a God who created them and loves them unconditionally is something that can help, she said.
McCauley agreed. A lifelong Christian, she had believed, but never developed a relationship with God. The 12-step program introduced her to a loving, powerful, caring God. That was quite different from what she had been taught before, McCauley said.
"Those two things, the 12 steps and my relationship with God, are what saved me," she said.
McCauley now attends Change Church in Grantville. The church is welcoming to those in recovery, and the head pastor can empathize with their struggle.
Pastor T.J. Boyd first came to a church in 2006 after he was released from jail. He narrowly avoided overdosing when he was arrested, Boyd said. He swallowed 6.3 grams of methamphetamine rather than get caught with it by the police. He didn't tell law enforcement and dealt with the consequences in a cell.
"I prayed to a God I didn't know, and I lived," Boyd said.
When he was released, he went to church. The pastor then took Boyd under his wing, and Boyd does the same to the people looking for recovery at his church.
"He didn't bring me through that for nothing," Boyd said of God. "I felt like it was my purpose. … He's called me specifically to bring people out of that lifestyle."
Finding purpose
Hank Arnold was also an inspiration to McCauley, she said.
"To see someone like Hank, who's been where I've been and came from the same background to be such an advocate for recovery and shine so much light and hope, there's a better life, a better way, helped me tremendously," she said. "Because for a very long time I felt like I was destined to be a failure."
Now sober for three years and eight months, McCauley is working to help people who are living the nightmare she once was caught in. Since October, she has been working at Coweta FORCE. She greets people at the front desk or talks to people one-on-one.
"A lot of people just need somebody to listen because a lot of times when we're using substances and we're living that life, we don't feel heard or seen, and we're just kind of shoved off to the side," McCauley said. "I just meet 'em where they are and meet 'em with love."
One of the things she does that she is so excited about is working with Coweta County inmates.
"I've been behind the walls of jail and not had anybody to call and nobody to answer the phone and to feel so alone and helpless and isolated," she said. "So just to be somebody on the other end, somebody on the outside to give those that are behind bars a little bit of hope and a little bit of encouragement gives me so much purpose."
Now, she wants the people who come to Coweta FORCE to know that they're not alone. She can truly empathize with them.
"Those that are struggling with substances currently, I am them; I was them; we are the same," McCauley said. "After I got clean, I knew this was my passion."
She will have an interview on Jan. 5. Then the academy for Certified Addiction Recovery Empowerment Specialist through the Georgia Council of Recovery will begin on Feb. 5. It's a 40-hour training that will certify her to be a peer coach.
McCauley is continually amazed by her recovery.
"Only God could take a five-time convicted felon and put her singing on the praise team at church," she said.
Photos by Laura Camper
Katie McCauley and Hank Arnold discuss a recent event at Coweta FORCE.
Katie McCauley started working at Coweta FORCE in October. She is planning to train to be a peer counselor in February.
Photos Courtesy Katie McCauley
Katie McCauley now sings at her church, Change Church in Grantville. She said that her relationship with God helped her recover from addiction.
Katie McCauley was able to regain full custody of her children, Isaiah, Remy and Ava, after completing the Family Treatment Court program.