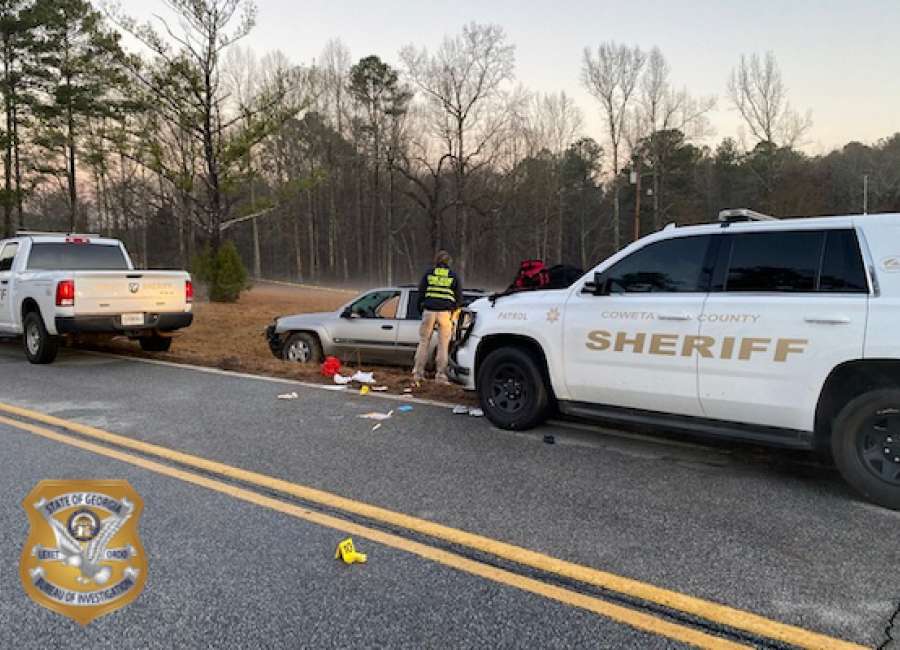 Updated 01/09/23, 5:53 p.m. Original story follows.
The man fatally shot by a Coweta County sheriff's deputy early Monday morning has been identified as Jackie Haynes, 52, of Whitesburg.

According to the GBI, which is investigating the incident, Coweta deputies joined a vehicle pursuit as it entered Coweta County from Whitesburg.
The high-speed chase continued through northwest Coweta County with the driver, identified as Haynes, driving on the wrong side of the road and attempting to strike patrol vehicles, authorities said.
A PIT maneuver was completed successfully on Haynes' SUV, which came to rest on Handy Road in Coweta County. Deputies approached the stopped SUV and attempted to take Haynes into custody, GBI officials said in a statement issued late Monday afternoon.
According to the release, Haynes refused to get out of his SUV, and an attempt to taser him was ineffective. Deputies then shot a pepperball gun into the vehicle.
"At this time, Haynes attempted to drive away from the deputies," the release stated. "As Haynes drove toward a Coweta County Sheriff's Office deputy, another deputy shot into the SUV, hitting Haynes multiple times."
Haynes was transported to Piedmont Newnan Hospital, where he later died.
An autopsy will be conducted by the GBI Medical Examiner's Office.
After the GBI investigation is completed, the case file will be forwarded to the Coweta Judicial Circuit District Attorney's Office for review.
Officials say this is the fifth officer-involved shooting the GBI has been requested to investigate in 2023.
•••
Original story
A chase that started in Whitesburg early Monday morning ended in a fatal officer-involved shooting in Newnan.

According to authorities, the Coweta County Sheriff's Office was alerted to a vehicle pursuit entering Coweta County shortly after 4 a.m., and CCSO patrol units joined the pursuit on west Highway 16 at the county line.
As deputies entered the chase, the suspect vehicle continued to travel roads in western Coweta at high rates of speed and on the wrong side of the roadway, according to CCSO Public Information Officer Toby Nix.
Nix said deputies attempted multiple PIT maneuvers on the vehicle before bringing it to a stop, and deputies then moved in on foot to remove the driver.
"With deputies on three sides of the vehicle, the driver accelerated back toward the roadway, at which time deadly force was used," Nix said. "First aid was rendered on scene, and the male was transported to a local hospital, where he was pronounced dead."
The suspect's name has not yet been released, and the GBI has taken over the investigation.
(The Newnan Times-Herald will update this story as more information becomes available.)