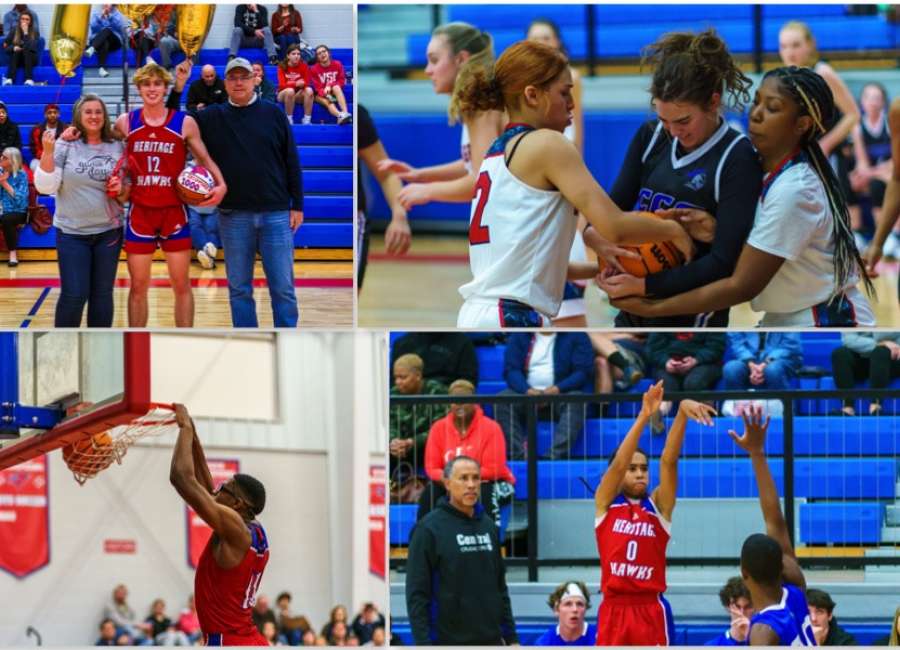 By Laci Johnson / sports@newnan.com
At the Heritage School, joining the 1,000-point club has become a rite of passage.
On Tuesday, the fourth players from the boys program attained that plateau in the Heritage School's 73-44 over the Central Christian Crusaders.
The Central Christian Lady Crusaders opened the night with a 42-27 win over Heritage. Riley Clark led Central Christian with 16 points, while Chloe Earle contributed eight. It was an incredible overall defensive effort from the Lady Crusaders.
Even during the girls contest, anticipation wafted throughout the gym for Skidmore's opportunity to make history. He came into the game needing only 18 points to break the barrier.
Skidmore has played for the Hawks since he joined the Heritage community in ninth grade. Before his time at Heritage, he played at Madras Middle School. With 3:30 remaining in the third quarter, Max made his 1,000th point.
The thousand-point club at Heritage only includes three other Athletes: Lance Terry, who currently plays for Georgia Tech; Shaun Nichols, who plays for Lagrange College; and Ebenezer Dowuona, who plays for North Carolina State.
A thousand high school career points are momentous accomplishments in basketball. Skidmore is an exceptional player who is projected to join those other players by playing college basketball one day.
Overall, the Hawks came out with guns ablaze against Central Christian. The Crusaders have a strong team, but Heritage rose to the occasion and dominated. The game had a final score of 73-44, and Heritage battled throughout the game.
Skidmore led the Hawks with 22, while Mason Bolinger had a strong game with 10 points and nine rebounds.
Both Hawks teams will play in the Dream Challenge Tournament on Monday, Jan. 16. Central Christian will be at home on Tuesday night against Arlington Christian.
Photos by Chris Martin
Junior Max Skidmore (No. 12) with his parents after his 1,000 point on Tuesday night.
Senior Demetrius Gibson (No. 13) slams one home with authority in the Hawks win over Central Christian.
Hawks guard Kevin Savage shoots a jumper right in front of Central Christian Head Coach John White.
Riley Clark led the Lady Crusaders with 16 points in their win over Heritage.
Heritage's Jazlyn Mena (White No. 2) and Reniya Lakes (White No. 5) play takeaway with Central Christian's Chloe Earle (Black No. 15) in the lane.