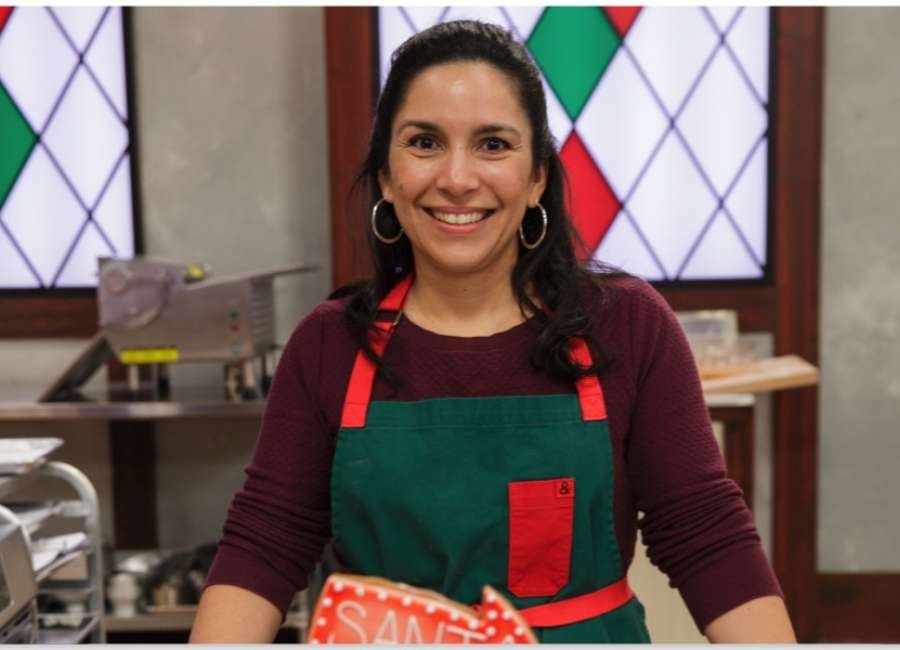 By Laura Camper / laura@newnan.com
A local baker is a Christmas Cookie Champion.
So say the hosts of the Christmas Cookie Challenge on Food Network.
Wendy Alba, 41, founder and owner of Wendy's Cookie Studio, won the title and a $10,000 prize on her episode of the show, Christmas Behind the Scenes – the eighth and final episode of the 2022 season.
"It was so fun," Alba said. "I would do it again in a heartbeat."
When she won, she said, she was honored and shocked.
"I know I was shocked because I couldn't say anything," Alba said with a laugh.
The show filmed in one day on April 1, 2022, but Alba couldn't tell anyone about it until shortly before it aired in December. Even then, she couldn't tell anyone that she had won until after it aired. The only people who knew were her family, she said.
Alba said she has been baking cookies since she was a little girl. Her mother wasn't interested in baking and gladly turned over the kitchen to her daughter to make sweet treats, Alba said.
"I would make brownies and chocolate chip cookies, which are my favorite," she said.
It wasn't until much later that she started making sugar cookies. Soon after finding a recipe she liked and doing some training with a friend who decorated cookies, she started her business selling cookies. She started first as Wendy's Creative Whims and then rebranded as Wendy's Cookie Studio about six months later when she realized people weren't recognizing her business as a bakery.
The business was practical for her as a mother of five, but also a dream come true. She needed to have a job she could do around her children's schedule. She had majored in business in college, so owning her own business was always a goal of hers, Alba said.
One of the ways that she advertises her business is through social media, and that's how a talent scout found her. The scout contacted Alba through her Instagram page and asked her to apply for the show. She's not sure what exactly caught the attention of the scout, but she believes the videos she had been doing helped, Alba said.
Regardless, they didn't have to ask her twice.
"I love competing," Alba said. "Being able to use my cooking and baking and decorating skills and being able to transfer that into the intensity of the TV kitchen was really a great experience."
It's not her first experience with baking competitions. She has competed at CookieCon since she found out they had competitions at the cookie art convention.
"One of my very first entries won third place," Alba said.
The application process for the Christmas Cookie Challenge ended up being lengthy, she said. Two applications – a short version and a long version – pictures of her cookies, filming a sample video and a Zoom interview with the producers were all part of the process, Alba said.
"From there, it kind of goes silent for a little bit while they are making all their decisions," she said. "Then, you get a call and they want you out at the studio in about three weeks or so."
So she made the trip to Knoxville, Tennessee, at the end of March, Alba said. At the same time she was packing to go to the show, she was getting ready for spring break, she said with a laugh.
"It wasn't that hard to get into (the Christmas spirit) when you're there," Alba said. "But, it was kind of funny trying to pack. I had sweaters and then my bathing suit and flip flops."
Since the show aired, she has had new people and companies order from her, Alba said. But the experience was reward enough, she said.
"I feel very blessed that they found me and sought me out," Alba said.
Alba was the second local cookie maker to compete on the show in 2022. Meredyth Rotlisberger of Sweet Sugar Laine was in an episode of the show that aired in November.