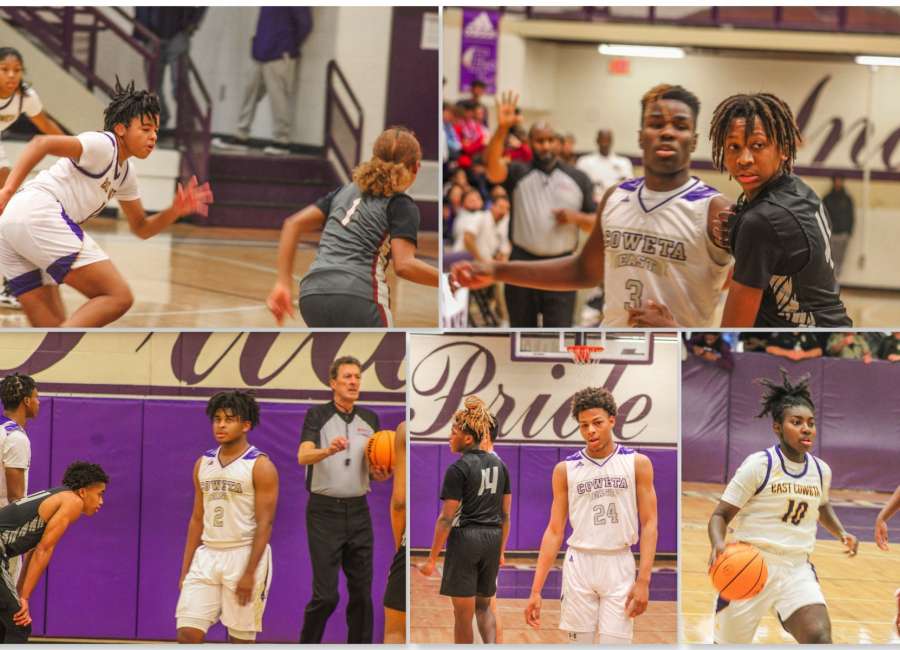 The East Coweta Indians hosted the Pebblebrook Falcons Tuesday night at the John Thrower Gymnasium.

It was their first home region game of the 2023 season, and their opponent was one of the best in the state. After leading early, the Indians fell 66-46 to the Falcons.
Pebblebrook came into the game with a deceiving 10-6 record. They were ranked sixth in the state with wins against the second-ranked Grayson Rams and fourth-ranked McEachern Indians. Of their six losses, four have come from top out-of-state competition.
Both teams came into the Tuesday night game after emotional wins from three nights earlier. East Coweta defeated rival Newnan, 53-46, while the Falcons defeated Cannon High School from North Carolina in triple overtime.
East Coweta appeared to be fresh from the start. Austen Colton started the game with a deep three-pointer, and Carby Martin followed with a steal and a fast-break basket for a 5-0 lead.
Martin had success from beyond the three-point line as well. In the second quarter, he found nothing but net on a three-ball that gave the Indians a 21-18 lead.
The Falcons began to pull away in the third quarter. The Indians stayed in the game when they got a dunk from Colt Donley on a give-and-go play. Donley passed the ball to sophomore forward Sam Mead, who passed back to Donley who cut inside a defender and slammed a dunk home.
While competition in the Indians' region will be intense, they can look at the positives from their first two games.
Last Friday, they trailed at Carrollton Friday night by 17 going to the fourth quarter and outscored the Trojans 27-12 over the last eight minutes to almost pull out a win before falling by two. Against Pebblebrook, they played three solid quarters.
Martin checked in with a double-double in the game; he had 13 points and 10 rebounds. The senior combination of Donley and Colton each contributed eight.
The Lady Indians fell to Pebblebrook in the first game of the evening. Team leaders included Lana Revere, who had three steals, and freshman Ariana Simmons with five points and four rebounds.
The Indians' upcoming schedule includes the Hampton Hornets at home on Saturday night. The boys team will then go on the road to play Fulton Leadership Academy on Monday afternoon and Paideia Tuesday.
After the Saturday game against Hampton, the Lady Indians host Griffin on Wednesday.