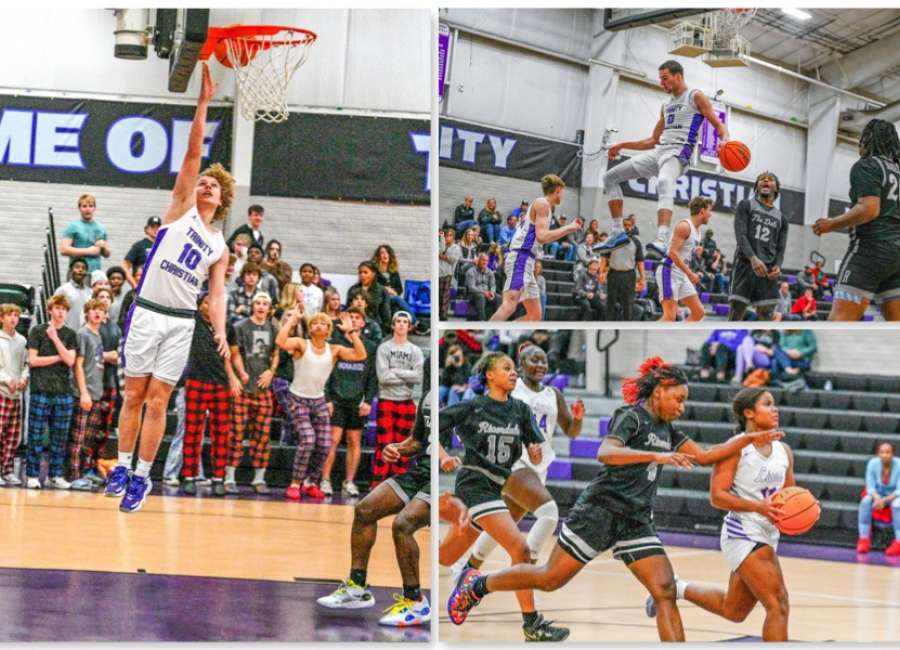 One of the benefits of moving up to region 4-4A has been the opportunity to play new opponents and fresh faces.
On Tuesday, Trinity Christian welcomed the Riverdale Raiders for the first time, and it was a fantastic night for the home teams.

The Lady Lions remained the only unbeaten team in the region. They continue to jell under Head Coach Joe Daniels' leadership and have advanced from a good team at the start of the season to a group that has formed into a squad poised for a deep postseason run.
Their team is a collection of talent that is balanced and complements each of the player's styles. Senior guard Madison Morge is a leader and can score on multiple levels. Point guard Julia Susla can create and score off the dribble with the best, and post player Aliyah Shaffer is a natural inside and moves with or without the basket well.
Kyva Holloway can do a little bit of everything; she is a lockdown defender and can score and rebound.
The collection of talent has fed off each other and is a true example of how a collection of talented players go to a higher level when they play as a team.
Morge led the Lady Lions with 14, followed by Susla with 11, Shaffer added 10, Holloway with eight, and SeAnna Johnson put up seven.
In the boys game, Head Coach Will De La Cruz' Lions overwhelmed the Raiders early to take a 15-0 lead to start the game and never looked back on the way to a 57-41 win. Sam Smith and Alex Pissis rained threes in the game's opening moments to push the Lions out to a big lead.
It was a breakout night for Pissis, who contributed three-pointers, dunks and layups to a game-high 28 points. Smith and Ernesto Almonte also finished in double figures; Smith with 11 and Almonte with ten.
It was the Lions' second region win in a row; they defeated Whitewater last Saturday behind 27 points from Justine de la Cruz and 22 from Pissis.
After their Riverdale win, the Lions are 3-2 in the region, which securely put them in fourth place in the standings.
The Lions will be at home on Saturday for another region contest against LaGrange and then travel to LaGrange on Tuesday night.
Photos by Tammy McCracken
Trinity Christian's Kyva Holloway (No. 15) puts pressure on Riverdale's guard.
SeAnna Johnson (No. 24) used her speed on the fast break to score two of her seven points.
Jon Koger (No. 10) lays the ball in after a Riverdale turnover.
Alex Pissis (No. 0) extends his wings after skying upward for a dunk.
Ernesto Almonte (No. 5) had 10 points in the Lions region win on Tuesday night.
Kate Ohmseider (No. 23) with a free throw late in the Lady Lions win.