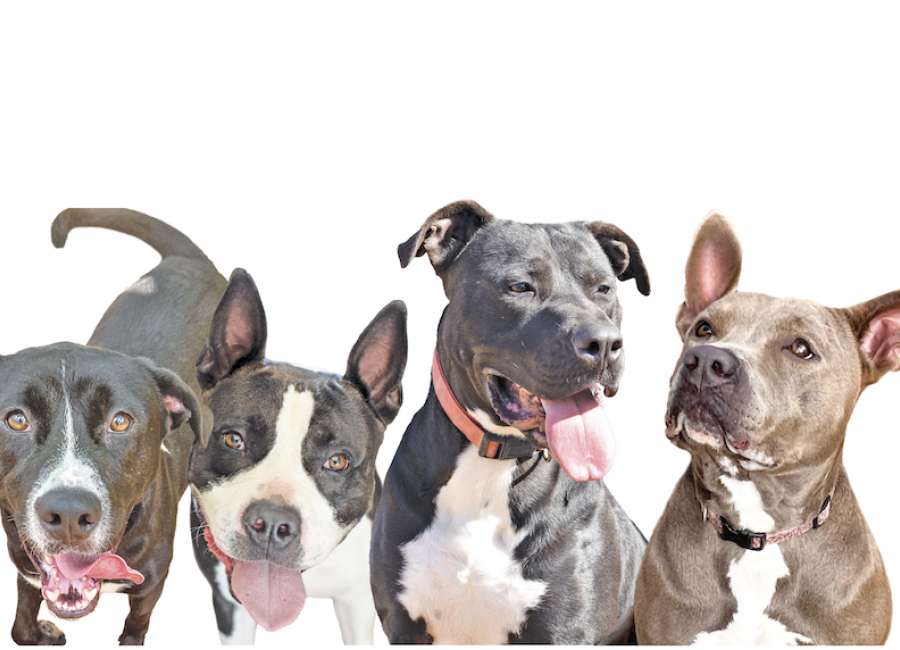 When Laylah came to the Coweta County Animal Shelter last January, she was so severely neglected and malnourished she couldn't even walk.

A year of food, attention and medical care later, the little Staffordshire Bull Terrier with the comically large ears and stumpy legs can run and play normally. She loves people and dogs, has been vaccinated and is heartworm negative.
But Laylah has been waiting for her forever family at the overcrowded shelter for too long. And if no one chooses her by Thursday, Laylah will be euthanized.
Astro is an athletic, happy-go-lucky dog who loves to give kisses and take naps. Kuma is joyful and sweet-natured, and he will play fetch for as long as someone is willing to throw the ball.
Grady is a big, affectionate boy who is extremely intelligent and eager to please, and he takes very good care of his stuffed animal friends.
All three face the same fate as Laylah. So do Tug, Ela, Tommy, Buttercup and Duke – healthy, adoptable dogs who have simply overstayed their welcome at the shelter.
Coweta County Animal Services utilizes euthanasia mostly in cases of very sick or aggressive animals. Even then, a veterinarian's assessment or a bite case typically forces its hand.
"Those are very low numbers," said LaKina Gay, office manager for Coweta County Prison Warden Larry Clifton.
Clifton supervises the shelter, and prison inmates care for the shelter animals.
Gay has been closely involved with the shelter for many years, even before the facility's expansion in 2012. But the shelter's maximum capacity is still only 134 dogs, and as of Friday, 162 dogs were being housed there.
The 10 dogs in immediate danger have been at the shelter – which never was intended to serve as a long-term care facility – the longest, around a year.
"We do any- and everything we can to get an adoptable animal adopted or rescued," Gay said. "Our goal is to get them out. But we're bringing them in faster than we can get them adopted or rescued."
Last year, the shelter brought in 855 dogs and puppies.
"Our guys do everything they can to find the owners before they bring them into the shelter," Gay said. "We knock on doors, look for microchips … anything we can do."
Gay reached out last week via social media, posting photos of each dog and raising awareness about their potential fate on Facebook. Within a half-hour, her post had been shared more than 150 times, and as of Friday, it had been shared 650 times.
"Someone posted 'If Coweta County Animal Services says they are over capacity, we need to get out there and help,'" Gay said. "They know we don't post unless we really and truly have to."
Local rescues like the Newnan-Coweta Humane Society and Hearts 'N Homes Rescue step in when staff has exhausted its resources, holding adoption events, pulling animals, recruiting fosters and sponsors, and volunteering at the facility.
On Saturday, NCHS and Hearts 'N Homes will boost the effort to save Laylah and her friends with an Over Capacity Emergency Adoption Event at the shelter, located at 91 Selt Road in Newnan, from 10 a.m. to 2 p.m.
In addition to volunteers, the rescue organizations are providing a basket of dog items to be raffled off, with adopters automatically entered in the drawing.
Gay said she hopes the event will help expose potential adopters to dogs they never knew they would love.
"These 10 dogs are wonderful dogs, but a lot of people like small dogs and tend to overlook the bigger ones," she said. "Pits get a bad rap, but they are very lovable dogs – they just tend to get passed over. But they deserve to have homes and people to love on them, too."
Gay said she would love for other local rescues to join NCHS and Hearts 'N Homes for the adoption event, and not only to find homes for the 10 dogs in immediate danger but also for the other dogs in the overcrowded shelter.
"Even if we get these 10 out, we're still over capacity," she said. "We really want people to be able to see these dogs in person, to interact with them and to get them out. To open their hearts to a dog that they wouldn't typically want, to find out that they can fall in love with a pit or a lab or a boxer, too."
"These are wonderful dogs," Gay added. "We would love for people to come out Saturday and meet them, and give them good homes."
For more information, call the Coweta County Animal Shelter at 770-254-3735.