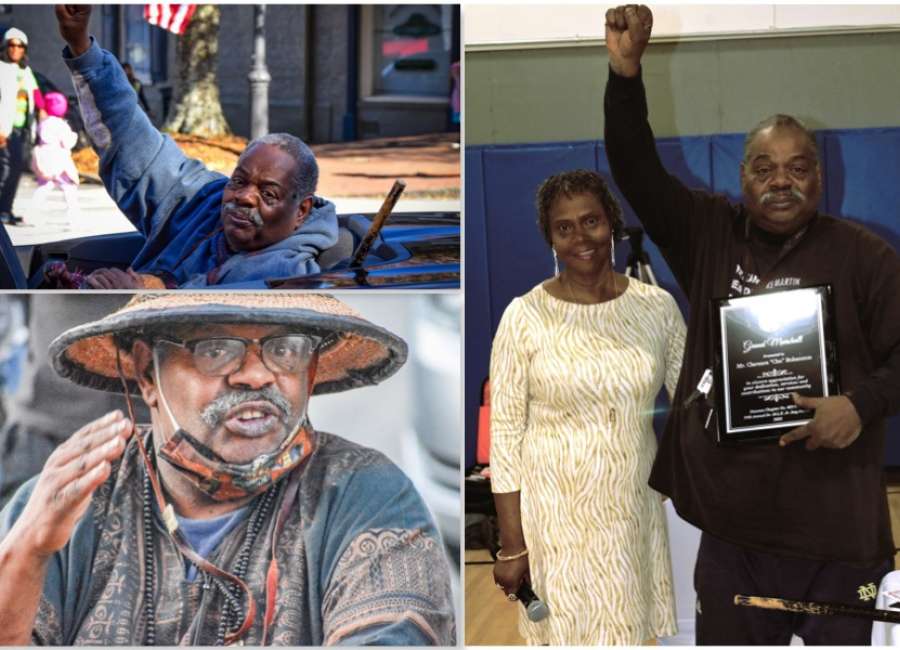 BY CHERI PRUITT-BONNER / cheri@newnan.com
Learning from the leaders
He was recognized by the first African American President, Barack Obama, for serving the Democratic Party.
He's seen and learned from the civil rights legends the late Rev. Hosea Williams and former U.S. Rep. John Lewis. He advocates for his community with United We Stand for Positive Results.
Clarence (C-Bo) Bohannon always thinks about what happens next. At the recent 32nd Annual Dr. Martin Luther King Jr. Commemorative Celebration, he was honored as the grand marshal. Bohannon raised his fist with every mention of his dedication to serving the Coweta community. He is happy to see Newnan residents' appreciation but hungry for more ways to support the community.
The next-day initiative is a term Bohannon learned from Hosea Williams. Civil rights leaders he trained with were the next people to have significant events while attending church the night before.
The last time Bohannon was with Lewis, he said Lewis recounted a meeting with Williams. They held a big rally the previous night and organizers sent Williams and Lewis out the next day.
Bohannon remembers Josephine Rush being honored for serving with the United We Stand for Positive Results. He says she was there during the 1963 March on Washington and met Lewis. Rush helped to desegregate the Newnan hospital and became the first Black person on the city council and the school board.
Bohannon says Rush taught him English at Ruth Hill, the only Black public school at the time.
He also has a plaque for his work with UWSPR, but he laughs at how he has several plaques. He appreciates the gratitude but echoes William's words that there is more work.
"I'm glad to see the first, I'm glad for the celebration, but I'm more interested in the second and the third," Bohannon said.
Who is C-Bo?
Bohannon thinks that people see him as ungrateful or too controversial. He is glad to celebrate commemorations, but likes to look to the future with a "what's next" mentality by using past experiences to serve others.
His mother was a sharecropper, and he is a generation removed. Many of his family members moved to Connecticut, but while visiting one day he realized how few African Americans lived there. He strives to continue to fight as he sees threats of white supremacy mount.
Growing up, Bohannon wanted to be an aspiring Black Panther. He believes a person is the content of the character, not the color of their skin. He said that you couldn't call racism, racism without classism.
Bohannon faces ridicule because of his beliefs. He says people tell him not to say anything or risk offending someone. However, he believes he would rather offend someone, so that they will know the truth in the future. Bohannon has gone into backrooms of elections to see people using the system they legislate. He says they label themselves partisan, but who they vote for and associate with says otherwise.
Bohannon uses his past of alcoholism and addiction to show that anyone can change for the better. His mom explains that God can free him from anything and use his gifts for others. He worked with other recovering addicts and was invited to speak in drug houses.
C-Bo's positive results
Bohannon's work with United We Stand for Positive Results (formerly United We Stand) lays out his inner beliefs and actions for the Newnan community. Bohannon has fought for the equality of local shops and organizations.
The nonprofit organization was co-founded in the 1990s by Bohannon and other civil rights activists from the Newnan community. For decades, he has worked with youth in Coweta County.
Bohannon has organized events like the United We Stand Youth Appreciation Senior Citizens Picnic and Community Reunion and hosts annual cookouts at housing projects with co-founders William Prichett and Carrie Prichett.
Bohannon remembers UWS' first act decades ago, when a dentist tried to remove a Rock Hill community center and make an aluminum building out of it. Tearing up the carpets and adding plastic floor renovations was a part of the plan.
After that, the Rock Hill community was in full support of UWSPR. The gym, the pool and the air-conditioning added by the Boys and Girls Club are here today because Bohannon and UWSPR fought for equality of public services.
Bohannon was just a teenager when the Civil Rights Act of 1964 made public facility segregation illegal. The Wesley Street Gym, Picket Field and the city pool only allowed White people. After the act, facilities began to go awry as the field and gym were condemned.
"We were successful because we did it from our hearts," Bohannon said. "We came up from Rocky Hill, and ain't no way in the hell they were going to close that pool over there."
Bohannon's organization has connections with the housing authority and the health department. In addition, Bohannon and his organization constantly fought with the city of Newnan and the school system for equality. Their work raised $4.5 million for Rock Hill alone.
The biggest motivation for Bohannon and his organization was MLK's ability to meet people regardless of who they were or what they did. Bohannon recollects Dr. King visiting garbage workers in the South instead of in the North as initially attended.
The Memphis Sanitation Workers' strike is infamous for Dr. King's call to workers to keep fighting the struggle the night before his assassination. Several strikes were held from February to April, according to the Stanford University The Martin Luther King, Jr. Research and Education Institute.
Bohannon delights in how Dr. King spoke to people with the lowliest jobs. Dr. King's death around his birthday reaffirmed the similar work Bohannon would accomplish in moving forward.
Future Plans and Future leaders
As he grows older, Bohannon keeps going, as Malcolm told him, "When they spit in your face, you just keep marching."
Bohannon plans to write a song or poem called civil social, social man: his + tory= the American story. The piece explains that telling only one half of the story is a half-truth, and a half-lie.
He plans to attend a future school board meeting that discusses banning books. Originally, book banning was an annual campaign that began in 1982 to celebrate the First Amendment and encourage the protection of controversial materials, according to a Smithsonian magazine. Now school boards across the U.S. have banned over 1,600 books, 41 percent of which are about LGBTQ+ subjects.
Bohannon believes the Coweta County banned book list should be open to the public. The restriction is due to the Coweta School System mandating that parents with children in the school system have a say in book restrictions.
"We're going back to rewriting our history, and that's where I'm pushing back to," Bohannon said.
Bohannon is working on training the next generation of civil rights activists because he believes many Black youths don't know who they are. Currently, Bohannon doesn't see any big platform teaching children to serve their communities equally.
Bohannon recently recalls a group of KKK members from Montgomery visiting Newnan and questioned why they chose to come there in the first place. He didn't get an answer. Elected officials would later say that they had the most profit downtown. Bohannon believes that those members were recruiters.
He says that children who fall into a supremacist mindset were taught by someone and not born racist. Bohannon thinks that some of those KKK members stayed after some of them left.
Even in retirement, Bohannon continues to help Coweta residents and build up the next generation of local community leaders.
A longtime community activist, C-Bo is pictured during Black Lives Matter demonstrations in downtown Newnan in 2020.
Grand Marshal Clarence "C-Bo" Bohannon is pictured during the 2023 Newnan MLK Parade. (Photo by Clay Neely)
Clarence "C-Bo" Bohannon accepts a plaque from Janice Walton of the Eastern Star Newnan Chapter No. 483 for his service to Coweta County. (Photo by A. Alonsa Grant)