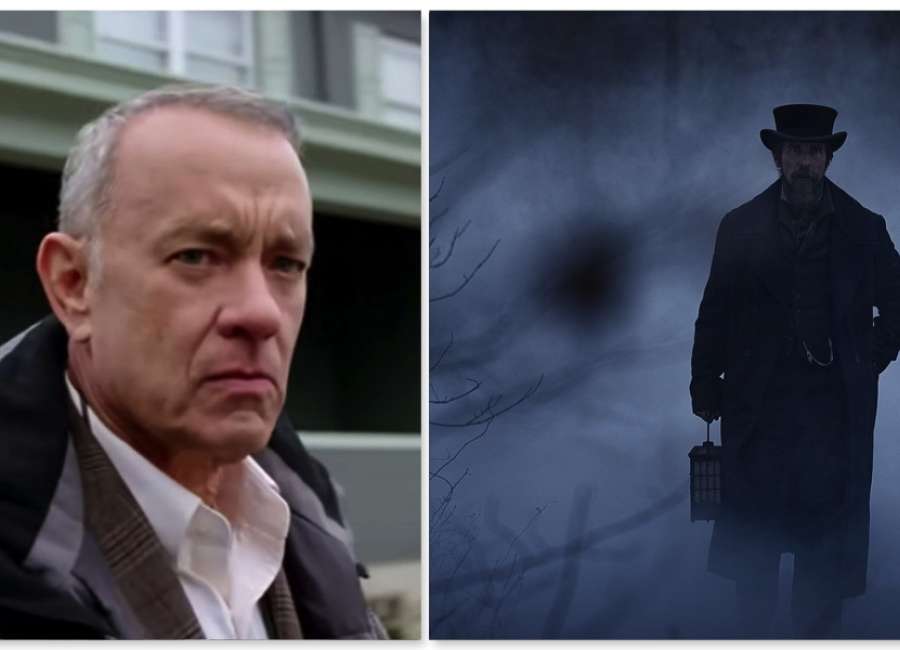 By Jonathan W. Hickman
The Pale Blue Eye
Film Details:
Director: Scott Cooper
Cast: Christian Bale, Harry Melling, Simon McBurney, Timothy Spall, Charlotte Gainsbourg, Gillian Anderson, Toby Jones and Robert Duvall
MPAA Rating: R
Running Time: 2 hours, 8 minutes
Available on Netflix
Review:
"The Pale Blue Eye" is a unique and unforgiving bit of Gothic horror.
In the early part of the Victorian period, an emotionally wounded detective and a peculiar West Point cadet surreptitiously combine forces to investigate a series of grisly murders with a possible supernatural connection. In 1830s New York, gifted investigator Augustus Landor (Bale) is called in to solve the gruesome killing of one of the school's young students. The crime involves the vicious removal of the victim's heart.
Augustus discovers an unusual kinship with an odd cadet named Edgar Allan Poe (Melling, from "The Queen's Gambit," playing a fictionalized take on the famous American writer). While Augustus is well-trained in the art of detection, Edgar has the inside track on the strange goings on at the prestigious military academy. And in that secretive place, nothing is what it seems.
Christian Bale and Harry Melling make a formidable investigative team in this historical murder mystery. The cast features several familiar, talented faces, including Timothy Spall (see 2014's "Mr. Turner") and the always fantastic Toby Jones. It's great to see 91-year-old Robert Duvall in a juicy role as an expert that Augustus relies on. And "The X-Files" star Gillian Anderson plays the loopy, enigmatic wife of Jones' elitist character.
Director Scott Cooper (see 2009's "Crazy Heart") adapts the novel of the same name by Louis Bayard and delivers a brutal and unforgiving film that is intriguing and well-made. Bale may be the star, but Melling is terrific as Poe, who could carry a second installment all by himself, should Netflix give it the green light.
A Man Called Otto
Film Details:
Director: Marc Foster
Cast: Tom Hanks, Mack Bayda, Cameron Britton, Juanita Jennings, Peter Lawson Jones, Mariana Treviño, Mike Birbiglia and Truman Hanks
MPAA Rating: PG-13
Running Time: 2 hours, 6 minutes
Available in theatrical release
Review:
Director Marc Foster (see "Finding Neverland" and "World War Z") gives us a safe and overly sentimental drama with "A Man Called Otto." This English-language remake of the 2015 Swedish Oscar nominee "A Man Called Ove" pales in comparison, but an amiable cast helps make it entertaining.
Tom Hanks effortlessly steps into the role of Otto, a troubled fellow, a curmudgeon whose wife has recently died. When he's forced into retirement and a young family rents the house across from his, he's utterly disturbed. Change doesn't agree with Otto. But can these new folks melt his heart and save Otto from hopelessness?
One of the problems with "Otto" is that it's impossible to make Hanks unlikable. For the character's journey to be truly impactful, Otto should make a credible, meaningful transformation. Instead, he's depicted as a bruised soul with some sort of developmental disability that is a kind of insincere superpower.
We see Otto's problematic obsessive behavior as comical and valuable when it should be difficult and even a little sad. This manipulative comedic approach undercuts moments of genuine pathos and hints at where the narrative is going. Therefore, the script from David Magee (Oscar-nominated for "Life of Pi" and "Finding Neverland") is somewhat toothless.
Even if you've not seen the Swedish original, "Otto" offers no authentic surprises that make it gripping or engrossing. And while the highly recommended "Ove" is a superior film, "Otto" does its best to overcome the sappy moments and pull at our heartstrings. Hanks is as good as ever, but the standout performance is Mariana Treviño, who plays Otto's intuitive and very pregnant neighbor.