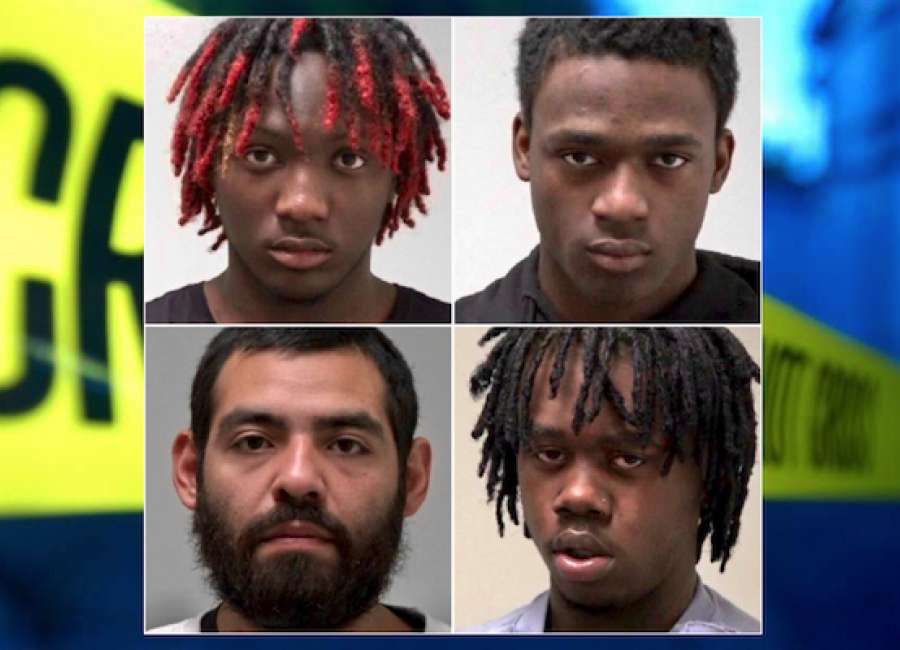 Four car chases net four arrests for CCSO
The weekend started off with Friday the 13th but ended up more like Groundhog Day for Coweta County sheriff's deputies, who were involved in four vehicle pursuits over a two-day period.
Four suspects were arrested in the pursuits on charges ranging from speeding and fleeing to weapon and drug offenses.
It started with a double feature on Friday. Around 2:20 a.m., deputies noticed a white Toyota RAV4 speeding onto the Interstate 85 North ramp at Exit 51. The suspect vehicle turned off its lights and increased its speed as deputies initiated a chase, reaching speeds of 120-135 mph approaching Exit 56, according to the CCSO report.
Deputies said the driver – later identified as Ashton Mantle Stephon Chapman Jones, 18, of Lithonia – continued to lead officers on a chase until he reached Farr Road, where he cut through a ditch, lost control of the vehicle and crashed into a power pole. Chapman Jones and a male passenger ran from the vehicle into the woods.
Peachtree City police and their K-9 officer tracked the suspects, apprehending Chapman Jones. A black Lincoln SUV reportedly picked up the unidentified passenger, spawning a chase with Fayette County deputies.
The Lincoln was hit with spike strips and a PIT maneuver before coming to rest on Senoia Road, where the unidentified man reportedly took off on foot again.
Authorities arrested the driver of the Lincoln – identified as Ahmad Amaru Anderson, 18, of Statesboro – but did not apprehend the other man, who according to the report may have been picked up by a silver Malibu that was seen stopped in the road near the scene.
The RAV4 was reported stolen out of a Newnan location.
After being cleared at Newnan Piedmont Hospital, Chapman Jones and Anderson were transported to the Coweta County Jail. Anderson was charged with obstruction, party to a crime, possession of a firearm during the commission of a crime and driving while unlicensed.
Chapman Jones is charged with obstruction, party to a crime, fleeing, failure to maintain lane, speeding, reckless driving, improper turn, headlights violation, theft by taking and entering auto.
More charges were expected from additional agencies, and authorities said they are working to identify the third suspect so warrants can be sworn.
At around 8:20 Saturday morning, a deputy running traffic checks at East Highway 34 and Harvest Trace reportedly clocked a blue Honda Odyssey going 72 mph in a 55 mph zone.
According to the CCSO report, when the deputy attempted a traffic stop, the vehicle continued eastbound toward Peachtree City until the deputy pulled up beside it and made eye contact with the driver and pointed to the side of the road.
The deputy said the driver – later identified as Erick Paulino Tovar Sr., 27, of Newnan – "raised his left hand in a motion I was unable to make out and immediately began accelerating at a high rate of speed."
The report stated that the deputy pursued Tovar at speeds in excess of 102 mph as the van wove through traffic, turned onto Huddleston Road in the opposite lane, ran a stop sign, drove through the parking lot of a business and back onto Dividend Drive before crashing into a tree in front of Clayton International.
Tovar allegedly fled about 150 meters on foot before the deputy caught up with him, but "was not 100 percent compliant," so Peachtree City Police assisted as the suspect was taken into custody.
After being read his Miranda rights, Tovar told the deputy he ran because he did not have a driver's license, according to the report.
After being treated for minor injuries at Newnan Piedmont Hospital, Tovar was transported to the Coweta County Jail and charged with fleeing, reckless driving, too fast for conditions, driving while unlicensed, stop sign violation, failure to maintain lane, duty upon striking fixture and obstruction.
Around 9 p.m. Saturday, a chase ensued southbound on I-85 when a speeding car was clocked at 100 mph, according to the CCSO report.
The deputy said when he attempted to catch up to the suspect vehicle, the driver – later identified as Cyrus McCoy Mincey, 19, of Atlanta – accelerated, reaching speeds of 122 mph and weaving through traffic.
With lights and siren on, the deputy attempted to stop Mincey as he got off the interstate at Exit 47, ran the red light and merged west onto Highway 34, according to the report. A Newnan Police car merged directly in front of the suspect vehicle, reportedly slowing Mincey enough to allow the deputy to immobilize his vehicle with the passenger side push bumper.
The deputy allegedly smelled alcohol inside the vehicle and discovered an open bag of marijuana spilled onto the seat, along with a red plastic cup containing red wine and an open bottle of red wine under the passenger seat.
After being medically cleared at Piedmont Newnan Hospital, Mincey was transported to the Coweta County Jail and the accident investigation was turned over to the Georgia State Patrol, according to the report.
Mincey was charged with fleeing, obedience to traffic-control device, possession of marijuana, open container, reckless driving, failure to maintain lane and speeding.