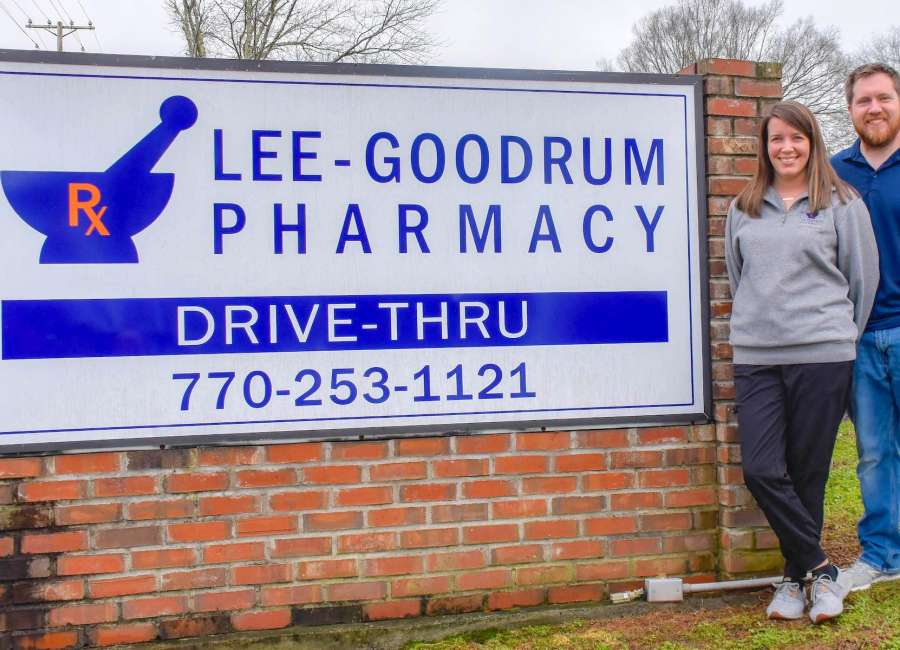 Casey and Alison Tarpley's approach to continuing the legacy of Lee-Goodrum Pharmacy is founded on the same approach taken by its predecessor, John Goodrum.

"An independent pharmacy gets to know its customers and treats them better. That was John Goodrum and still is to this day," Casey said. "Seeing how he operated and his commitment to serving people was inspirational. That's why customers who come here don't go anywhere else."
Along with Bobby Lee, John opened the pharmacy's location on Hospital Road in 1984.
As a child, Casey remembers not only visiting the pharmacy but how John handled customers in a unique, small-town way.
"This was back before insurance would handle prescription costs upfront, so John would provide the drugs and we'd bring payment back once the check came from the insurance company," Casey recalled.
While things have changed since then, the principle of getting to know and taking care of people has been a mainstay for the business.
By high school, Casey knew he wanted to get into the pharmacy field. He began working at CVS until the opportunity arose to work at Lee-Goodrum's Eastside location in 2015.
He graduated one year later and transferred to the Hospital Road location where he eventually became full owner. However, he kept the name the same.
As Newnan and Coweta County continue to grow, Casey's currently working to let folks know they have an open invitation to utilize independent pharmacies if they're tired of dealing with big box stores with long waits, subpar customer service and high turnover.
"There are so many misconceptions that because your insurance provider might call one pharmacy a 'preferred provider,' you're tethered to them, or you get a better deal on medications," he said. "But that's not the case. We're honest, competitive and want your business."
For those concerned about the difficulty in swapping pharmacies, Casey is quick to dispel those worries.
"Call us, and we'll take care of it, or call your doctor and tell them where to send scripts – it's all electronic," he said. "We called the Kroger pharmacy at 5 a.m. for a transfer and it came right over while the patient was asleep. We want your business, so we'll do the work to get it."
That also includes free delivery on prescriptions for customers within a 20-minute radius.
The Tarpleys' commitment to serving the individual is reflected in their recent decision to open an urgent care clinic in the pharmacy, sparing patients from spending hours making doctors' appointments and unnecessary emergency room visits.
"The urgent care model is more common with chains than independents, but we made it work," Casey said. "We offer big box services in a small setting. We want to see the patient and take care of them in a quick fashion."
The pharmacy's urgent care is also expected to expand its services to kids 6 and over in the next few months. The pharmacy also provides weight loss and overall wellness consultations.
And supporting independent pharmacies like Lee-Goodrum helps put money back into the community. Casey and Allison are regular and enthusiastic sponsors of community-related causes and events.
"For us, it's all about local," Casey said.