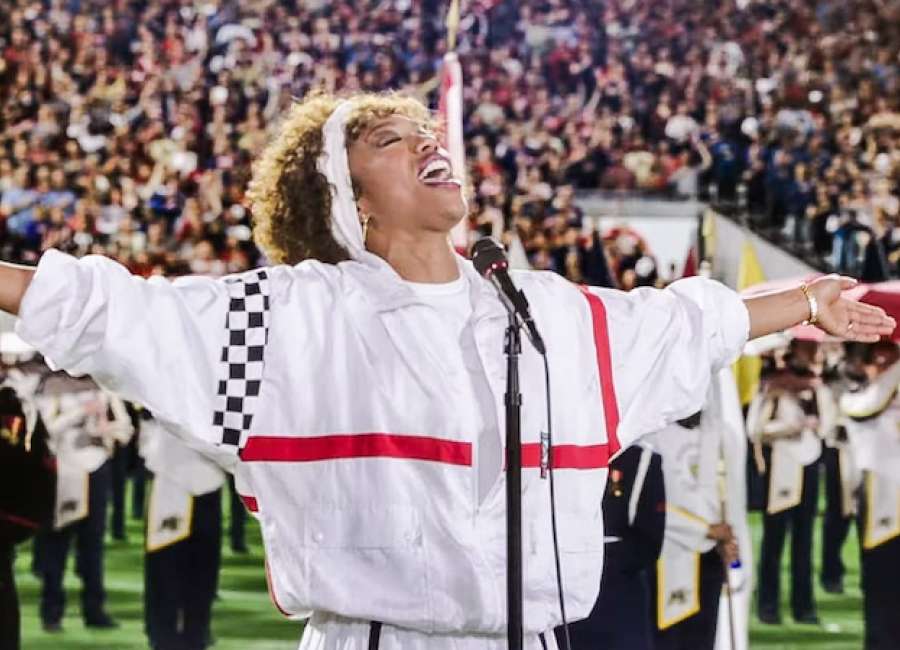 Review By: Jonathan W. Hickman

Film Details:
Director: Kasi Lemmons
Cast: Naomi Ackie, Stanley Tucci, Ashton Sanders, Tamara Tunie, and Clarke Peters
MPAA Rating: PG-13
Running Time: 2 hours, 26 minutes
Available in theatrical release
Review:
The music works; the drama doesn't.
Director Kasi Lemmons' Whitney Houston biopic is like a concert film surrounded by an anemic soap opera. And for me, at least, this inconsistent combination operated well enough.
The movie covers the rise of Houston, dubbed "The Voice" for a good reason, and her tragic fall. Naomi Ackie plays Whitney, and the lip-synced musical performances are impressive. Ackie seamlessly mouths the words and mimics the superstar's vocal posturing during extended stage appearances throughout the decades of the diva's career.
But the dramatic moments land with a decisive thud, especially when Ackie and Ashton Sanders take on Whitney and Bobby Brown's traumatic marriage. What's worse is that the overwrought score during these moments is straight out of Lifetime television.
It's not all bad news, however. Supporting performances by Clarke Peters and Tamara Tunie are good enough, but the script isn't focused on subsidiary characters. And this is unfortunate because Nafessa Williams is strong as Whitney's girlfriend.
This relationship, a potentially scandalous romantic entanglement early in the singer's life, could have convincingly served as the basis for the entire movie. However, Lemmons is determined to broadly cover Houston's entire professional lifecycle, which leaves the dramatic moments a bit thin.
Biting off too much of a subject's epoch is a recurring biopic curse. Movies that train the camera on one important epiphany hit harder and connect more powerfully with audiences.
While it can be argued that Whitney's life had so many epiphanies that it was impossible to narrow them down, each of her big moments could be its own picture entirely. And it is the responsibility of a filmmaker and the producing team to decide what to concentrate on rather than merely take the shotgun approach and hit all the bases.
For example, this movie moved me when Whitney (Ackie in lip-sync mode) sang the Star-Spangled Banner live at the Super Bowl in 1991. Here is a moment that could have begun and ended this movie.
We know that Houston descended into addiction that took her life, but that story has been told ad nauseam. The background associated with her somewhat controversial styling of the national anthem is a story worthy of examination. And while Lemmons presents it well, so much of this movie is a distraction.
Still, when the drama slows, the faux concert enactments kick in. And Lemmons smartly plays the hits. These saving-grace re-creations will make you a Whitney Houston fan, and I was surprised how the lush pantomimes affected me.
Part of my connection to the music is undeniable rank nostalgia. While I never owned a Houston album, the music reminded me of events in my life from the 1980s and beyond. The music may pleasingly transport some viewers to another time and place. For Whitney fans, Ackie's impersonation might seem uncanny and even a little off-putting, but it is Houston's voice, and that element alone should satisfy.
Stanley Tucci plays super producer Clive Davis in the film. His character has a telling line of dialogue that helps explain this movie's intentions. While on the set of "The Bodyguard," the 1992 film in which Whitney starred opposite Kevin Costner, Davis tells Whitney that this is a movie about a singer and the music must be good.
That simple "music first" sentiment is revealing of Lemmons' direction. "I Wanna Dance with Somebody" is more about revisiting the musical events and less concerned with the melodramatic background leading up to them.