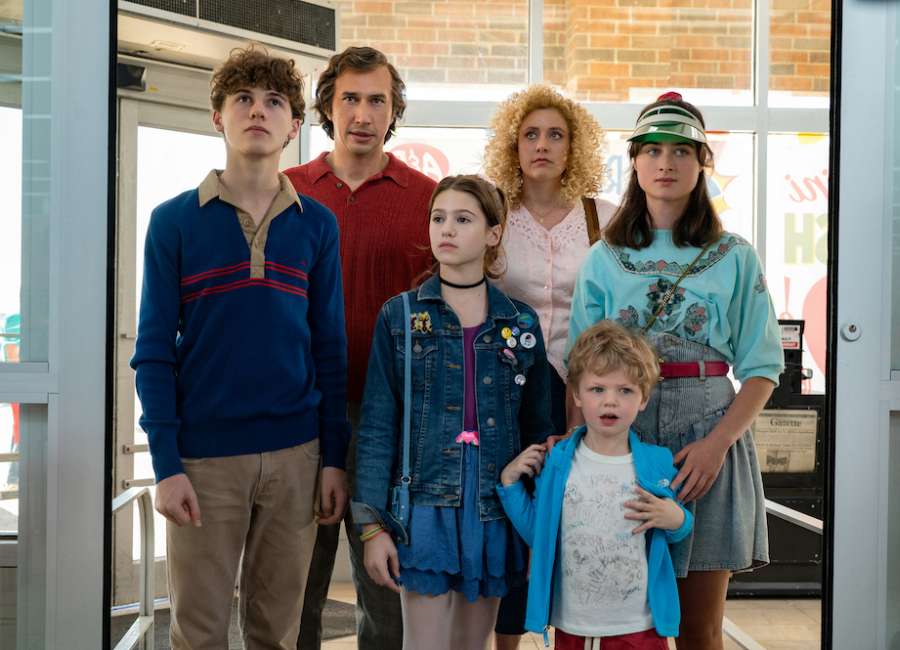 Review by Jonathan Hickman
Director: Noah Baumbach
Cast: Adam Driver, Greta Gerwig, Don Cheadle, André 3000 and Jodie Turner-Smith
MPAA Rating: R
Running Time: 2 hours, 16 minutes
Available on Netflix
In "White Noise," an extreme fear of death dominates the thoughts of Jack and Babette. Paradoxically, their constant anxiety motivates and paralyzes them.
Noah Baumbach's absurdist adaptation of the 1985 novel of the same name by Don DeLillo is a sometimes provocative stab at intellectual elitism. The story takes place in a surreal version of 1980s America. Jack (Adam Driver) is a professor who teaches at "a college on the hill." He's been married many times, and his latest partner, Babette (Greta Gerwig), shares in his scholarly snobbery.
They're both well-read and strain to incorporate esoteric references to their readings into everyday conversation. But their haughty cover will be blown when a localized disaster befalls their blended family. And Babette just might have an addiction of some sort that she's hidden away.
"White Noise" is an unusual film. The Oscar-nominated Baumbach (see his excellent "Marriage Story" and his thoughtful "The Squid and the Whale") can't find his footing with DeLillo's odd narrative. There are rich moments of great insight here paired with utter foolishness. The messy tonal shifts are likely why the film isn't getting much critical praise, but if watched in segments, there's joy to be had with this project.
For example, Jack is an expert in Hitler studies. While the rise of the evilest monster of the 20th century should be reviewed as a cautionary tale, Jack's immersion in all things Adolf reaches an unnerving and comedic level. And when we learn that he's obscured his inability to speak German, Jack's hypocritical vibe offers a constant running joke.
Don Cheadle plays Murray, a fellow college professor. His lofty desire is to follow in Jack's footsteps in becoming the foremost expert in all things Elvis. And one impressive sequence has them lecturing, dueling, in a rolling multimedia slurry, comparing the King of Rock and Roll to the foul dictator. I wasn't sure whether to laugh, be repulsed or just marvel at the surprising similarities between the two historical figures.
The disaster that makes up the film's first half involves a train derailment and the release of some kind of toxic gas. As an ominous red cloud floats over the college town, Jack and Babette take to the open road in their "family truckster" station wagon with their complex brood of questioning children. This mini-road trip could have served as its own film; however, after a hair-raising, zany experience that's straight out of "National Lampoon's Vacation," they return to life as abnormal.
And the film's second half, which focuses on a bizarre pharmaceutical investigation, fails to resonate. Jack and Babette's superficial ruminations on their potential demise and frustrating debates on marital infidelity linger too long. Unlike the hard-hitting frankness of Baumbach's "Marriage Story," "White Noise" never feels anything more than a stylized parody.
The satire on display here is more embedded in the production design than a meaningful, engaging part of the central narrative. And to that extent, "White Noise" looks very textured, layered and purposeful. The college environment is colorful and strangely exaggerated, and frequent visits to a supermarket are delightful. One of the film's highlights is a music video set in the grocery store that runs during the film's end title credits.
What's disappointing is that Baumbach can't find a way to marry the farcical with something that approximates authentic emotion. The characters are so unmoored that they become cartoons leaving the viewer with little emotional relationship with their plight. While some audiences may relate to the children, the story lacks a beating heart to make it come alive.
It goes without saying that the films of Noah Baumbach make up an inconsistent collection of dramatic curiosities. His "Marriage Story" was a terrific examination of the disintegration of a relationship. I've only seen it once because I fear it will be too painful to revisit. And a warning should accompany that film cautioning that it shouldn't be watched with your partner.
"White Noise" is an overwrought attempt to incorporate a fun sense of whimsy into Baumbach's keen and biting observance of the faulty human condition. And just because it is a failed pairing doesn't mean it isn't worth watching, if only for moments of sheer strangeness rooted in irony.