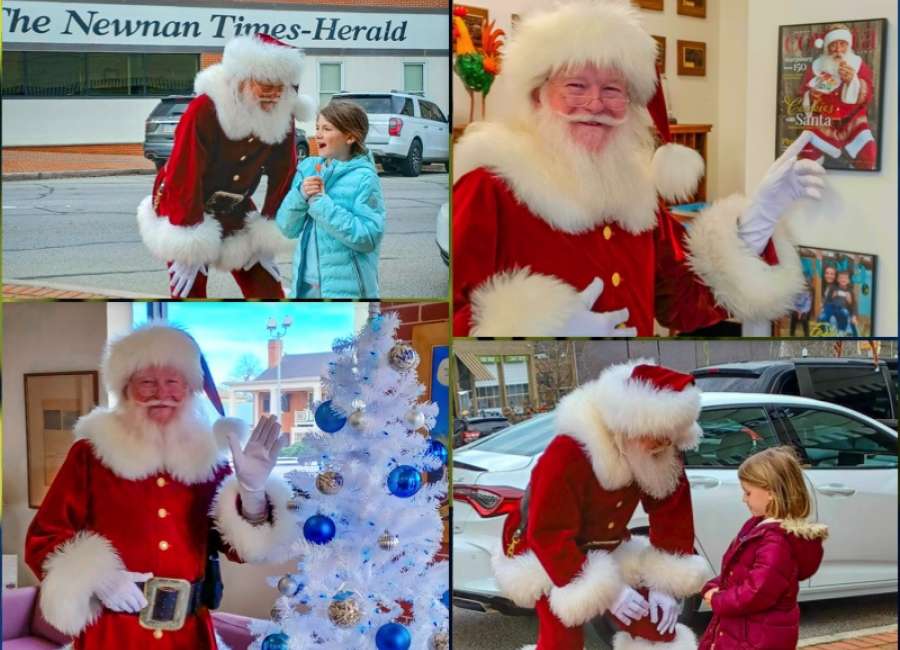 By Laura Camper / laura@newnan.com
Santa Richard Harris stepped onto the sidewalk in downtown Newnan, and immediately across the street, three sets of eyes widened.
His white beard and fur-trimmed red suit and hat caught the attention of nearly everyone shopping nearby, but when he saw three girls, ranging in age from 5 to 8, looking at him, he started across the street toward them.
As soon as he reached the sidewalk they were standing on, one of girls yelled, "Santa!" She ran to him and clapped her arms around him, hugging him so tight, her joy-filled face nearly disappeared in his coat.
That's what it's all about, Santa Richard said later.
"The feeling you get is unreal," he said. "It's all about children."
The girls will probably remember for the rest of their lives the day they were shopping with their mothers and met Santa just walking down the street. Most people remember meeting Santa at a store, an event or maybe a party.
However, after the pandemic made even those meetings difficult, Santa is being invited to more and more private events, and now the North Pole is facing a crisis — Santa's family is getting smaller while the demand for personal visits is increasing dramatically.
Finding Santa
Santa Rick Rosenthal, who has been helping out the Claus family for 53 years, started Northern Lights Santa School in 2016 to teach new family members how to deal with the myriad changes in the centuries since Santa started treating children to pre-Christmas visits.
"We help them learn all the things they need to know about the North Pole," he said.
Then, he sends them out to meet people in parades, at events and parties and in stores. But the problem is that not enough family members are entering the family business, Santa Rick said.
COVID-19 killed more than 1 million people in the U.S. alone and a good number of them were members of Santa's family, Santa Rick said. After all, many of the working Claus family members are over 60, overweight and were at high risk during the pandemic, he said.
The huge swell of private events along with the corporate events that also requested Santa visits has led to a tripling of his client base, Santa Rick said.
"We've never booked more than a year in advance," Santa Rick said. "Now across the country, Santa is being booked a year in advance plus. It's become a feeding frenzy."
Santa family tradition
Santa Richard, who has worked with Santa Rick for about six years now, said that he has been very busy this year in the wake of the pandemic.
"It's wonderful," he said. "I like to interact with the children."
He's happy that he's able to visit them again. The pandemic was hard because it separated him from the children who had to wear masks and sometimes socially distance from him. Visiting children at home is his absolute favorite way to get to know them. They can take as long as they want to talk to him and aren't rushed by a line of children behind them, he said.
"This is their moment," Santa Richard said.
Santa Richard followed a family tradition to the Claus family business. For years, his father would disappear for hours at a time during the Christmas season. He didn't know where his father went, he just took the absences for granted.
But when he was in his 20s, at one Christmas party he attended, he saw a Santa with a familiar light in his eyes, Santa Richard said. Still, he didn't recognize Santa until later, on Christmas Day, his dad asked him if he'd gotten everything he'd asked for and winked.
"I knew at that moment," Santa Richard said. "I asked him why he did this, and he said, 'One day you'll understand.'"
When his dad died, years later Santa Richard inherited his dad's suit. But he didn't put on the mantle until about five years later, when his wife, his Mrs. Claus, urged him to take on the tradition.
"Mrs. Claus is the most important person at the North Pole," Santa Richard said. "If it wasn't for Mrs. Claus, nothing would get done."
At first he just did a few home visits. Then he started working with the Salvation Army. Now he can't imagine not being a part of Santa's family.
"It's a fulfillment," Santa Richard said. "It's hard to explain."
That's how it is sometimes, said Santa Rick. Some Santas just don't know they're a member of the Claus family until they find their way home. But he can usually recognize his brothers, he said.
In fact, he recognized Santa Richard immediately.
Santa Richard said he first saw Santa Rick at SEC FanFare in Atlanta where Santa Rick was visiting with children. Santa Rick sent one of his elves to ask Santa Richard to wait for his break so he could speak with him.
When they met, Santa Rick introduced Santa Richard to the people around them as his brother. He invited Santa Richard to visit the Northern Lights Santa Academy so he could teach him all about the family.
The wisdom of Santa
Teachers at the school pass on "hundreds of years" of acquired wisdom to the newly discovered Claus family members including wardrobe — avoid wardrobe malfunctions with traditional four-ended suspenders — and allergies that children might have including allergies to commercial scents, Santa Rick said.
They learn what toys the elves are making in a particular year, how to visit with children who have special needs such as those who are deaf, blind or autistic. He teaches them about protecting their own health so they can be ready for the Christmas Eve crunch and about the business of running the North Pole operation.
They learn how to talk to children and also how to field some of the out-of-the-ordinary questions or comments they might get. Santa hears things that people of all ages are afraid to tell their spouses, their siblings and even their therapists, Santa Rick said.
"We have to deal with funny stuff, and we have to deal with abuse, because people will tell you about that," he said. "We have to, in a matter of seconds, field that and deal with it in the best way possible."
They also have to explain to children who are wondering about the intricacies of living in the North Pole. For instance, one child asked about police officers in the North Pole. There aren't any, Santa Rick said. They don't need them because there is no traffic to direct and because of the magic of the North Pole, no one ever stays mad at anyone else for long, he added.
Santa Richard said his first visit to the school was intimidating.
He found that he had a lot to learn and like every family, especially one with so many family members, the needs are ever evolving. So he continues to go back every year. He knows that he is representing the whole family whenever he wears his suit in public.
"All eyes are on you, and you never know what you're going to get," Santa Richard said. "You are there to carry on that belief in us."
Photos by Laura Camper
Sadie Blatt, 5, was a little flustered to meet Santa Richard Harris in downtown Newnan on Monday. But she was excited to be able to talk with him.
Hattie Dupre, 8, took her time chatting with Santa Richard on Monday.
Santa Richard Harris has been working with his Claus family brothers meeting children to hear their Christmas wishes and helping the Salvation Army raise money each December for about 10 years.
Santa Richard Harris noticed a picture of one of his thousands of brothers on the wall of The Newnan Times-Herald lobby when he visited on Monday.
Santa Rick Rosenthal opened the Northern Lights Santa School in 2016 to help the Claus family reach their relatives for help during the Christmas season.