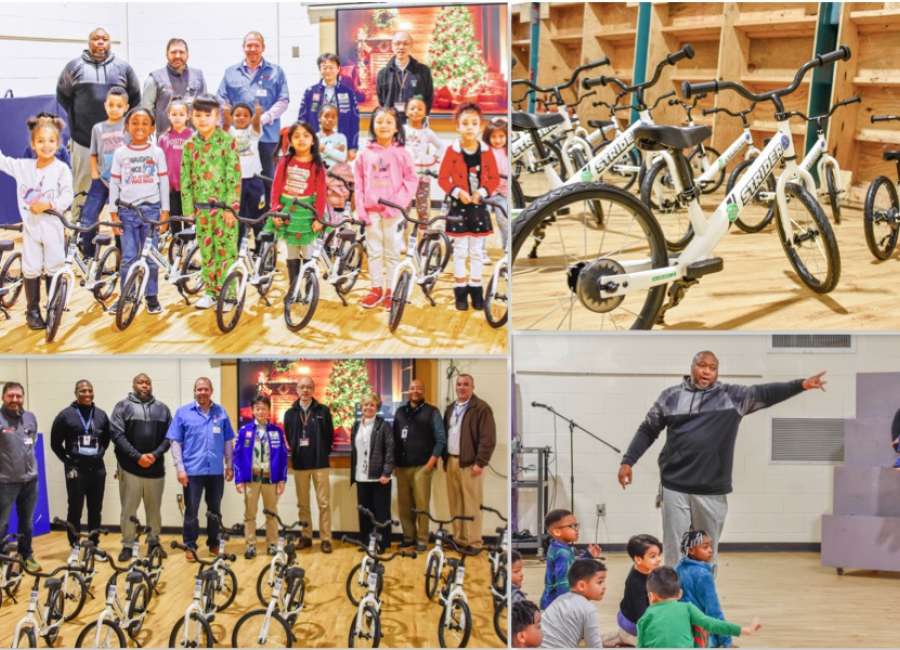 Kindergartners at Jefferson Parkway Elementary got an early Christmas surprise Friday morning.
Thanks to a community partnership between Bike Coweta and Yamaha, more local students will participate in the "All Kids Bike" kindergarten program, which provides schools with all of the equipment and materials for teachers to teach the children how to ride.
The program includes teacher training and certification, a structured eight-lesson curriculum, a fleet of Strider bikes, pedal conversion kits, fully adjustable helmets, one Strider 20 teacher instruction bike and a five-year support plan.
According to information on the All Kids Bikes website (allkidsbike.org), the "two-in-one" balance-to-pedal conversion bikes "help riders gain confidence and learn more advanced skills on a balance bike.
Then, when children are ready, it easily transforms into a pedal bike with the installation of the Easy-Ride Pedal Conversion Kit.
Jefferson Parkway P.E. Teacher Roc Coleman said he was inspired to bring the program to his school after learning about the success of All Kids Bike at Elm Street Elementary, which launched its program in 2021.
Along with Western Elementary, Jefferson Parkway Elementary is now the third local school to introduce the program.
Last Friday, the bikes were hidden behind bleachers in the gym while the kids assembled for the presentation. After counting down from 10, teachers moved the bleachers and revealed the surprise for the kindergarteners who jumped up and down with excitement.
"This really means a lot for our school and our kids," Coleman said at the unveiling. "Some kids aren't fortunate enough to ride around on a bicycle in a neighborhood or even have a bike. I can't stress the importance of this for our school. It's going to be amazing."
Additional funding for the program was recently approved by the Newnan City Council which allocated $15,000 in American Rescue Plan Act funds to Bike Coweta for the All Kids Bike Program. Bike Coweta is a local nonprofit organization focused on promoting cycling in the community.
With the additional funds, the program is poised to expand to Newnan Crossing Elementary, Atkinson Elementary, Ruth Hill Elementary, Poplar Road Elementary and Jefferson Parkway Elementary.
It costs around $6,000 per school to fund the All Kids Bike program, and Bike Coweta will add around $3,000 to help fund three of the schools, while Yamaha will fully fund the programs at Poplar Road Elementary and Jefferson Parkway Elementary.
In attendance for the ceremony included Yamaha President Takahiro Imanishi and Toshiharu Shigeta, vice president of product development.
Bob Brown, vice president of finance and operations support for Yamaha, said the corporation was proud to provide the grant for the schools and hopes it will help young people spend more time outside.
"Learning this skill develops the children both mentally and physically, gives them greater confidence, and gives them a great reason to get outside and engage with other kids," Brown continued. We hope our business community sees the value in this program and supports our efforts to establish it at every elementary school in our county."
Jefferson Parkway Kindergarteners preview their new Strider bikes. From left are Coach Roc Coleman, Jason Broshear, Bob Brown, Takahiro Imanishi, and Toshiharu Shigeta.
Jason Broshear, Principal Dr. Sean Dye, Coach Roc Coleman, Bob Brown, Takahiro Imanishi, Toshiharu Shigeta, Assistant Superintendent for Curriculum Dr. Karen Barker, Assistant Superintendent Dr. Marc Guy, and Superintendent Dr. Evan Horton
Coach Roc Coleman prepares to unveil the surprise behind the bleachers.
The Strider bikes are designed to prepare students for riding by focusing on balance first. When children are ready, it easily transforms into a pedal bike with the installation of the Easy-Ride Pedal Conversion Kit.