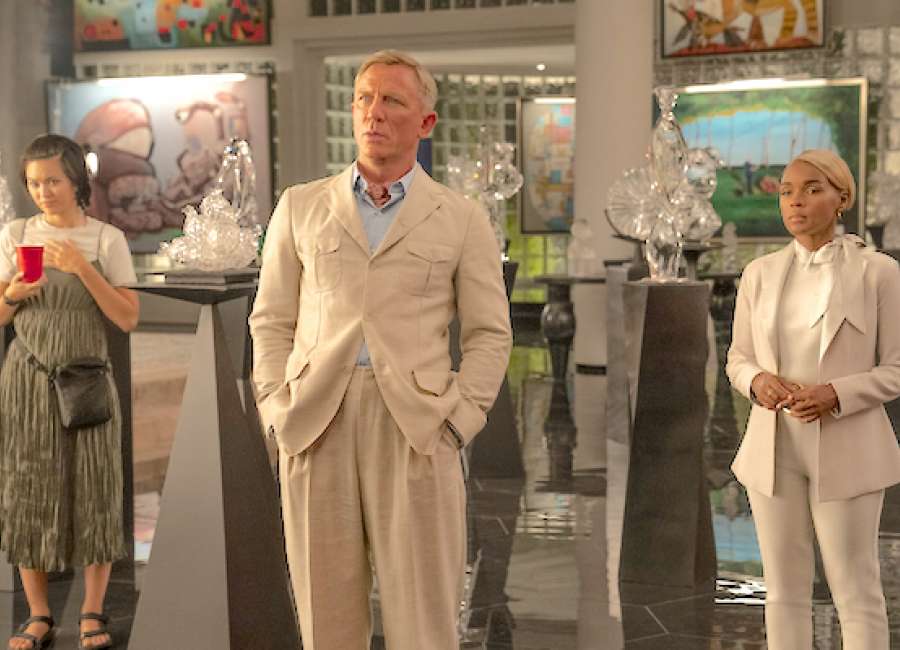 "Glass Onion: A Knives Out Mystery"

Review Rating 8/10
Film Details:
Director: Rian Johnson
Cast: Daniel Craig, Edward Norton, Kate Hudson, Dave Bautista, Janelle Monáe, Kathryn
Hahn, Leslie Odom, Jr., and Noah Segan
Running Time: 2 hours, 20 minutes
In limited theatrical release and streaming on Netflix on Dec. 23
•••
Writer/director Rian Johnson's star-studded follow-up to his 2019 mystery hit "Knives Out" is thrilling and immensely entertaining.
James Bond alum Daniel Craig once again stars as super- detective Benoit Blanc.
The story has Blanc pulled into a murder mystery party on the private island of flamboyant tech billionaire Miles Bron (Edward Norton). The party guests include an eclectic collection of Bron's closest friends.
Kate Hudson plays a fashion model named Birdie Jay, whose social media gaffes have her on the edge of being canceled. Kathryn Hahn is Claire Debella, a liberal politician, and Leslie Odom, Jr. plays a scientist named Lionel Toussaint, who works for Bron. Dave Bautista is Duke Cody, a YouTube star with a misogyny problem.
Janelle Monáe is Bron's brilliant former business partner Andi Brand. Her arrival on the island is a surprise because she and Bron ended their relationship with a contentious dispute resolved in court.
Bron's friends and former associates on the island share a common bond. They owe their success to Bron's financial backing. And those that are loyal get a bigger piece of the pie. What starts as a Clue-inspired fake murder mystery weekend becomes horribly real when one of the partiers is poisoned. Blanc is initially amused by the excess of Bron's private compound, but following the actual traumatic crime in his presence, he springs into action to apply his uniquely gifted mind to the case.
Blanc's powers of deduction are right out of the Sherlock Holmes school. And despite that "Onion" is an original story, it's impossible not to recognize that in addition to the tales by Arthur Conan Doyle, so much of Johnson's influences come directly from the collective works of Agatha Christie.
Compared to the darker and edgier "Knives Out," "Glass Onion" is lighter and more whimsical. One fringe character, for example, is played by Noah Segan, who played Trooper Wagner in "Knives Out." His recurring appearance in "Onion" is like a running in-joke that I hope continues in future chapters in the series.
"Glass Onion" arguably has one of the most amusing setups of anything you'll see this year. Johnson makes excellent use of cell phones and video conferencing to draw the disparate cast instantly together. And the production values are detailed and immersive.
One critical early prop is a large wooden box Bron sends to each guest. Watching the characters struggle to open this enigmatic puzzle is a visual delight. And Johnson smartly works the COVID pandemic into the story adding to the satirical edge.
But Blanc is Johnson's best creation, and we get a little of his backstory in "Onion." But while an underlying sadness seems to be a part of Blanc's makeup, those elements of the character will be explored, I'm sure, in future installments. This outing is very much an ensemble affair.
The movie's current limited theatrical run is primarily for end-of-the-year awards consideration. It's a worthy entrant into the season's races and will appear on many critics' best films lists. But whether you catch it in a theater or on Netflix on Dec. 23, "Glass Onion" will easily charm even the most demanding viewers.