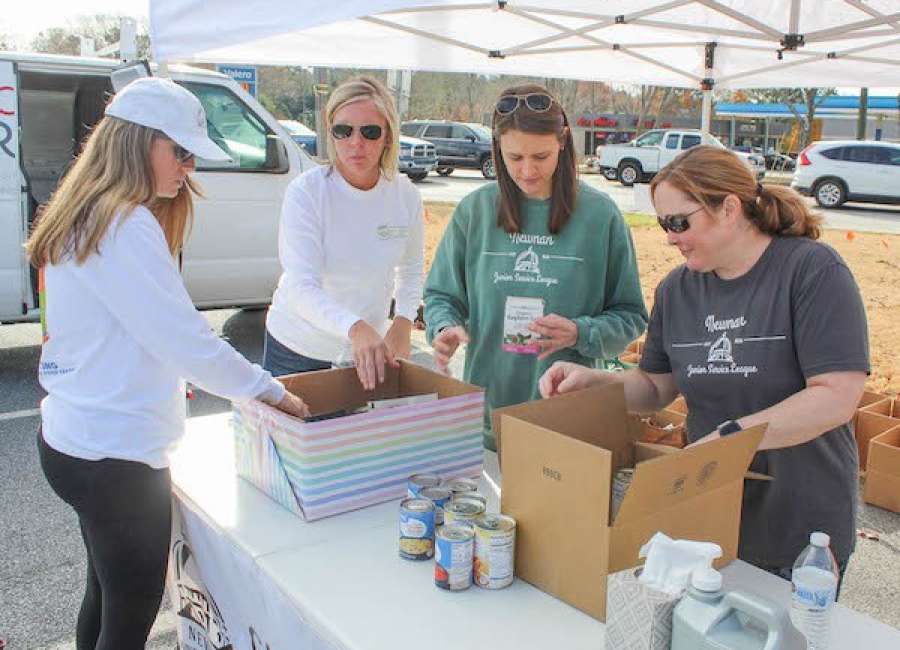 On Tuesday, the Newnan Junior Service League held its annual Can-A-Thon event in two locations in Coweta County.
Throughout the day, members of the NJSL volunteered their time to pick up canned food items and other goods at two locations in the county — on the north side of the Newnan Court Square and at the Regions Bank in the Thomas Crossroads area.
And throughout the day, the work from the NJSL helped raise what was considered "a marked increase over last year's collection" for the One Roof Ecumenical Alliance Outreach, according to Erin Randolph, one of the co-chairs for the event.
"Our goal is to stock the food pantry for the year," said Katie Barnes, co-chair for the annual event. "This is what this collection's for, and historically we've been able to do so. We're just hoping to be able to do that for our community again this year."
Throughout the day, individuals dropped by the two locations, dropping off their donations of food and other necessary items, such as baby goods and pet goods. But there were more than just individuals coming in to donate.
"We have gotten some big donations from some neighborhoods. North Shore and Lake Redwine Plantation dropped off a big donation today," Barnes said. "Together, they had close to 1,000 cans."
That second location proved beneficial, possibly due to its proximity to the Kroger and Publix in the Thomas Crossroads area.
"I think they are doing pretty good, too. It helps having those local stores right there," Barnes said. "People can just run in and pick up stuff."
The goal: stock One Roof's pantry all year
Before the Can-A-Thon this year, members of the NJSL said that the goal for the event every year is to stock One Roof's food pantry for the coming year.
Dr. Ann Kerlin, executive director of One Roof, spoke on Tuesday about the importance of the Can-A-Thon to One Roof and to its food pantry.
"We're so blessed by it," Kerlin said. "The Newnan Junior Service League is fabulous. The amount of food and funds they raise for us pretty much staffs us, and we'll make it three-fourths of the year through with it."
Last year, the Can-A-Thon raised 277,000 cans for One Roof's pantry, Kerlin said.
"This year, food is so expensive, we're grateful for anything we get," Kerlin said. "There's a pretty good pile in there from the schools."
Those donations stocked their pantry for most of the year.
"We started to run out of food around September. We have to buy, if we run out of tuna fish, but it covers most of the staples for that long. Our community is very generous."
One Roof is open to donations even beyond the Can-A-Thon, and those interested in donating to One Roof should contact them at 770-683-7705.
"Give us a call, let us know when you're coming, we're there usually Monday, Wednesday and Friday with the office and the food bank and we'll be thrilled to get it," Kerlin said.
One Roof Outreach is located at 255 Temple Ave. in Newnan.
Less of a competition and more of a beneficial spirit
As part of the Can-A-tThon, schools were able to compete against each other to see who could get the most donated — either cash or food.
The winning school would receive a $500 scholarship to get whatever they needed for their school, said Abby Smith, president of the Newnan Junior Service League.
But yet, as Randolph said, the schools carried a different attitude about the Can-A-Thon — not to beat each other, but to help out those that needed it.
"I don't think that this year people have focused on the competition," Randolph said. "Everyone's just trying to do the right thing. The competition's been pretty fierce in the past, but I've spoken to several principals in the district, and a lot of them just feel like this is the time to share and the time to give. There is no better time, after COVID and after the tornado, to give right now. I know the principals aren't pushing the competition. They're pushing competition within their schools, but that does nothing but benefit us and the community."
Randolph said the attitude has been wholehearted and kind, but not that of competition.
"When we're able, let's do it," Randolph said.
"You see a lot of different fundraisers for little projects, so we thought that would be better than, like, a Chick-fil-A gift card," Smith said. "It goes to the school as a whole instead of just one class."
"We have been relatively steady with the actual items, but the money is rolling in. I've made my rounds this morning picking up donations from the school system, and I've already picked up $20,000, just from the schools. I've personally visited eight schools, and I've got my league representatives that have been dropping off checks as liaisons for their schools. We're doing really, really well."
Over at that Thomas Crossroads location, the team there utilized a van that had been supplied by One Roof, and at that point, it was nearly full.
A utility and a helper
One of the key forces in making the Can-A-Thon work each year is the work of Newnan Utilities.
The utility helps out by bringing trucks and crews out to help pack the donated goods and then take them to One Roof's headquarters.
"They are always so wonderful to come out," Barnes said. "They bring their truck, and they help us pack all the boxes and they will tote it to One Roof later on."
"We participate every year," said Vince West, ground supervisor for Newnan Utilities. "We offer them our services and the truck and trailer to haul donations over to One Roof. We enjoy the opportunity to be able to serve the community and the public."
Newnan Utilities donated two trucks and three workers for the cause. The truck seen early in the day was a larger truck than one that was used in years past, and that truck was filled up during the day.
And indeed, those workers from Newnan Utilities were at the Court Square site all day, helping the NJSL with sorting of food, and with putting the items in their trucks.