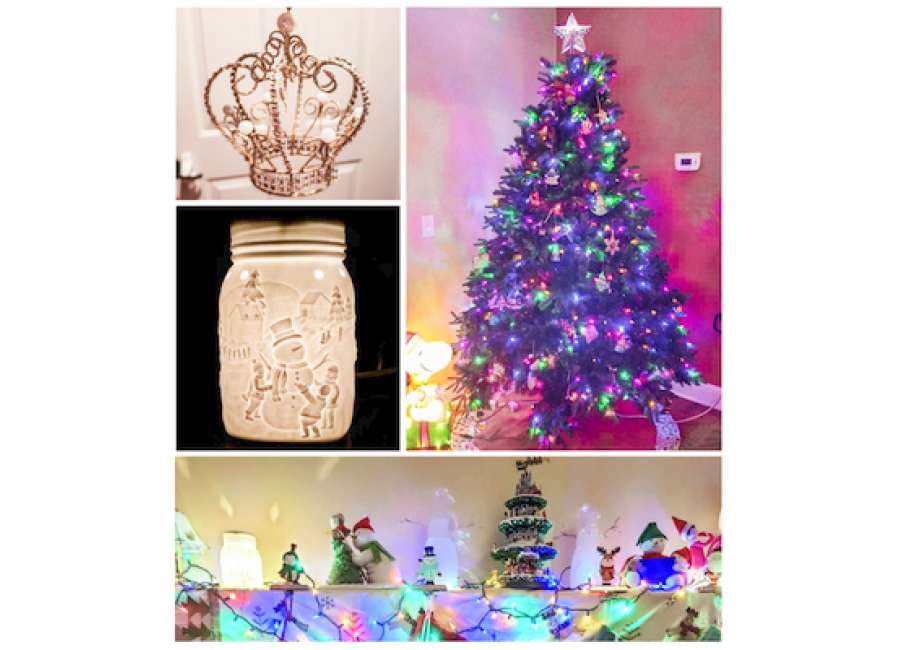 Christmas was going to be difficult enough for Stacey Lewis this year because it's her first holiday season without her mother.
Lewis said Frankie Clements – who passed away in June – loved Christmas, and she always made it special for her family.
"It's incredibly hard to have to do Christmas without her this year," said Lewis, whose father passed away 12 years ago.
Frankie's handmade decorations, along with many other sentimental items accumulated over the years, were supposed to be an important way to keep cherished memories alive in the family's first Christmas without her. But multiple burglaries of the home on Standing Rock Road where Lewis' Christmas decorations were stored have robbed the family of that opportunity.
Many of the family's treasures are now missing.
Kathryn Lynn Humphrey was arrested last month and charged with burglary and theft after Coweta County Sheriff's investigators connected her to an eBay account listing some of the more valuable stolen items, which included collectible toys and firearms, for sale. Authorities said most of the items have been recovered and returned to the family, with the exception of "a couple of firearms."
Because Lewis' Christmas items hold sentimental and not monetary value, she said their recovery is, understandably, not a priority for law enforcement. But she said she hopes that spreading the word about their loss may result in the kind of Christmas miracle that usually only happens in movies.
"According to every Hallmark movie I've ever seen, this is the time of year for these kinds of miracles to happen," she said.
Christmas was Frankie's favorite holiday, Lewis said, and she delighted in making it magical for her family.
"Back then, it wasn't about going to all kinds of different things," she said. "It was all stuff you did at home. We looked at lights in our neighborhood, and my mom was playing Christmas music all the time. She made all kinds of things for us to eat at Christmas that we didn't get to have any other time of year. And she went all out decorating our house for Christmas."
Frankie made ceramic Christmas decorations, including light-up Christmas trees, a Santa house and a pair of Santa boots. When Lewis and her sister, Karen, struck out on their own, their mom gave them each one of the boots for their new homes. As a child, Lewis said she liked to perch near the end table that held the Santa house with one hand touching the top of the house, daydreaming about Santa and his reindeer. It became a fixture in Lewis' home as well, and the Santa house was one of the few items recovered at the burgled house.
"(The alleged burglar) didn't take every Christmas decoration I have, but she took enough of the meaningful ones," Lewis said.
It's not just her mother's things that are missing. Lewis and her husband, the parents of two young children, have accumulated their own special ornaments through the years as they've built their family and their own Christmas memories.
"My kids know how much I love Christmas, and one year there was a Secret Santa shop at my daughter's school," Lewis said. "She got me a little gold crown, and she was so excited to give it to me. We've gotten a family ornament every year with our names on it, and we buy one every year for the kids. We have special ornaments from vacations and Disney World. And now they're just gone. My husband has given me a snow globe every year for Christmas, and we haven't been able to find any of those."
The thief rifled through boxes and packages, moving items around and stealing items on at least three different occasions, Lewis said, and her husband had to search for the containers that held the family's ornaments.
"My husband did find one box, but most of the things were gone," Lewis said. "The Santa house had been crammed into another box that (the alleged burglar) hadn't had a chance to take yet."
Her Snoopy cookie jar turned up during the execution of a search warrant at the suspect's home, and a pair of glass snowmen – one purchased by Lewis and the other by Frankie on the first Christmas Lewis lived on her own – also have been located.
"I'm grateful to have that," she said. "But I want the stuff my mom gave me, the stuff she made. It would be hard for me to deal with this if my mom hadn't just died, but I want those things. I can't ever get another one of them."
Lewis said she and her husband have searched online at sites like eBay and Facebook Marketplace, as well as at pawn shops, with no luck.
"I don't think (the suspect) sold them," she said. "The only Christmas ornament that was actually worth money wasn't taken. I don't know what she did with them."
Lewis said she is hoping for the community's help in locating the missing items, which may include:
• Personalized ornaments with children's photos and/or names, Star Wars characters, Disney World, princesses, angels, a vintage ceramic hand-painted candle, a Coca-Cola Santa, "really old icicles" with the hook on top as part of the ornament, large red and white balls, an ornament for every year with the family's names on it (2011-2013 with mom, dad and son names and 2014-2021 with mom, dad, son and daughter names), a clothespin reindeer handmade by a child, and the large gold princess tiara given to Lewis by her daughter.
• A hand-painted ceramic Santa boot candy holder with a crackle finish at the top, likely with the initials FC on the bottom.
• A hand-printed ceramic Christmas tree that lights up, with a base. The tree has been broken and glued back together and the initials FC will likely be on the bottom.
• A hand-painted ceramic snowman holding a broom, likely with the initials FC on the bottom.
• A snowman with a round head that lights up, with a white base that looks like a scarf around someone's neck.
• Hallmark yearly release singing snowmen.
• A nutcracker figure that stands about two feet tall.
Lewis is asking anyone with information about her missing items to contact her by email at staceylynne79@yahoo.com . The items can be dropped off with no questions asked, she said.
"We have our Christmas tree up, but we don't have any ornaments on it because we don't have any," she said.