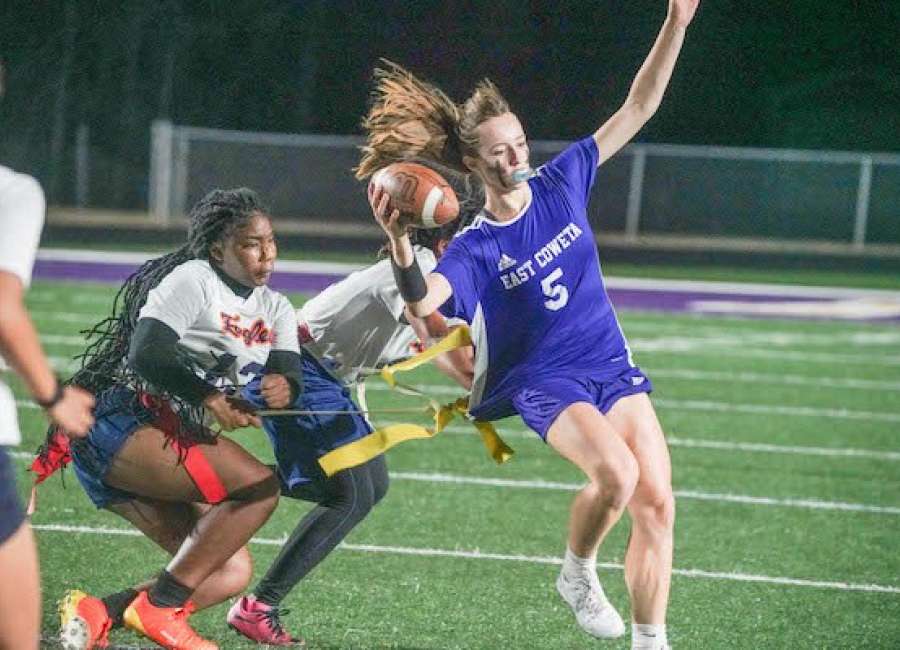 The East Coweta Lady Indians flag football team keeps winning. Head Coach John Perkerson's team started the week as one of 32 playoff teams from Division 2. After three playoff wins and a long road trip to Augusta, the Lady Indians are in the final four.

By their win over Trinity Christian two weeks ago, East Coweta obtained the top seed in Area 2 and hosted the first two rounds of the state playoffs on Tuesday night.
Their first game was against the four-seed from Area 1, Northside-Warner Robin. Quarterback Jaylin Schmit threw two touchdown passes, one to Kezoryiah Blackshear and one to Lillian Davis.
Aurora Saucier and Ivory Gilber co-led in tackles with three, Sanaa Growe had four punt returns, and Addie McGuire executed five punts that helped reverse the field. East Coweta won 12-6.
The win against Northside Warner Robins earned the Lady Indians the opportunity to play Luella in the second round. It was much the same. Schmitt threw three touchdown passes and ran for another. Two touchdowns were to Grow and one to Alyssa Holden. The Lady Indians cruised to the quarterfinals with a 26-19 victory.
Lillian Davis led the team on defense with seven tackles, and Serenidy Moss had a key interception.
Even though the Lady Indians were the top seed, they had to travel on Thursday after the official Georgia High School Association coin toss favored the top of the bracket. That set up a quarterfinal game in Augusta against Evans.
Different location, but same result. Schmitt threw three touchdown passes, all to Growe. Aurora Saucier and Ivory Gilbert had a sack, and Growe added an interception.
The 29-6 win advanced East Coweta to the final four, along with Central-Carrollton, St. Pius and Lithia Springs.
East Coweta and Central Carrollton will play Monday at 11 a.m. at the Atlanta Falcons training facility. Because of space, GHSA only allows 150 spectators to the game and requires that fans bring their seating, as there is none available in the facility.
The state championship game will be on Thursday, Dec. 8, at Georgia State's Center Parc Stadium. The game is at 12:45 pm.