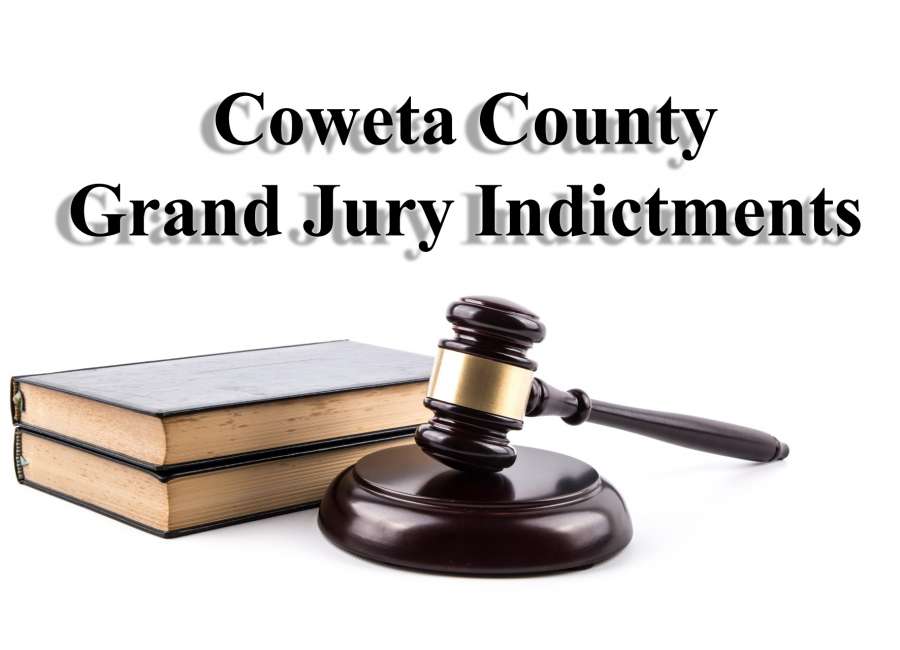 According to District Attorney, Herb Cranford, Jr., during the December 2022 session of the Coweta County Grand Jury, thirty-four (34) True Bills were returned against forty-one (41) persons.
(Editor's Note: Charges filed against the defendants are subject to change or be dismissed by the state. The indictment of a person by a grand jury or otherwise is an accusation only and that person is presumed innocent until and unless proven guilty.)
Elke Lavance Berry, Jr.

Offense Date: 12/05/2021
1 Burglary in the First Degree
Catilyn Gail Bridges
Lester Lee Bridges, Sr.
Melissa Mae Morgan
Offense Date: 12/22/2021
1 Possession of Marijuana with Intent to Distribute
3 Possession of Cocaine With Intent to Distribute
4 Possession of Methamphetamine With Intent to Distribute
1 Possession of Marijuana with Intent to Distribute
2 Illegal Use of Communication Facility
3 Possession of Cocaine With Intent to Distribute
4 Possession of Methamphetamine With Intent to Distribute
Urian Uylasses Brimidge
Offense Date: 11/25/2021
1 Fleeing or Attempting to Elude a Police Officer
2 Fleeing or Attempting to Elude a Police Officer
3 Serious Injury by Vehicle
4 Reckless Driving
Austin Troy Campbell
Offense Date: 08/25/2022
1 Aggravated Stalking
Stephanie Cordiss Clements
Scotty Antwan Geter
Offense Date: 11/17/2021
1 Trafficking in Cocaine
2 Possession of Methamphetamine With Intent to Distribute
1 Trafficking in Cocaine
2 Possession of Methamphetamine With Intent to Distribute
Malik Deontrez Cleveland
Lajaston Shaquan Hardy
Raequan Feon Holloway
Shundravious Siquan Jackson
Cortailius Amon Mayes
London Tyree Snelling
Offense Date: 09/30/2020
1 Possession of Marijuana with Intent to Distribute
2 Illegal Substances Within 1000 ft. of a Housing Project
3 Possession of Firearm During Commission of a Felony
1 Possession of Marijuana with Intent to Distribute
2 Illegal Substances Within 1000 ft. of a Housing Project
Jada Zadaya Donnell
Offense Date: 08/02/2021
1 Possession of Methamphetamine
2 Crossing the Guard Lines with Drugs
3 Driving While License Suspended
Aaron Wayne Edwards
Offense Date: 11/16/2021
1 Trafficking in Illegal Drugs
Cortney Lynne Gammon
Offense Dates: 03/29/2022 - 03/31/2022
1 Burglary in the First Degree
Kelsae Javontae Gary
Offense Date: 09/10/2021
1 Trafficking in Illegal Drugs
James Marlon Geter
Offense Date: 08/22/2022
1 Possession of a Controlled Substance With Intent to Distribute
2 Possession of a Controlled Substance With Intent to Distribute
3 Possession of Marijuana with Intent to Distribute
4 Possession of a Controlled Substance With Intent to Distribute
5 Possession of a Controlled Substance With Intent to Distribute
6 Possession of a Controlled Substance With Intent to Distribute
7 Possession of a Controlled Substance With Intent to Distribute
8 Possession of a Controlled Substance With Intent to Distribute
9 Theft by Receiving Stolen Property
10 Possession of Firearm During Commission of a Felony
11 Possession of Firearm During Commission of a Felony
12 Possession of Firearm During Commission of a Felony
13 Possession of Firearm by Convicted Felon
14 Possession of Firearm by Convicted Felon
Trenton Brookes Gibby
Offense Date: 09/13/2021
1 Theft by Taking
Trenton Brookes Gibby
Offense Date: 11/03/2021
1 Arson in the First Degree
Trenton Brookes Gibby
Offense Date: 02/11/2022
1 Obstruction of an Officer
2 Unlawful Acts of Violence in a Penal Institution
Nicos Kiante Griffin
Mitzi Annette Wilson
Offense Dates: 06/06/2021 - 06/07/2021
1 Possession of a Schedule I Controlled Substance
2 Possession of Firearm by Convicted Felon
1 Possession of a Schedule I Controlled Substance
David James Raymond Ham
Offense Date: 01/24/2022
1 Aggravated Stalking
2 Criminal Damage to Property in the Second Degree
David Joe Harvey
Offense Date: 03/19/2021
1 Trafficking Methamphetamine or Amphetamine
2 Possession of a Controlled Substance With Intent to Distribute
3 Possession of a Schedule I Controlled Substance
4 Possession of Firearm by Convicted Felon
Jeremy Len Head
Offense Date: 03/06/2022
1 Fleeing or Attempting to Elude a Police Officer
2 Obstruction of an Officer
Lavar Kirkland
Offense Date: 09/23/2022
1 Trafficking Methamphetamine or Amphetamine
2 Trafficking in Cocaine
3 Trafficking in Ecstasy
4 Possession of a Controlled Substance With Intent to Distribute
5 Possession of Marijuana with Intent to Distribute
6 Possession of a Schedule I Controlled Substance With Intent to Distribute
7 Possession of a Controlled Substance With Intent to Distribute
8 Possession of Firearm During Commission of a Felony
9 Possession of Drug Related Objects
10 Driving While License Suspended
11 Possession of Firearm by Convicted Felon
Javarri Tamu Lindsey
Offense Date: 04/04/2022
1 Aggravated Assault
2 Aggravated Assault
3 Aggravated Assault
4 Aggravated Assault
5 Aggravated Assault
6 Possession of Firearm During Commission of a Felony
7 Possession of Firearm During Commission of a Felony
8 Possession of Firearm During Commission of a Felony
9 Possession of Firearm During Commission of a Felony
10 Possession of Firearm During Commission of a Felony
11 Possession of Marijuana with Intent to Distribute
12 Possession of Firearm During Commission of a Felony
13 Theft by Receiving Stolen Property
Jennifer Sue Mackey
Offense Date: 12/29/2021
1 Homicide by Vehicle in the First Degree
2 Driving Under the Influence (Less Safe) (Drugs)
Bryan Dandre Malcolm
Offense Dates: 02/26/2018 - 02/26/2022
1 Aggravated Child Molestation
2 Aggravated Child Molestation
3 Aggravated Child Molestation
4 Aggravated Child Molestation
5 Aggravated Child Molestation
6 Aggravated Child Molestation
7 Enticing a Child for Indecent Purposes
8 Aggravated Sexual Battery
Octavius Bernard Mccurdy
Offense Date: 08/20/2021
1 Possession of Cocaine
2 Driving Under the Influence (Less Safe) (Alcohol)
3 Driving Under the Influence (Per Se)
4 Driving While License Suspended
Ashley Nicole Moore
Offense Date: 06/25/2021
1 Possession of a Schedule I Controlled Substance
2 Driving Without a License
Matthew Ryan Morgan
Offense Dates: 01/01/2011 - 12/31/2017
1 Aggravated Child Molestation
2 Enticing a Child for Indecent Purposes
3 Enticing a Child for Indecent Purposes
4 Child Molestation
5 Child Molestation
6 Aggravated Sexual Battery
7 Sexual Exploitation of Children
8 Sexual Exploitation of Children
9 Sexual Exploitation of Children
Betty Jean Peterson
Offense Date: 12/15/2021
1 Homicide by Vehicle - Leaving the Scene
2 Homicide by Vehicle - Leaving the Scene
3 Homicide by Vehicle - Leaving the Scene
4 Hit and Run
5 Hit and Run
6 Hit and Run
William Aaron Pogue
Offense Date: 09/18/2022
1 Kidnapping
2 Aggravated Stalking
3 Battery, Family Violence
Joshua Jamal Porter
Offense Date: 03/24/2022
1 Trafficking in Marijuana
2 Possession of Marijuana with Intent to Distribute
3 Obstruction of an Officer
4 Window Tint Violation
5 Child Safety Restraint Violation
Shantricia Makeshia Robinson
Offense Date: 06/15/2018
1 Cruelty to Children in the First Degree
2 Cruelty to Children in the First Degree
3 Battery, Family Violence
4 Obstruction of an Officer
Charles Joseph Russell
Offense Date: 03/10/2022
1 Cruelty to Children in the First Degree
2 Battery
Travis James Sego
Offense Date: 06/18/2022
1 False Imprisonment
2 Simple Battery
3 Hindering Emergency Telephone Call
Kristin Michele Spence
Offense Date: 05/18/2022
1 Obstruction of an Officer
Courtney Raythel Wortham
Offense Dates: 01/12/2019 - 09/17/2021
1 Making a False Statement
Raricca Jericoytwan Wright
Offense Date: 07/28/2022
1 False Imprisonment
2 Simple Battery
3 Hindering Emergency Telephone Call
4 Kidnapping