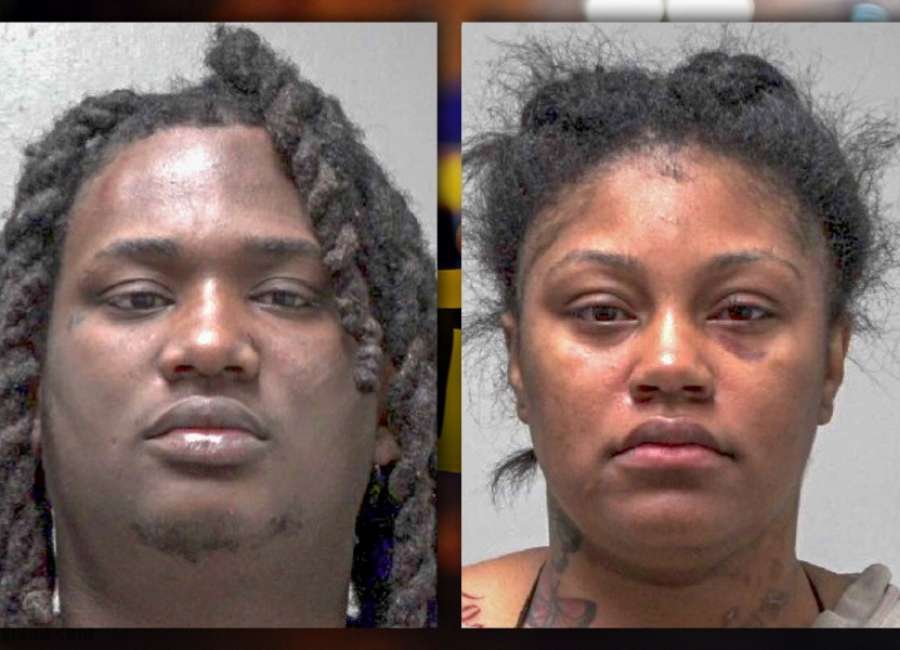 A woman faces a plethora of charges after allegedly leading police on a multi-agency chase down Interstate 85 with five unrestrained children in the back seat of her car.

Gloris Kanita Hairston, 30, was initially pulled over on Dec. 20 when a Coweta County sheriff's deputy noticed her white Dodge Charger in the far left lane with no lights on despite heavy rain, according to the CCSO report, and with what appeared to be illegally tinted windows.
After running the car's registration, the deputy discovered one of the owners – who turned out to be Hairston's passenger, 25-year-old Tremaine Ta'Von Denson – had two active warrants, one of which indicated Denson may be armed, the report stated.
The deputy said he noticed an odor of marijuana coming from the vehicle and that none of the children in the back seat had child safety seats and "some were sitting on other's laps without seat belts."
Neither adult could produce an ID, according to the report, and Denson gave his name as Eric Tisdale. The deputy said he asked Denson to step out of the car after noticing he appeared to be guarding something behind his zipper, which the deputy said he believed could be a gun.
Instead, Denson allegedly put the vehicle in drive and told Hairston to pull out, initiating a southbound pursuit that reached 124 mph before Hairston lost control of the Charger and crashed into a black SUV.
As the Charger spun out and slowed, the deputy attempted to get in front of and stop the vehicle, according to the report, but Hairston struck the patrol car and began pushing it out into traffic "in what I believed was an attempt to make me get struck by a civilian vehicle to hurt me and my K-9," the deputy said.
Hairston reportedly accelerated onto the interstate again, and other CCSO deputies and officers from the Grantville Police Department, the Hogansville Police Department, the Meriwether County Sheriff's Office and the Georgia State Patrol joined the chase, which ended with a successfully executed PIT maneuver on the Charger.
Denson took off on foot and was quickly caught, according to the report, but he resisted and fought with officers, who used tasers on him multiple times before he complied and was placed in cuffs.
Officers reportedly found a bag of marijuana in Denson's pocket, as well as two bags of marijuana, a loaded 9 mm handgun and a loaded rifle in the Charger.
Hairston – who was discovered to have been driving on a suspended license – was arrested without incident, according to the report.
The children were not injured, and a relative picked them up at the scene.
Denson and Hairston were transported to the Coweta County Jail.
Denson is charged with felony fleeing, possession of marijuana with intent to distribute, possession of a firearm by a convicted felon, giving false information to officers and reckless conduct (four counts).
Hairston is charged with aggravated assault on a law enforcement officer, felony fleeing, hit and run, possession of marijuana with intent to distribute, four counts of third degree cruelty to children and three counts of child safety seat violation.