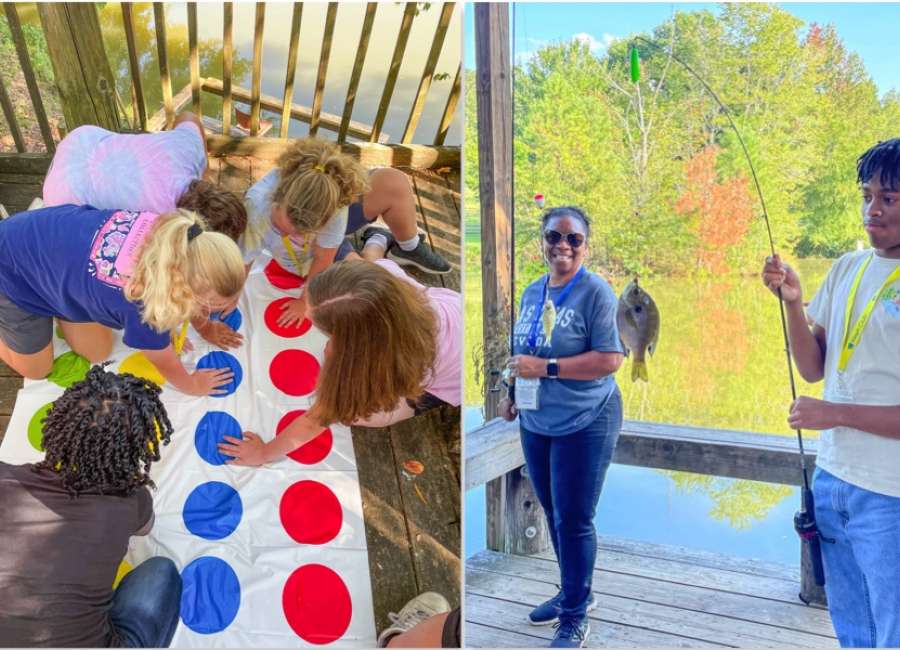 By Laura Camper / laura@newnan.com
In August 2013, Natalie Bacho created Abby's Angels in honor of her 9-year-old daughter, Abby Bacho. Abby died on Christmas Day in 2012 from injuries sustained in a car accident.
Abby's Angels supplied school supplies to children who didn't have them. It educated people about organ donation — Abby was an organ donor. It educated teens about responsible driving and the dangers of distracted driving.
But another thing that Bacho wanted Abby's Angels to do was provide grief resources for children.
There was just nothing available in the area except to those families that could afford to pay for a counselor, Bachco said. She watched as her children suffered through their grief at the loss of their sister without the support system that was in place for adults.
"People would stop and ask us how we were doing," Bacho said, adding that her daughters were there, but no one directed the question to them. "Their grief just wasn't recognized."
But their grief was just as real as her own, she added. So she started researching and found Kate's Club.
Grief support for children
Created in 2003 by Kate Atwood, who lost her own mother at the age of 12, Kate's Club is a free program for children ages 5 to 18 who have lost a parent, caregiver or sibling. Natalie contacted the organization and asked for a presentation in Coweta County. Then in 2019, through a grant from the Newnan Junior Service League, Abby's Angels partnered with Kate's Club to create the Newnan Clubhouse.
Heather Cohen, Newnan Clubhouse program manager, said that an average of one in 12 children has experienced the death of a sibling or caregiver. In Coweta County the average is one in 16 children, so a support organization is very much needed, she said.
"When Kate's Club was founded in 2003, there were very few grief organizations in the country that served youth facing the death of someone close to them," said Meagan Chong, marketing communications associate for Kate's Club. "There was a lot of grief support for widows and adults."
Grief support can be life-saving for children, Cohen added.
"The biggest indicator of children ending up in the juvenile system is bereavement," she said. "Also children who aren't getting mental health support are at a higher risk of PTSD (post traumatic stress disorder), depression, suicidal (thoughts), just any sort of at-risk behavior."
Children are still developing the skills they need to become successful, well-adjusted adults, and they need support as they deal with grief, too, Cohen said.
But children require different help than adults. Unlike adults, children often can't express their feelings of grief. They may have a hard time even identifying the feelings much less knowing how to react to them, she said. That's why child-specific grief activities are so important.
"Just from a developmental standpoint, it's different," Cohen said. "We're able to give them tools and strategies to work through that based on their age group."
Grief is isolating
In addition, because death is difficult for people to talk about, it is often referred to in poetic terms. Using euphemisms about death can actually make the whole grieving process more confusing and difficult for children, Chong said.
Bacho said the end result is that grief can be isolating. Grieving children can't relate to their friends in the same way anymore. One of the strengths of Kate's Club is that it brings grieving children together, she said.
"They get to know other kids and be around other kids who have experienced similar losses," Bacho said.
Suddenly, they're no longer alone in their feelings, she said.
Newnan Clubhouse meets monthly on Sundays at Coweta Organization for Riding, Rehabilitation and Learning, Cohen said. They do different grief-centered activities. Those activities can be art-based, play-based or communication-based. The most recent activity was to create scrapbooks reflecting on their journey through grief, she said.
Each month, anywhere from 10 to 30 children will attend the sessions, depending on transportation and availability. So far, 123 children have completed the program since its inception in Coweta County, Cohen said.
Although the program began before the pandemic, 12 percent of those children were dealing with COVID-related deaths, she said. Georgia has experienced the fifth highest death rate from COVID-19 in the U.S., Cohen said.
During the pandemic, Kate's Club created a virtual platform for members called Kate's Hub. When the families fill out the membership applications, they can choose virtual only or the in-person sessions, she said.
"Which is very cool because on those times our Newnan kids and families can't show up in person," Cohen said, "they can do that on a different day of the month, and they can also connect with families across the state of Georgia."
There are even a few families outside the state of Georgia who access the online program, she added.
Bacho said she is grateful to have found Kate's Club. Although the family knew from the beginning that they wanted children's grief support to be an arm of Abby's Angels, they had no idea what that would look like when they started researching.
"I think it's a beautiful relationship and partnership we found," Bacho said.
For more information about Kate's Club and Newnan Clubhouse please visit https://katesclub.org/programs/newnan-clubhouse/ .
Courtesy Kate's Club
Since children may not be able to identify and verbalize their feelings of grief, play is one way to help them express those feelings.
Art is another way that children can learn to work through their grief.
The children in the Newnan Clubhouse's programs meet at the Corral and are able to do outdoor activities as part of the healing process.