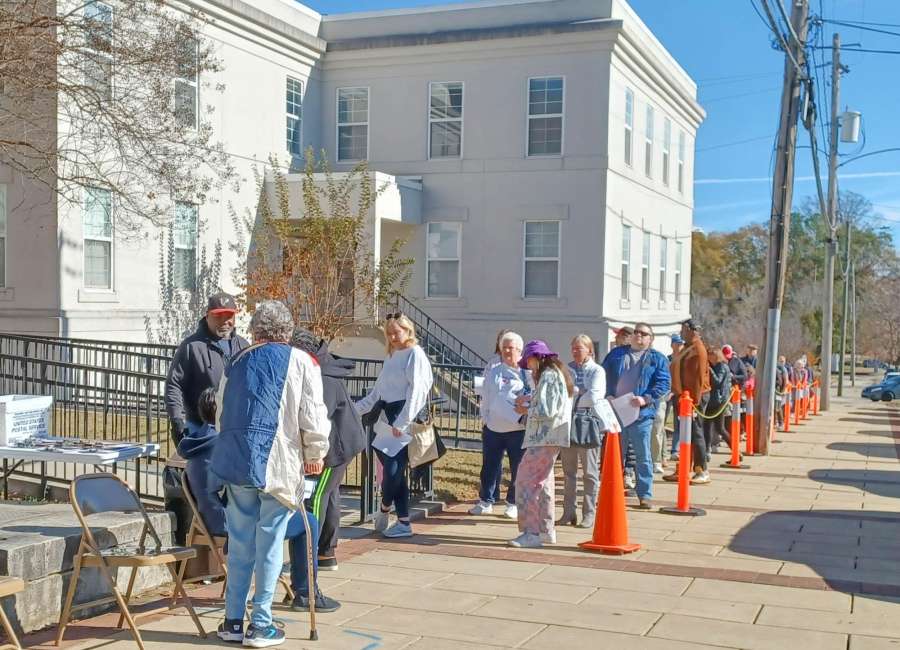 By Laura Camper / laura@newnan.com
As of Thursday, 11,431 Coweta County voters waited in line to cast their ballots in the runoff election between sitting U.S. Sen. Raphael Warnock and challenger, Herschel Walker. Another 2,140 turned in absentee ballots.
Coweta County voters joined their peers across the state in a record breaking daily turnout in the abbreviated one-week of early voting.
According to a news release by Secretary of State Brad Raffensperger's office, as of Wednesday morning, 770,745 voters had cast their in-person vote. On Monday, 303,166 Georgians voted in person, and on Tuesday, 300,588 Georgians voted in person. The previous records were 233,252 on the final day of early voting in the 2018 General Election and 252,715 on the highest day of early voting 2016.
"Georgia is a national leader in voter access and security," Raffensperger said according to the news release. "We are having historic levels of turnout and those who want to vote are voting — we believe this level of voter participation is excellent, and we'll keep working with counties to encourage them to open more early voting locations in the future."
On Thursday morning, Coweta County voters were waiting in line for more than an hour for their turn in the polls at the Voter Registration Office.
Anthony Lester said he had waited one hour and 10 minutes as he crept toward the beginning of the line. It wasn't the race that brought him out, but the right to vote, Lester said.
"My ancestors died for the right for me to cast my vote, so I thought it was important," he said.
Becky Kirkpatrick said she was surprised by the long lines, but she felt like it was an important race, so she waited.
"I think we need checks and balances and a balance of power," Kirkpatrick said. "If one party is in control of everything, then it's bad news."
Ashley Gay, Coweta County Elections director, said the shorter window for early voting, one week versus three weeks, was driving up the wait times.
"At the end of the week, I don't expect the total number of early voters to be higher than Nov. 8, 2022," she wrote by email. "For the Nov. 8, 2022, election, 33,239 people (voted early) in person."
Early voting ended Friday. The runoff election will be Tuesday, Dec. 6.