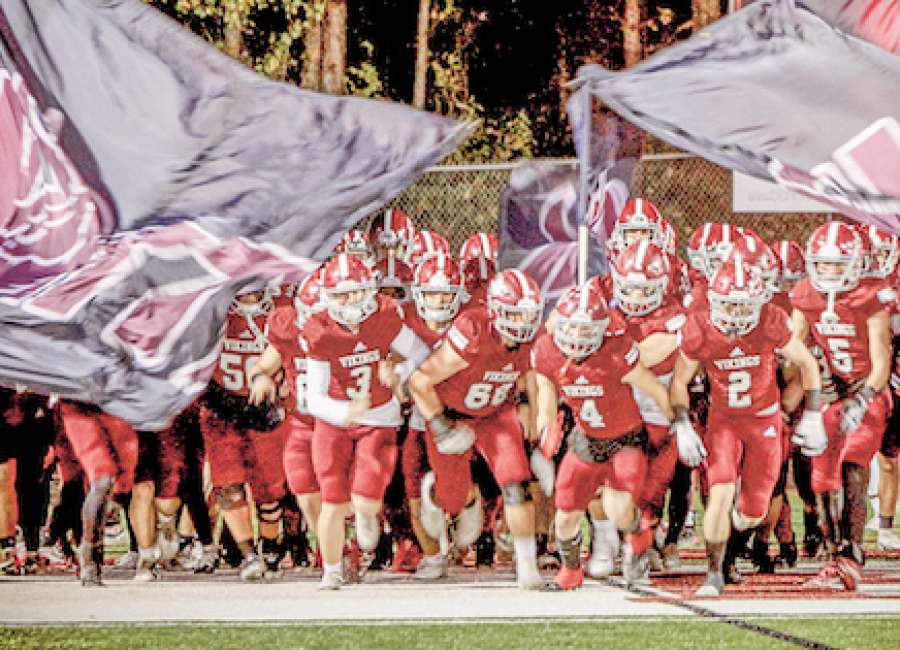 It was an incredible night at Valhalla. The Vikings completely dismantled the Arabia Mountain Rams 38-14 to advance to the second round of the state playoffs.
It was their first playoff win since Nov. 11, 2016, when they defeated Centennial 20-16, and their first home playoff win since Nov. 27, 2015 when they defeated Kell 34-21.
The Vikings took the lead in the first quarter on a four-yard touchdown from Evan Garret. It was a monster game for the junior running back, he had 142 yards on 23 carries and three touchdowns.
The Vikings also got touchdowns on a 49-yard pass from quarterback Ishan Metts to Tyon Williams and a Ryan Cobb pick-six in the second half. Nick Troemel added a 49-yard field goal with room to spare.
The Vikings dominated the game with their rushing attack; they finished with 235 rushing yards on 49 carries. With the addition of Josh Vigne to the mix, the Vikings offense can mix up the running game and look for some big shots downfield with Williams.
Metts completed eight passes for 79 yards and the touchdown to Williams.
The win was the fifth for the season, and also their third in a row and fourth in the last five games. Their only defeat during that stretch was a six point loss to region champion Northside-Columbus.
Northgate will travel to Dutchtown in Henry County for their second round matchup.
Photos Greg Keith
The Northgate Viking defense allowed only one touchdown by the Arabia Mountain offense during the game.
Nick Troemel (No. 32) was true on a 49-yard field goal to give the Vikings a 10-0 in the second quarter.
Evan Garret (No. 4) had 142 rushing yards and three touchdowns.
The Vikings stormed into the second round of the playoffs and will face Dutchtown on Friday night.