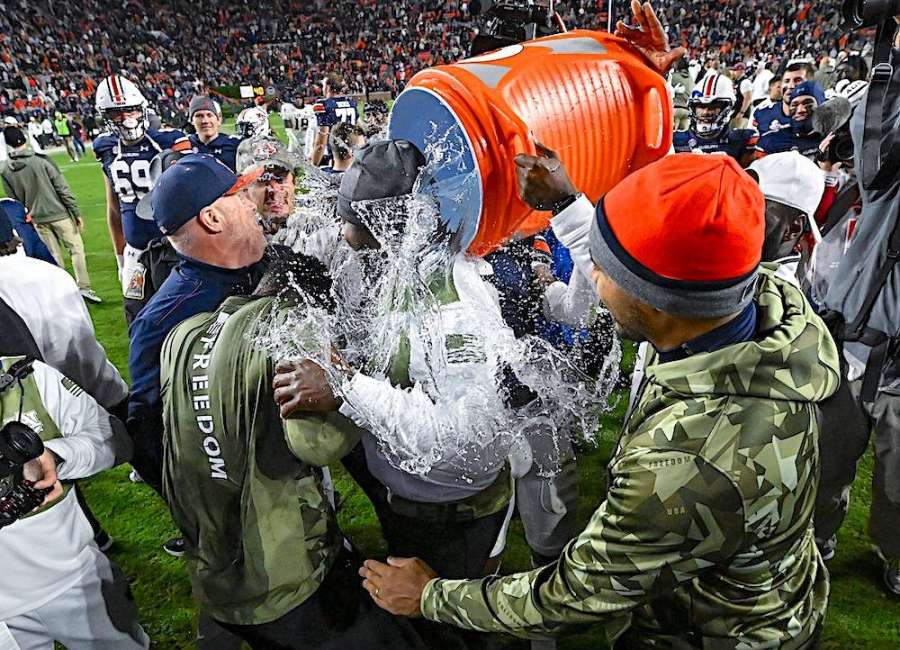 I'll go ahead and get the Spencer Rattler update out of the way: no touchdown passes or interceptions, so his season totals remain at eight and nine, respectively.
It's hard to believe that after 10 games, neither one has reached the magic number of 10 that would dictate his fate (local hero or bench warmer, respectively). His South Carolina Gamecocks, incidentally, lost to a steadily-improving Florida Gator team, 38 – 6.

A number of teams in the Top 10 had target practice Saturday:
# 1 Georgia, 45 – 19 over Mississippi State
# 2 Ohio State, 56 – 14 over Indiana
# 3 Michigan, 34 – 3 over Nebraska
# 5 Tennessee, 66 – 24 over Missouri. (The Vols, incidentally, piled up a school-record 724 yards of offense against the Tigers, one week after a paltry 289 against the # 1 team in the country. Make no mistake: the playoff committee will take both under advisement.)
# 8 USC, 55 – 17 over Colorado
Meanwhile, one team in the Top 10 took it on the chin:
# 6 Oregon lost to # 25 Washington, 37 – 34
The loss by the Ducks, coupled with # 12 UCLA's 34 – 28 loss to Arizona, put a damper on the Pac-12's chance of putting a team in the College Football Playoffs (CFP) this year. Their best bet is that a one-loss USC team can win their two remaining games – both at home against UCLA and Notre Dame – and then win the conference championship game. While Oregon and Utah match USC with one conference loss apiece, the Ducks and the Utes both suffered non-conference losses earlier in the season, reason enough to keep them out of the CFP this time around.
In the ACC, it looks like Clemson and North Carolina will battle it out in the conference championship game. Although it's likely the champion will end up at 12 – 1, it's likely the playoff committee will pass them by for the CFP, since they both suffered losses to perennial post-season underperformer Notre Dame during the season. For the record, # 10 Clemson took care of Louisville Saturday, 31 – 16, and # 15 North Carolina edged Wake Forest, 36 – 34.
In the SEC, Georgia clinched the East Division, and LSU, by virtue of their 13 – 10 win over Arkansas, clinched the West, after # 11 Mississippi was eliminated by # 9 Alabama, 30 – 24. Meanwhile, in the Stop the Bleeding Bowl (both teams in the midst of five-game losing streaks), Auburn beat Texas A&M, 13 – 10. The losing Aggies record now stands at 3 – 7, and after what should be a walk against Massachusetts next week, will still face LSU in their season finale that, in all likelihood, should result in a loss. For A&M coach Jimbo Fisher, a 4 – 8 record would be – by a light year – his worst record in 14 seasons as a head coach, and only his second losing season, his other being a 5 – 6 record in his last season at Florida State.
Now is a good time for an update on the coaching carousel in college football. To recap this year's roster of Power Five head coaches losing their jobs:
Scott Frost, Nebraska (week two)
Herm Edwards, Arizona State (week three)
Geoff Collins, Georgia Tech (week four)
Paul Chryst, Wisconsin (week five)
Karl Dorrell, Colorado (week five)
Bryan Harsin, Auburn (week nine)
That being said, the coaches in the on deck circle are:
Brent Venables, Oklahoma – now 5 – 5 after losing to West Virginia, 23 – 20 (yes, even though it IS just his first year with the Sooners)
Jimbo Fisher, Texas A&M, who would probably already be gone had it not been for the ridiculous amount of money he was promised if he were to be fired (good thinking, A&M). His saving grace may be a win over LSU – good luck with that, Jimbo – in their season finale.
In the Big Ten, undefeated Ohio State and Michigan should remain that way until they face off in two weeks to determine the winner of the East. After # 21 Illinois' 31 – 24 loss to Purdue, the West – otherwise known as the gang that couldn't shoot straight - now has four teams tied for the division lead with three conference losses apiece. It would be hard to bet against the winner of the East making it to the CFP. However, in the likely event that the winner of the West wins the Big Ten championship game – about as likely as UCLA playing football in the snow – it could put the conference in jeopardy of not having a team in the playoffs this year. I wouldn't worry about it, though.
Riddle me this, Batman. The team that the playoff committee considers to be one of the four CFP teams, # 4 TCU of the Big 12, were seven-point underdogs in their game against thrice-beaten # 18 Texas. At least the oddsmakers got the margin of victory right: TCU – 17, Texas – 10. Should the Horned Frogs run the table and win their conference championship – and they should – they will have earned their spot in the playoffs. Regardless of what the oddsmakers say.
Since we're on the subject of longshots, how about this: Vanderbilt ended a streak of consecutive SEC losses dating back to the Cold War by beating # 24 Kentucky on their home turf, 24 – 21. Meanwhile, Mark Stoops' Wildcats continue their annual late-season swoon (Surprised? Don't be.) after being ranked in the Top 10 as recently as, well, not that long ago. Incidentally, Vandy, Texas A&M, and Florida State (of the ACC) now have the same number of SEC wins this season: one. (Give the assist on that last one to Clay Neely.)
I'll end with an oddity. Pittsburgh led Virginia 14 – 0 just 16 seconds into their game in Charlottesville. Chalk it up to the Panthers turning the first two passes by Cavalier quarterback Brennan Armstrong into, in essence, a 'pick twelve.' Yep, the first two plays of the game were Armstrong passes that were intercepted and returned for touchdowns.
Certainly, the first 16 seconds of an otherwise insignificant ACC game was surprising. What was even more surprising – at least for me it was – was that the quarterback who screwed the pooch wasn't named Spencer Rattler.
My week eleven CFP prediction: Georgia, Ohio State, TCU, USC//Michigan/Tennessee (USC if they win out; if not, the Wolverines if they look respectable losing to Ohio State, and the Vols if they don't).
Spoilers? LSU winning the SEC. And the West Division champion winning the Big Ten.
Don't hold your breath on that last one.
Scott Ludwig lives, runs, and writes in Senoia. His latest book, SOUTHERN COMFORT is his second collection of 101 columns. His first, SOUTHERN CHARM, and all of his other books can be found on his author page on Amazon. He can be reached at magicludwig1@gmail.com