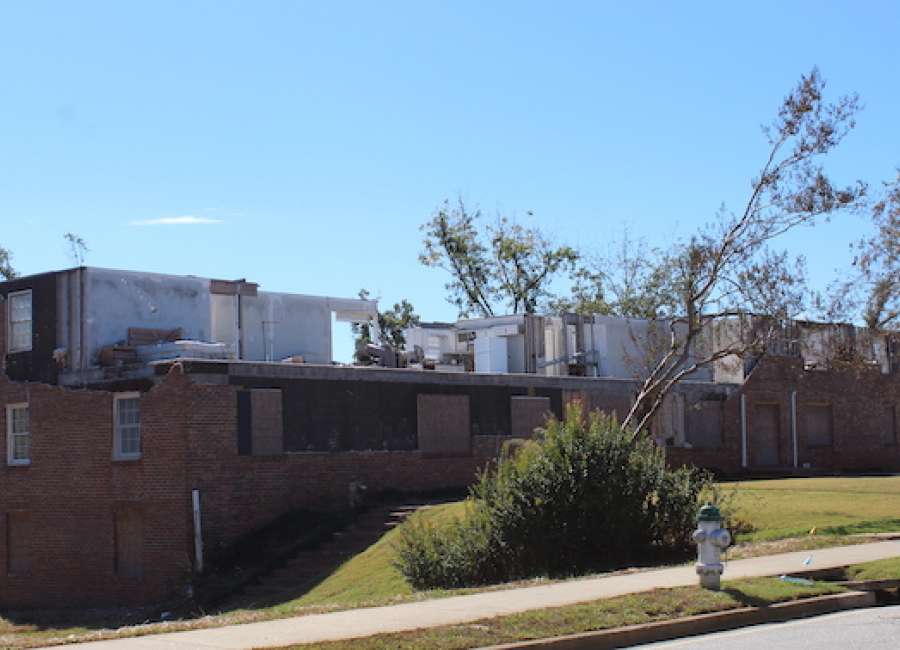 A site that once featured an apartment complex demolished by the March 2021 tornado has been rezoned for three single-family units by the Newnan City Council.
The council on Tuesday voted in favor of rezoning the property at 170 Lagrange St., not far from Newnan High School, from Suburban Residential Single-Family Dwelling - Medium Density (RS-15) to Urban Residential Single-Family Dwelling District - High Density (RU-7) to allow the construction of three single-family homes on three subdivided lots.
The homes would replace an apartment building that was demolished in the EF4 tornado in March 2021. That building sat in its demolished state for quite some time before it was demolished.
According to city documents, the homes will be two-story homes with basements, and the target selling price is $500,000 and up. The homes will average around 2,500 square feet.
A single driveway will be utilized along the property line that would run behind the houses, and each home would have its own driveway that would connect to that shared drive.
That single driveway was the point of some controversy during the meeting, as council members said there would be issues over the single driveway.
"Who will be responsible for that driveway? Will it be all three owners or just the one?" asked Councilman George Alexander. "I'm throwing that out because down the road, it's going to be all kinds of finger pointing and some council members are going to get some phone calls."
"No mortgage company in the world is going to make a loan on a house that does not have a driveway access that's legally recorded," said Mayor Keith Brady. "You're going to have to figure that out."
On the other hand, Councilwoman Cynthia Jenkins opined that a solution could be made with the single driveway.
"In situations like this, I've seen people use easements, and then have some sort of clause that says you have to maintain your portion of what's on your property," Jenkins said. "I don't have a strong opinion either way; I'm trying to think through it."
Jenkins said the way she had seen it done in other places included those easements or an association of some sort, which Shane Hamilton of Lichty Brothers Homes, said would be the solution.
"It's going to be treated as an HOA, with maintenance for the common drive taken care of by the HOA," Hamilton said.