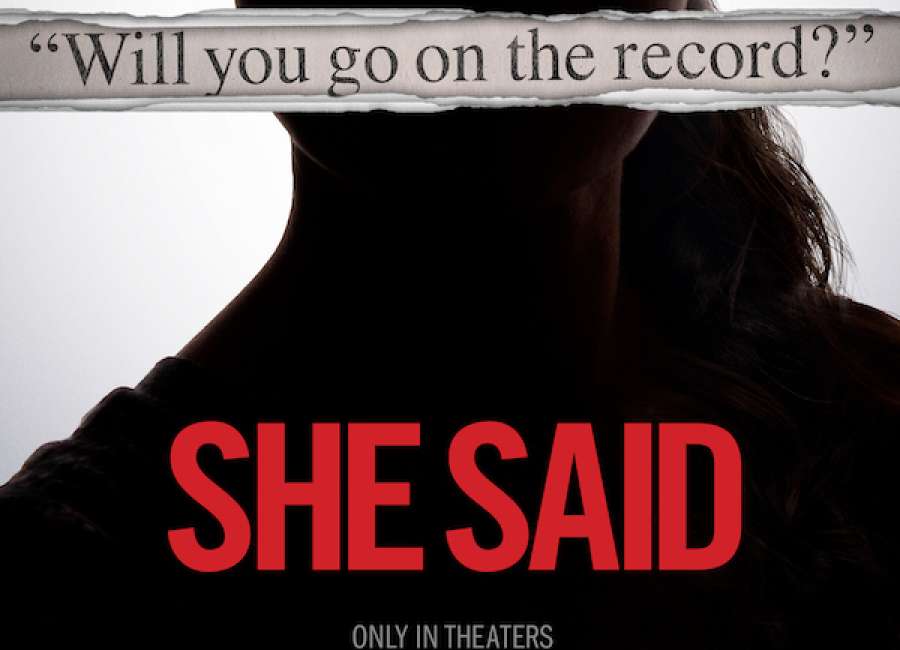 Review by: Jonathan W. Hickman
Rating: 9/10

Director: Maria Schrader

Cast: Carey Mulligan, Zoe Kazan, Patricia Clarkson, Andre Braugher, Samantha Morton and Jennifer Ehle
MPAA Rating: R
Running Time: 2 hours, 8 minu

Without becoming exploitative or overtly salacious, "She Said" is a riveting masterclass in investigative journalism. The film celebrates the award-winning landmark reporting by journalists Megan Twohey and Jodi Kantor that exposed evil perpetrated by a powerful man and the system that protected him.
"She Said" takes you inside the newsroom at The New York Times. Twohey ("Promising Young Woman" star Carey Mulligan) is an established writer who has a knack for developing a rapport with her subjects. Jodi Kantor (Zoe Kazan, see "The Big Sick") is depicted as somewhat less experienced in investigating. But she is the one who initially decides to pursue a story about allegations of sexual abuse in Hollywood centering on super-producer Harvey Weinstein.
When the investigation begins, we see both women in the professional setting and at home. Twohey is pregnant with her first child, and Kantor has two children. This work/family dynamic helps make each character distinct while also bonding them together. Twohey is beginning her journey as a mother, and, at least how we see it depicted in this film, Kantor is expanding her education as an investigative reporter. They can learn from each other.
So much of the investigation depends on nuance; striking the right tone and gaining the subject's trust is critical to getting to the truth. And in "She Said," we see the process unfold intimately. It's fascinating and informative.
As the investigation progresses, sources leading to the heart of the story come forward, but few agree to go on the record. Today, we know the names that include a who's who of the Hollywood elite. And German-born director Maria Schrader (Emmy winner for the series "Unorthodox") cleverly uses voice acting talent and complex camera work to reveal the actresses that ultimately take down a monster.
Through this fly-on-the-wall approach, we see the reporters talking on the phone and meeting sources in coffee shops and restaurants as they patiently and painfully listen to their sources. Listening is the key, and uncomfortable silences are where the magic happens. The pressure to get someone to go on the record is palpable, but Twohey and Kantor exhibit extraordinary restraint. Anyone pursuing a journalism degree or viewers interested in the business and techniques associated with top-tier reporting should tune in.
"She Said" also works well as a thriller. There's some appreciable sense of risk, certainly professionally, as these two journalists do their jobs. Schrader smartly shies away from tipping altogether into cliched thriller elements and maintains an intense focus on the actual events. There's no need to fake it here because the story is significant and part of our current ongoing national dialogue on sexual abuse and harassment.
And to that end, the tension the investigation generates on screen is extraordinary, crackling with energy. The New York Times is shown at risk as a snarling Weinstein makes threats and employs an army of connected lawyers. But all the money in the world couldn't silence the voices of truth forever. And as we know, this news story and the work of writer Ronan Farrow led to the beginning of the end for Weinstein and his empire.
Mulligan, who has already been nominated for the Oscar twice, should receive another nomination for her work here. And Kazan is equally worthy of awards notice. Supporting performances, though, are crucial to maintaining the razor-sharp edge and brisk pacing. Patricia Clarkson and Andre Braugher get juicy roles, with Braugher schooling us on how to handle difficult telephone conversations — click.
Few films in recent memory have been able to translate a current event into a narrative film better than "She Said." This year, director Ron Howard gave us "Thirteen Lives," a narrative telling of the incredible rescue of a youth soccer team in Thailand that became trapped in a cave. That film proved not to be as engaging or thrilling as the documentary "The Rescue," which covered identical ground. "She Said" isn't hampered by such comparisons and stands apart from other nonfiction works covering the event (see 2019's BBC documentary "Untouchable," for example).
Like Michael Mann's "The Insider," and, of course, the pinnacle of journalism cinema Alan J. Pakula's "All the President's Men," "She Said" breathes authenticity. It's a significant movie about one of recent history's most important news stories.