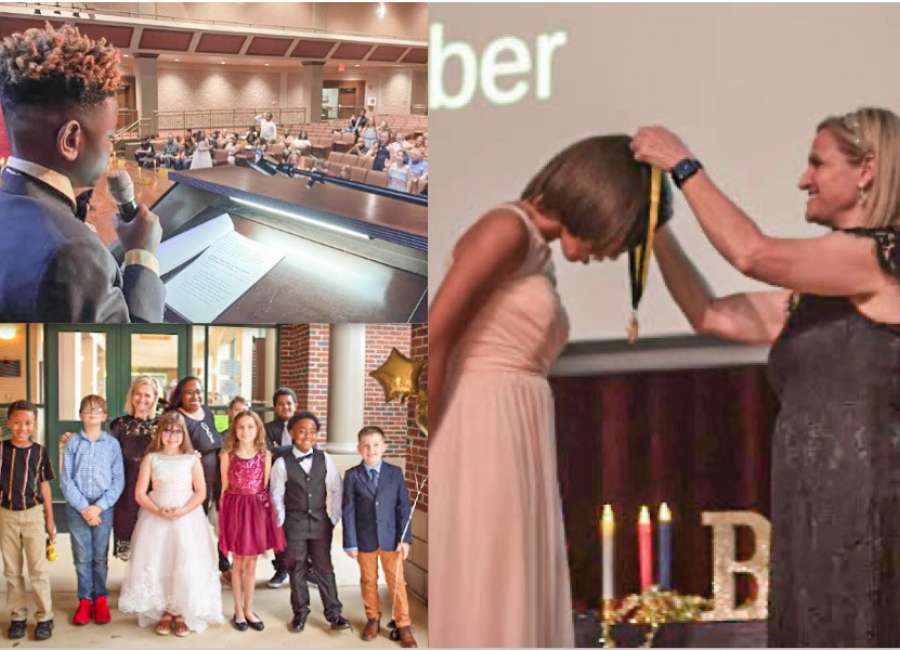 Ruth Hill Elementary Beta Club inducted its 2022-23 members and recognized second year members at the Nixon Centre recently.

The event was hosted by teachers Mary Thompson and Shari Taylor, sponsors of the club. Andrew Copeland, vice chairman of the Coweta County School Board was speaker at the event.
Sixth grader Benjamin Brown, last year's club president, inducted the new members: Kelsey Adams, Ruby Drewery, Sophia Gaines, Joseph Hicks, Griffin Hopkins, Ezekiel Horsley, Alexus Hutchison, Abigail Hawkins, Levi Hatcher, Mackenzie Hudson, Or'mon McGruder, Bentley Mitchell, Brian Quick, Jeremiah Satterwhite, Abigail Smith, Serenity Steiper, Jaxon Styles, Lyric Turlington, Lillah Tucker, Landri Vicknair, Savannah Walker and London Williams.
Brown also swore in the newly elected officers of the club: President Ruby Drewery, Vice President Autumn Anderson, Treasurer Isabella McMillan and Secretary Jeremiah Satterwhite.
Second year members: Alyssa Adams, Autumn Anderson, Andy Bernabe, Connor Bruce, Chloe Duck, Gunnar Gaines, Serenity Hamilton, Brooklynn Johnson, Emery Landrum, Isabella McMillan, Vaelyn Pachneck, Alyssa Quick, Mikey Shashoua-Haynes and Paris Thornton received the National BETA Club Elementary Medallion.
Additionally, the club held a special fundraiser at the event with Jalapeño Express raising money to benefit a staff member who was in the hospital at the time.
Courtesy Marlie Hopkins
Last year's president Benjamin Brown inducted new members into the Ruth Hill Elementary School Beta Club and swore in the newly elected officers at an event at the Nixon Centre.
Ruth Hill Elementary School Beta Club members: Jaxon Styles, Levi Hatcher, sponsor Mrs. Mary Thompson, Abigail Hawkins, sponsor Ms. Shari Taylor, Serenity Stieper, Jeremiah Satterwhite, Griffin Hopkins, Mikey Shashoua-Haynes, Ezekiel Horsley
:
Second year Beta Club member, Autumn Anderson, receives her National Beta Club Elementary Medallion from club sponsor, Mary Thompson.