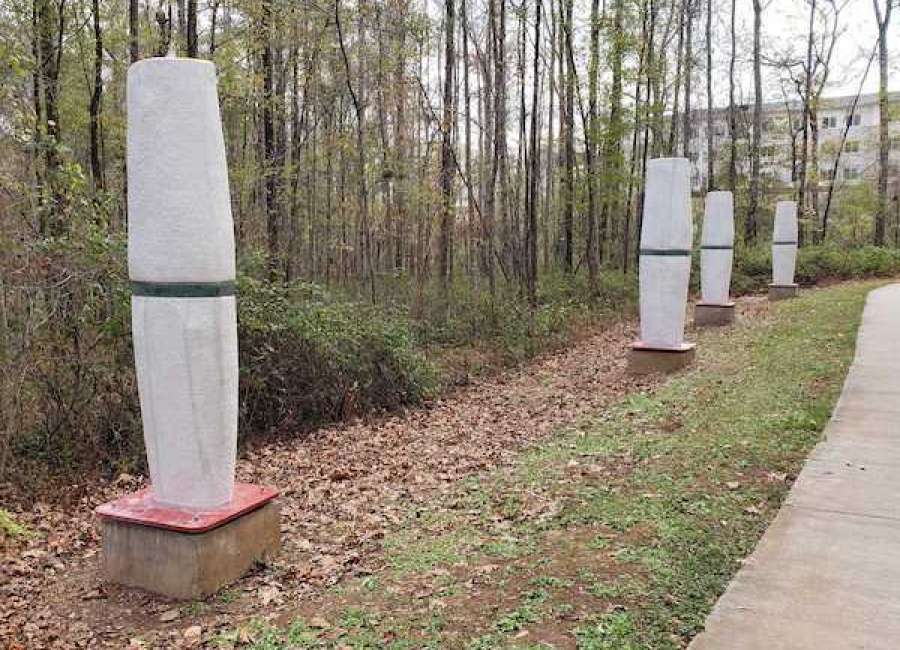 A new public art sculpture was unveiled on the LINC last Tuesday.
The sculpture, known as "Concurrent Metamorphosis II", was unveiled on Nov. 15 in the midst of a constant drizzle and rain.
Parks Avery, chairman of the Friends of the LINC, said the sculpture represented a goal for the multi-use trail when it was built.
"We were hoping when we built the LINC that we would encourage public art," Avery said. "It's happening and it's very exciting."
The sculpture is four large slabs of marble, and is located north of the Lower Fayetteville Road tunnel, not far from the Westhill Newnan Crossing assisted living facility.
Avery said the sculpture was a gift from donor Scott Chahalis to install public art along the trail. The artist, Chris Rothermel, along with Chahalis, were on hand for the dedication on Nov. 15. At the event, Rothermel highlighted the importance of bringing art into public spaces.
During the event, Avery spoke of the importance of Kim Learnard to the formation of the LINC, and the project before she became the mayor of Peachtree City. The initiative, Avery said, would not have been possible without Learnard's role as the director of the LINC.
There are more unveilings scheduled for public art on the LINC. Avery said one is scheduled for Dec. 2 at 9 a.m. near the I-85 bridge.