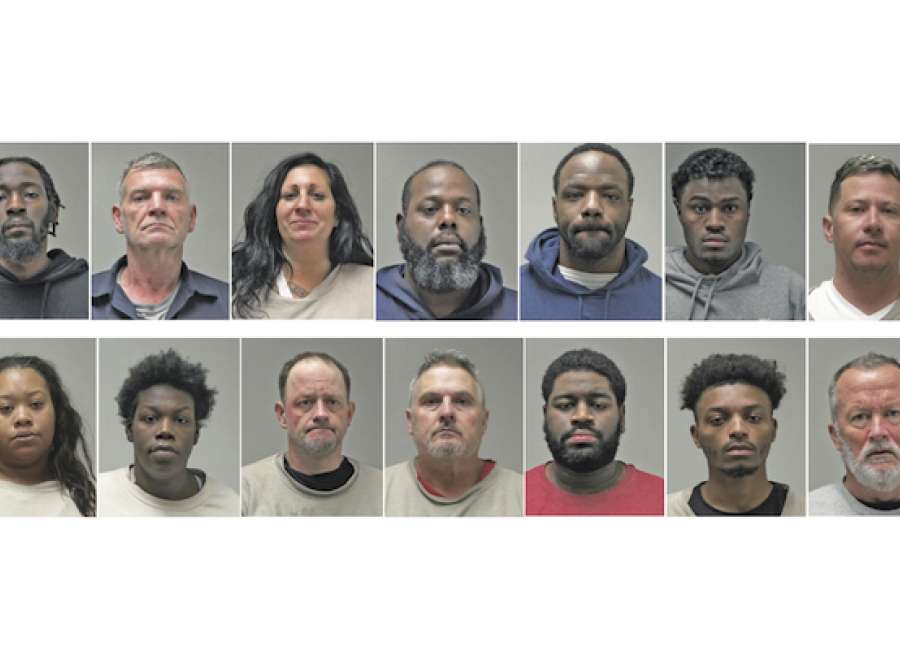 Fourteen people were arrested in a prostitution sting carried out at a local hotel Thursday.
The Coweta County Sheriff's Office Crime Suppression Unit arrested the 14 suspects on charges ranging from prostitution and pandering to drug possession.
Arrested were:
• Antwon Pernell Brown of Jonesboro – Prostitution.
• Shawn Christopher Futch of Newnan – Pandering, possession of cocaine.
• Emily Elizabeth Gibbes of Newnan – Prostitution.
• Richard Dupree Green of Ellenwood – Possession of cocaine, possession of marijuana.
• David Lance Henderson of Roanoke, Alabama – Pandering.
• Dillon Justin Lucas of Woodstock – Prostitution.
• Yamil Martinez-Pavon of Hialeah, Florida – Pimping.
• Brittney Deleece Powell of Atlanta – Prostitution.
• Ikea Anterezz Ridley of Moultrie – Prostitution.
• Julian Jerome Warr of Newnan – Pandering, possession of meth, possession of alprazolam, possession of marijuana (less than one ounce).
• John Steven White of Sharpsburg – Pandering.
• D'Juan L'Earl Williams of Fayetteville – Pandering.
• Alexander Thomas Wright of Fairburn – Prostitution.
• Douglas Young of Greenville – Pandering.
Authorities also identified three possible human trafficking victims.
"Three additional subjects were transported to a secondary location for further interviews due to being identified as potential victims of human trafficking," said Toby Nix, public information officer for the sheriff's office. "Though we believe these are sex trafficking cases, we are continuing further investigation into these cases to try and identify the traffickers and/or associates involved."
Nix said the potential victims have not been charged and are currently being assisted by the Georgia Bureau of Investigation and Homeland Security's Human Trafficking and Child Exploitation group.
"They arranged interviews (and) secondary locations for victims to be escorted to for safety," he said. "These two agencies make it all possible for us to do these operations."
The Haralson County Sheriff's Office, the Muscogee County Sheriff's Office and Coweta County Prison Warden Larry Clifton also assisted in the sting.