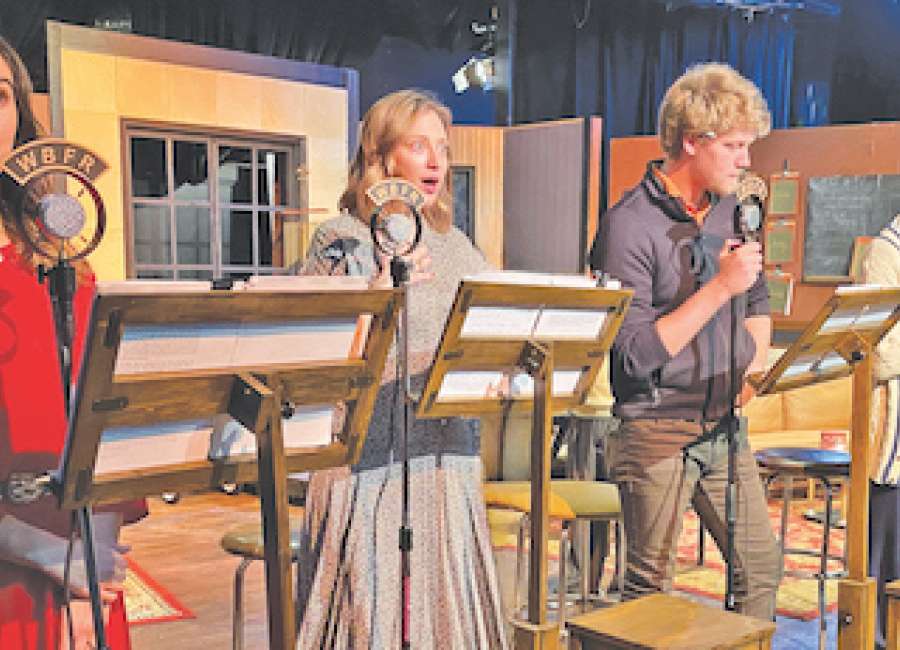 The Newnan Theatre Company's 45th season will continue next week with "It's a Wonderful Life: A Live Radio Play," based on the story "The Greatest Gift" by Philip Van Doren Stern and adapted by Joe Landry.

The play will open on NTC's Mainstage on Dec. 1 and runs Thursdays through Sundays until Dec. 11.
Audiences are most familiar with the version of the story immortalized in Frank Capra's 1946 movie "It's a Wonderful Life" starring Jimmy Stewart and Donna Reed, which was the first feature film starring Stewart after he returned as a decorated World War II hero.
NTC's production comes with a twist: The story, with all the same characters, is set as a 1940s radio play performed at WBFR, a fictitious Manhattan radio station before a live audience, in this case, NTC's patrons.
As was the case with live radio plays in the '30s and '40s, most actors give voice to several characters.
Freddie Fillmore (Lenton Lees) plays Joseph the Angel, the greedy magnate Henry F. Potter, flighty Billy Bailey, Ernie the cab driver and 10 other characters. Jake Laurents (Bryan Bulebush) plays George Bailey — the character made famous by Jimmy Stewart. Sally Applewhite (NTC newcomer Jacinta Ellis) plays Mary Bailey and several others.
Lana Sherwood (played by another NTC newcomer, Jensen Higley) voices temptress Violet Bick, George's mother, Mary's mother, Harry Bailey's wife Ruth and several others. Harry "Jazzbo" Heywood (Russ Moore) plays Harry Bailey, Clarence the Angel, Martini the bar owner, Bert the cop and several others.
Audie Bell (Beth Lyons) creates all the live radio sound effects on her Foley table, and her daughter Desi Bell (Meranda Cyr) plays the show's stage manager.
Two veterans of NTC's Academy of Theatre Arts (performing arts classes for elementary and middle school students) voice the children's characters: Dorothy Asher (Cora Ponzio) plays Young Mary, Young Violet, Zuzu, and others; and Thomas Cooper (Ryan Dailey) plays Young George, Young Harry, Tommy and others. Most characters also act out radio commercials and interact with the audience.
The WBFR radio station jingle, all commercial jingles, and extended Christmas carols in the lobby before the show and during intermission will be performed a cappella by an eight-member chorus under the direction of musical director Emma Bush. Downtown Newnan merchant and show sponsor Let Them Eat Toffee will serve hot chocolate during intermission.
It's A Wonderful Life: A Live Radio Play is directed by the Chairwoman of NTC's Board of Directors and veteran NTC actor, Karen Youger.
"This is my first time directing a play, and I am thrilled to have such an experienced cast and a veritable horde of experienced volunteers working on our set, lights, sound, props and marketing," Youger said in a press release. "I feel like every idea I have is immediately executed by people who make it happen fast and best! I can't wait for audiences to enjoy this classic Christmas story."
Tickets for "It's A Wonderful Life: A Live Radio Play" are on sale now at NTC's website at newnantheatre.org or by calling 770-683-6282. All tickets are $15 on Thursdays, and for all other performances, tickets for Adults are $20, for Seniors (65+) and Students are $18, and Children (10 and under) are $15. Newnan Theatre Company is a 501(c)(3) nonprofit organization.