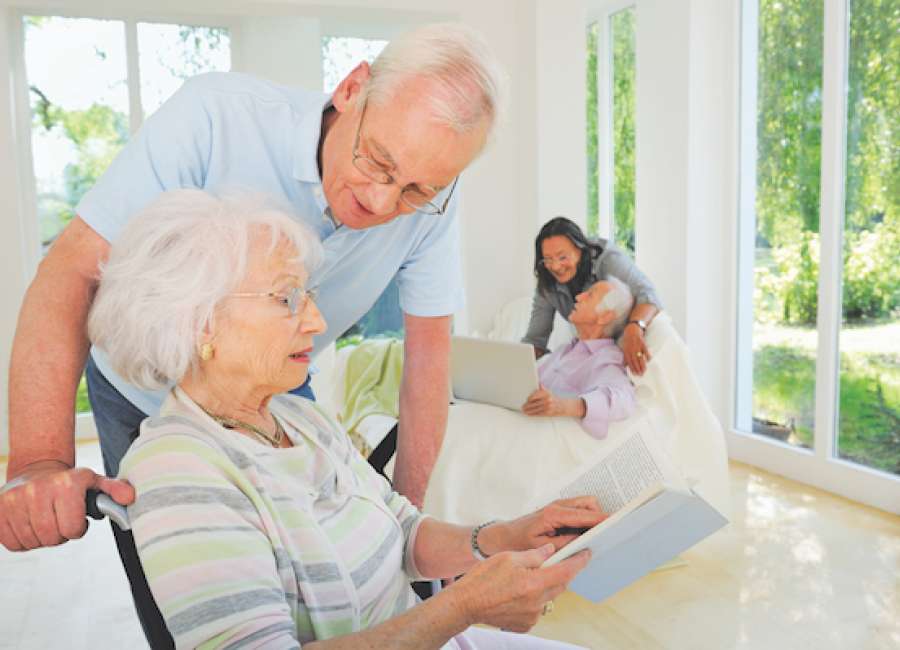 November is National Family Caregivers Month and most caregivers are Baby Boomers, according to a survey from www.carewell.com, a resource site for caregivers.
Statistics
According to Carewell's survey, 64.9 percent of survey respondents said they were born between 1946 and 1964. About 17.4 percent of survey respondents identify with the Gen X generation, 13.9 percent identify with the silent generation and the remaining four percent identify as a millennial.
A caregiver – sometimes called an informal caregiver – is an unpaid individual (for example, a spouse, partner, family member, friend or neighbor) involved in assisting others with activities of daily living and medical tasks, according to www.caregiver.org.
About 44 percent of caregivers that participated in the survey are providing care to their spouse, while nearly 38 percent are providing assistance to a parent or in-laws, according to Carewell. The remaining 17 percent are caring for an adult child with a disability, a sibling, friend or an extended family member.
When it comes to caregiving, there are many tasks that a caregiver may complete, but many of the care recipients need help with the activities of daily living (ADLs), which include eating, getting dressed and using the bathroom. According to the survey, nearly 61 percent of caregivers are taking care of someone with limited mobility. Caregivers are also taking care of recipients with dementia, arthritis, and diabetes among other ailments according to Carewell.
Phil's Friends steps in
In February 1972, June's husband Philip was in a motorcycle accident that left him paralyzed on the right side of his body due to damage to the left side of his head.
He lost his vision in his left eye, the hearing in his left ear and the bones on the front left side of his skull were crushed and eventually replaced with a rib and a half.
June and Philip's daughter, Lori Lawrence, said her family brought her dad home for Christmas in 1972 for a few days, but decided that stay would be permanent.
"Mom stepped up to the plate and made it her mission to provide the best quality of life she could for him," Lori said. "For 46 years, she cared, nurtured and taught Dad how to do things he could no longer do the same way before the accident.
Now, Lawrence is a caregiver to her mother, June.
To help others through a similar journey and to honor her father, Lori formed a nonprofit Phil's Friends Inc., an organization that helps others on this journey and improve their ability to care for their "loved ones" with memory loss disorders for as long as possible, according to its website.
The nonprofit provides services in education, medical equipment and modifications.
Lawrence said the workshops provide education to caregivers on ways to care for their loved ones while keeping themselves mentally and physically healthy.
Phil's Friends also hosts a free, weekly caregiver support group over zoom. The support group was previously held at the Cambridge House on Highway 154 in Newnan prior to the pandemic.
"We cover several topics including understanding and dealing with dementia, ways to improve the care you're providing, how to modify your home based off of your loved one's physical abilities, understanding the importance of exercise, how to manage wandering, caregiving stress, Medicare and lots more," Lori said.
Phil's Friends also works collecting and repairing medical equipment and redistributing to families without insurance, whose insurance will not provide the required equipment or for equipment needed before insurance benefits begin.
Lawrence said examples of equipment include new wheels for wheelchairs, lifts, new mattresses for hospital beds, walkers, bed rails and generic, over-the-counter medical supplies.
She said family members and caregivers of dementia patients may need help, but may not ask.
"Be that person that makes a difference and offers to cut their grass, pick something up from the grocery store, offer to sit with the family member so they can go hit a bucket of balls at the driving range, go to the park for a walk or read a book, have lunch with an old friend or just sit and enjoy a cup of coffee," she said. "You never know when your family may be impacted."
For more information about Phil's Friends, visit http://www.phils-friends.com. Anyone interested in attending the virtual support group can email Lawrence at lori@phils-friends.com.
How to Support an Alzheimer's/Dementia Caregiver:
● Seek support from other caregivers. You are not alone!
● Take care of your own health so that you can be strong enough to take care of your loved one.
● Accept offers of help and suggest specific things people can do to help you.
● Learn how to communicate effectively with doctors.
●Caregiving is hard work, so take respite breaks often.
● Learn: Educate yourself about Alzheimer's disease – its symptoms, its progression and the common challenges facing caregivers. The more you know, the easier it will be to find ways to help.
● Build a team: Organize family and friends who want to help with caregiving. The Alzheimer's Association offers links to several free, online care calendar resources that families can use to build their care team, share takes and coordinate helpers.
● Give caregivers a break: Make a standing appointment to give the caregiver a break. Spend time with the person living with dementia and allow the caregiver a chance to run errands, go to their own doctor's appointment, participate in a support group or engage in an activity that helps them recharge. Even one hour could make a big difference in providing the caregiver some relief.
● Check-in: Many Alzheimer's and dementia caregivers report feeling isolated or alone. So start the conversation – a phone call to check in, sending a note or stopping by for a visit can make a big difference in a caregiver's day and help them feel supported.
● Tackle the to-do list: Ask for a list of errands that need to be run – such as picking up groceries or prescriptions. Offer to do yard work or other household chores. It can be hard for a caregiver to find time to complete these simple tasks that we often take for granted.
● Be specific and be flexible: Open-ended offers of support ("call me if you need anything" or "let me know if I can help") may be well-intended, but are often dismissed. Be specific in your offer ("I'm going to the store, what do you need?"). Continue to let the caregiver know that you are there and ready to help.
● Help for the holidays: Holiday celebrations are often joyous occasions, but they can be challenging and stressful for families facing Alzheimer's. Help caregivers around the holidays by offering to help with cooking, cleaning or gift shopping. If a caregiver has traditionally hosted family celebrations, offer your home instead.
● Join the fight: Honor a person living with the disease and their caregiver by joining the fight against Alzheimer's. You can volunteer with your local Alzheimer's Association chapter, participate in fundraising events such as Walk to End Alzheimer's and The Longest Day, advocate for more research funding or sign up to participate in a clinical study through the Alzheimer's Association's Trial Match.
Courtesy Alzheimer's Association