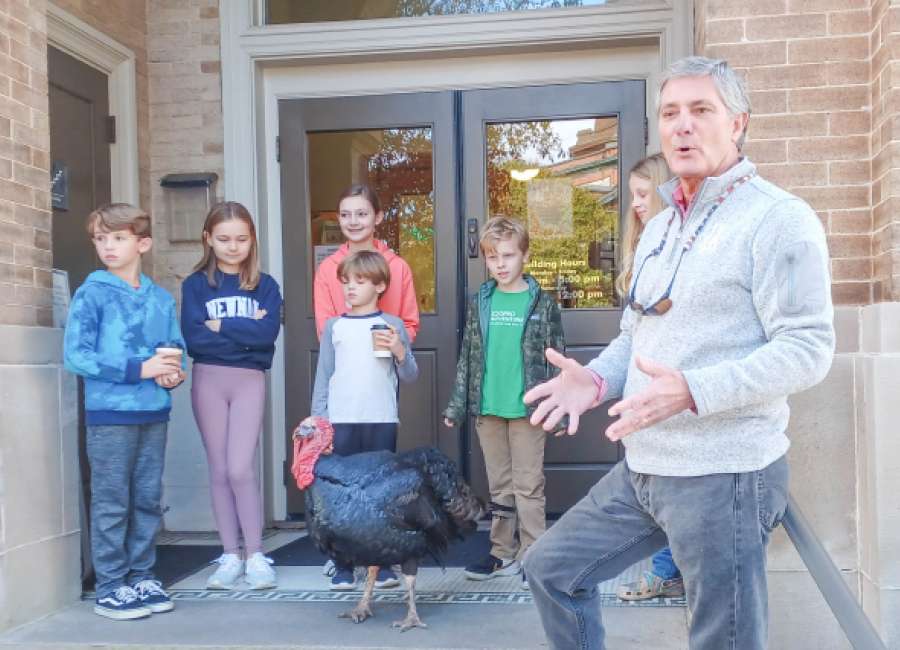 By Laura Camper
On Tuesday, in front of the Carnegie Library, Newnan Mayor Keith Brady followed the lead of numerous U.S. presidents and pardoned Johnny Cash, a turkey from ZooPro Adventures, based in Newnan.
"Everybody knows that I have no power to pardon anyone in my mayoral duties, but this is a turkey," Brady said. "And I hereby pardon Johnny Cash from making an appearance on anyone's dinner table on Thanksgiving day, from now and forevermore."
Three-year-old Cash will return to the zoo to live out his days in relative leisure. Domestic turkeys generally live six to eight years, said Jennifer Hoilman of ZooPro Adventures.
Aimee Hadden, Newnan's communications manager, said that ZooPro Adventures approached the city with the idea for the event.
"We thought it would be a fun community event," Hadden said.
The company is focused on educating the public about animals, and this was one more opportunity to do that, Hoilman said.
"We realize that even though we're a rural area, many people have never seen a live turkey," she said.
Cash is accustomed to crowds. He has visited several elementary schools over the years, Hoilman said.
"He's just very sweet and personable," she said. "Everybody loves him."
The tradition of pardoning turkeys is said to have begun as early as 1863 when then-President Abraham Lincoln granted clemency to a turkey ahead of the Thanksgiving holiday, according to whitehousehistory.org . However, the tradition was sporadic as poulterers sent gifts of turkeys to the White House, and some were not used for the Thanksgiving dinner, the website stated.
In 1963, a Washington Post article used the word pardon in an article quoting then-President John F. Kennedy as saying, "Let's keep him going," of one of the gifted turkeys.
Then in 1973, one of the luckier gifted turkeys was sent to Oxon Hill Children's Farm by First Lady Pat Nixon. In 1978, First Lady Rosalynn Carter followed suit, sending a turkey to Evans Farm Inn, a mini zoo. Under President Ronald Reagan, the practice became the norm, according to whitehousehistory.org.
"The formalities of pardoning a turkey gelled by 1989, when President George H.W. Bush, with animal rights activists picketing nearby, quipped, 'But let me assure you, and this fine tom turkey, that he will not end up on anyone's dinner table, not this guy — he's granted a Presidential pardon as of right now — and allow him to live out his days on a children's farm not far from here,'" the website states.
Although some turkeys are saved by presidential pardoning every year, millions more are consumed in the U.S. An average of 15.3 pounds of turkey were eaten by Americans in 2021, a total of 5.1 billion pounds, according to the National Turkey Federation.