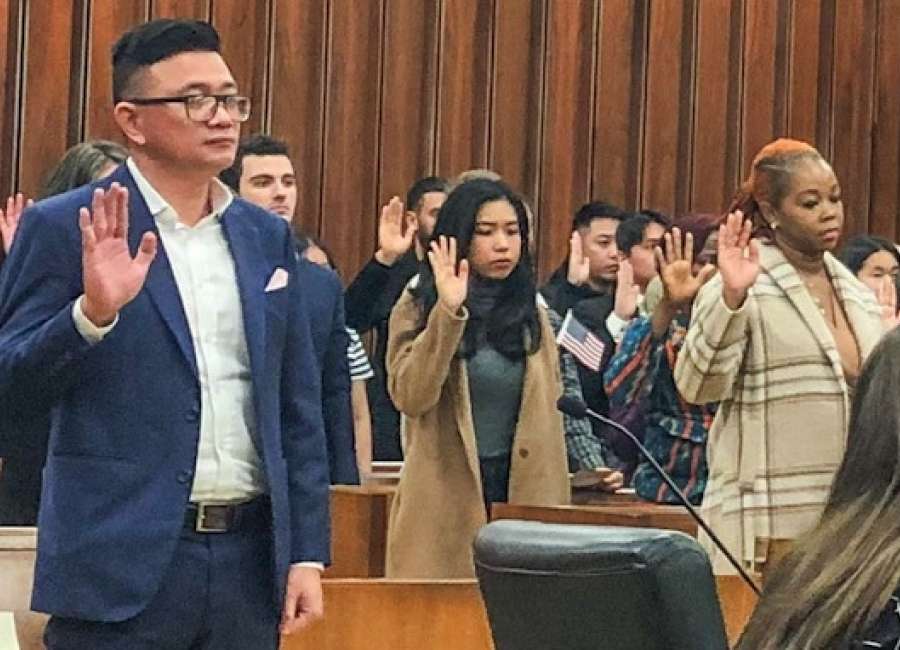 A Naturalization Ceremony was recently held at the U.S. District Court Northern District of Georgia for 50 new citizens.
U.S. District Judge Honorable Timothy C. Batten Sr. presided. Nathan Kitchens, Assistant U.S. Attorney, U.S. Dept. of Justice, read each person's name and the 21 countries of origin such as Norway, China, Cambodia, Iran, Columbia, Vietnam, India and Pakistan.
Uzma Wiggins, Courtroom Deputy Clerk, administered the Oath of Allegiance while Soloist Kathy Sewell sang the National Anthem and God Bless America. Judge Batten led the Pledge of Allegiance and ended the proceedings by congratulating the group and welcoming the new citizens to, "The greatest country in the world!"
A welcome reception was provided by the General Daniel Newnan Chapter, NSDAR with cookies and punch for the citizens, their families and friends. Each new citizen received a gift bag from the Chapter, full of patriotic items such as a flag, lapel flag pin, pocket constitution, preamble bookmark, red-white-and-blue pencils, pens and even patriotic mints.
Naturalization is the process by which U.S. citizenship is granted to a lawful permanent resident after meeting requirements established by Congress. You must be at least 18, a permanent resident for five years, able to speak and understand English, understand the fundamentals of U.S. history and government, and be of good moral character.