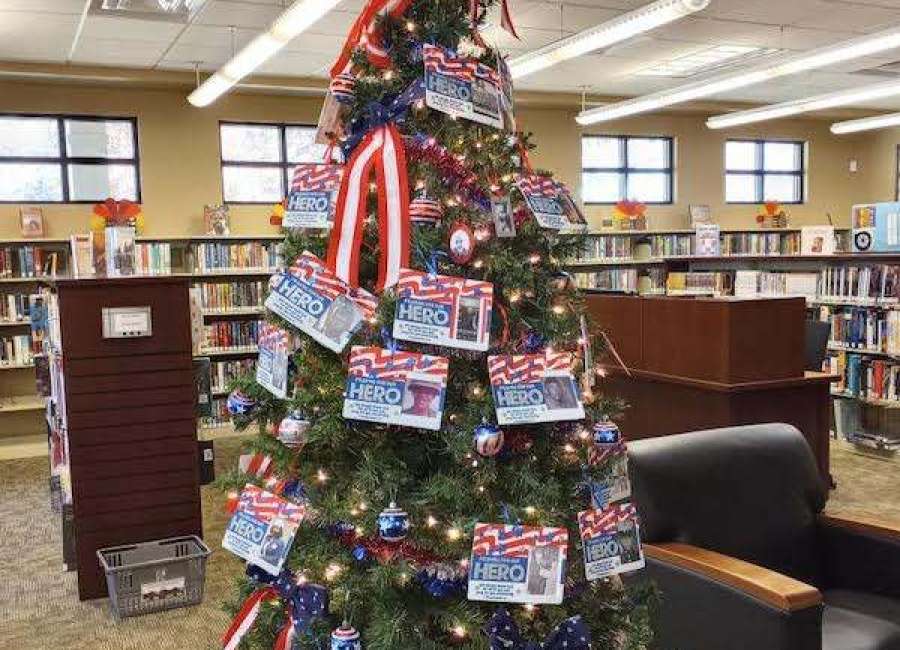 By Laura Camper
During the month of November, the Grantville Branch Library along with the Senoia, A. Mitchell Powell and Central libraries displayed veterans' trees to celebrate local military members.
Kristen Timoteo, branch manager of the Grantville and Senoia libraries, said another librarian mentioned the idea at a statewide continuing education class, and she thought it would be well received in the local branches.
"There have been studies that show that Christmas lights help with depression," Timoteo said, adding, "Plus, I just love Christmas trees."
The library reached out to the community asking for pictures of local veterans. The Grantville tree had about 50 submitted photos of Coweta County veterans hanging on its boughs, said Kim Thom, library assistant at the Grantville library.
Timoteo said she wanted each veteran recognized on every tree so that no matter where in Coweta the families and friends lived, they would be able to see their loved one on their library's tree. Each submission was copied four times on a color printer, glued onto paper ornaments and hung on all four trees.
The trees received a good response from patrons, they said.
"We had one lady come in; she lost her husband about three weeks before," Thom said. "She had sent some pictures, and she was so touched by the tree. She came in specifically to look for his pictures and she loved it."
Matthew Pagano, senior library assistant at the Grantville Library, said the tree was a good way to display the pictures.
"It's better than a pole," he said. "(The trees are) very welcoming to a community."
Monday was the last day for the trees as the veterans' pictures make way for Christmas ornaments. But the libraries are planning to repeat the veterans' tree next year and hope to get even more submitted photos, Pagano said.