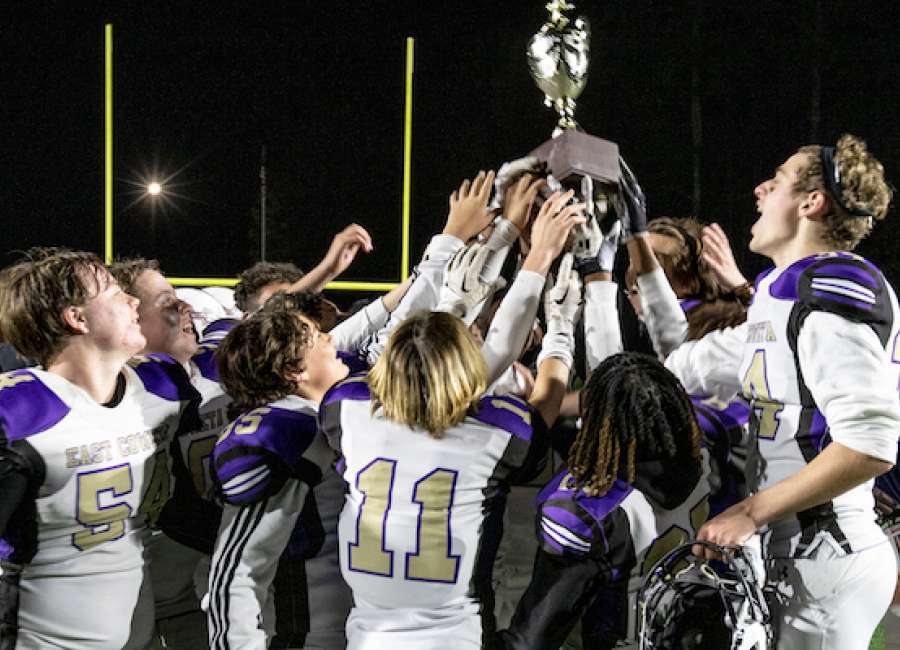 It was getting late Wednesday night in the Coweta County Middle School Athletic League championship game and the Arnall Knights had a 14-7 lead.

The East Coweta Indians defense forced an Arnall punt with two minutes remaining. It would be the Indians' last chance, and the ball got to the right guy.
East Coweta return man Chane Gilbert fielded a Knight punt at his 40-yard line, hesitated for a few seconds, sprinted to his left, and hugged the sideline for the tying touchdown. Aaron McWilliams kicked the extra point, and the game was tied at 14-14 and destined for overtime.
After an East Coweta touchdown on their first overtime possession, the Knights had one more chance. Gilbert took it away from them when he intercepted a pass to end the game and earn the championship trophy.
Before Gilbert took the game over, it was rough sledding for the Indians. The Knights converted three Indians turnovers into 14 points and were poised to beat a higher-seeded team for the second straight week and claim the championship as a three-seed.
The Knights scored first on a 13-yard touchdown run by Tashaad Gates. The Indians answered with a Jax Bowles quarterback sneak right before intermission and went into the half with a 7-6 lead.
The lead was short-lived. The Indians received the second-half kickoff but fumbled, and Arnall's Gabriel Townsend recovered. Ricky Howell scored from 12 yards out, and Gates converted a two-point conversion to give Arnall a 14-7 lead.
From there, the game became a defensive battle until the fateful punt to Gilbert with two minutes remaining.
"We faced a lot of adversity early in the game, and you could see it on our guys' faces," Indians Coach Justin Pharr said. "They were getting down a little bit. But we knew if we could get the ball in our kick returner's (Chance Gilbert's) hands, he had a chance to score."
For Pharr and the Indians, it was their second undefeated championship team in five years. The 2018 team featured the current East Coweta High School seniors whose season ended in the playoffs.
It was also quite a year for Arnall Coach Brennen Knight. His team defeated a one-loss Evans team last week and was only two minutes away from a championship.
These players will soon become stars on Friday nights, but on a chilly Wednesday night on the turf at Garland Shoemake Memorial Stadium, the East Coweta Middle School Indians were crowned county champions.