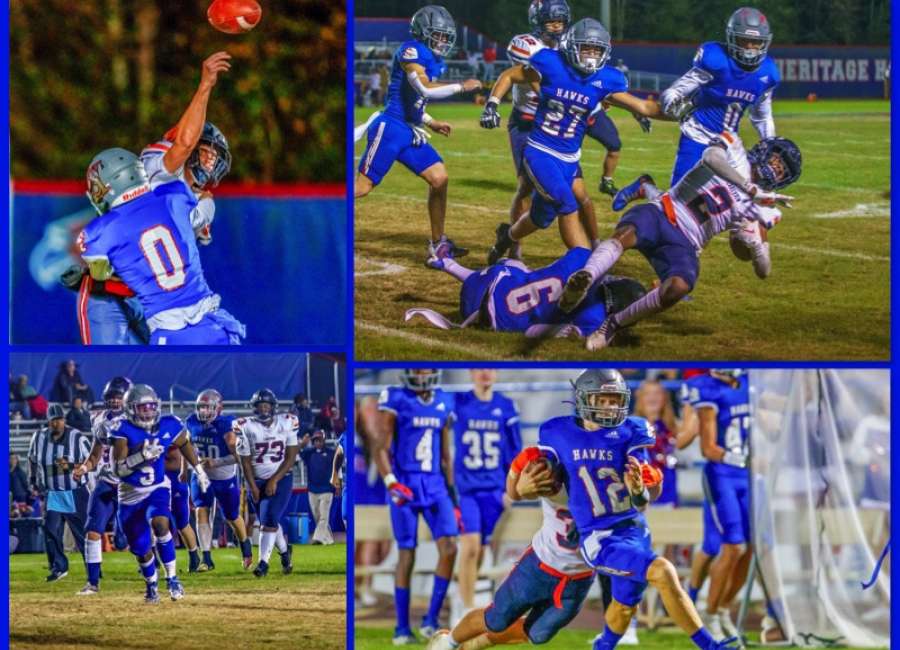 By Laci Johnson
The Heritage Hawks defeated the Lakeview Academy Lions 36-6 in their first round of playoffs. It was their first playoff win since a 34-16 victory over Southland Academy in 2018. The Hawks' hard work and relentless determination paid off on the way to their victory.
Touchdowns were scored by Freshman Quarterback Dylan Barber, Freshman Wide receiver Rocco Barbee, and junior Running back Edward "Juice" Bolden. The Hawks relied heavily on the running game to control the score and the clock.
Bolden led with 12 carries and 120 yards, while Barber followed with 10 carries and 118 yards. This dynamic duo will be a massive asset to the team moving forward.
Barber was efficient in the passing game too. He completed 20-of-25 for 209 yards and a touchdown pass. Dontae Smith was the leading receiver with seven catches for 54 yards. In total, the Hawks generated 453 yards of total offense.
The Hawks defense held its own as well. Those who stood out included brothers Braxtyn Davies and Brysen Davies, who had 10 assists collectively. The Davies are young leaders on the team that have promising futures. Junior Strong Safety Cale Cartwright had an interception to close the game in the fourth quarter.
Senior defensive lineman Jacob Miles, senior safety Caleb Woody and linebacker Brady Bowman all had a sack during the night to stop potential Lions scoring drives.
The Hawks will travel to Milledgeville to play the John Millage Academy Trojans this Friday, Nov. 18, at 7:30 p.m.
Photos Chris Martin
Running back Edward "Juice" Bolden (No. 5) breaks free for one of his two touchdowns.
Dylan Barber (No. 12) scrambled from his quarterback position to rush for 118 yards and a touchdown.
The Hawks Caleb Woody (No. 0) got the Lakeview Academy quarterback just as he let go of a pass.
The Hawk's defense got four hats to the football, with Dontae Smith (No. 6) taking down the ball carrier.