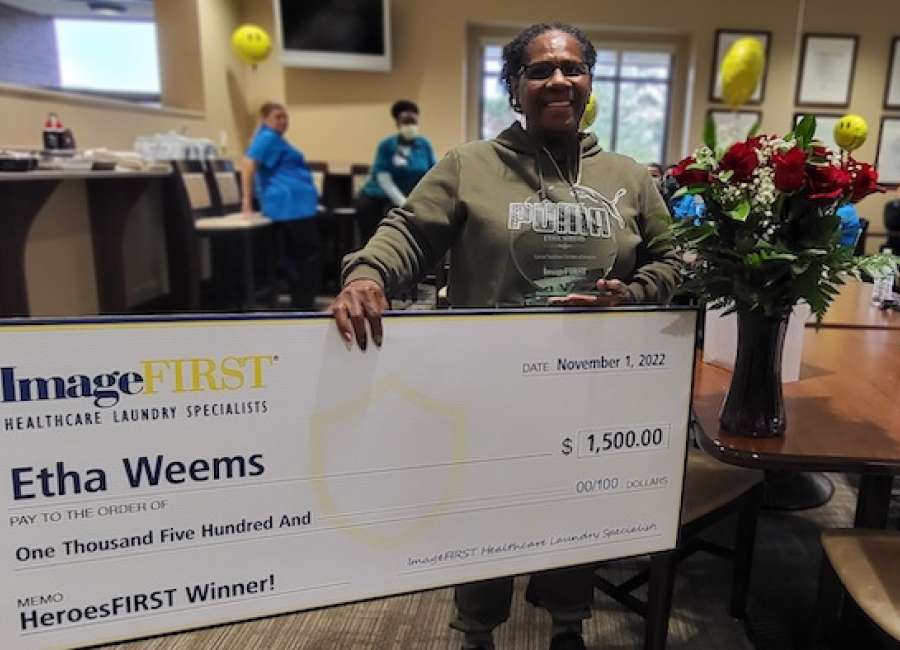 A CTCA employee was named as one of five winners of a contest recognizing health care professionals who positively impact the lives of their patients.
Etha Weems, Lead, Environmental Services, at Cancer Treatment Centers of America in Newnan is the HeroesFIRST winner for the Southeast. Weems was among 450 of those nominated to represent each region of the U.S.
The award is presented by ImageFIRST® Healthcare Laundry Specialists as part of its second annual HeroesFIRST Contest.
Brett Gallman, a customer advocate with ImageFIRST who has known Weems for at least 5 years, nominated her for the award. Gallman's nomination described Weems' positive and compassionate nature:
"Not only does she say 'hi' and smile at the patients and their families, but she also gets to know them," Gallman said. "I have seen (many times) Etha sitting, talking and consoling these families."
Weems is well-known at CTCA for pushing a work cart with a yellow, smiley-faced balloon attached to encourage patients, caregivers and staff to feel happy, according to Gallman.
Gallman described how Weems comforted him when his wife battled breast cancer and empathized with his situation — she had a family member go through the same challenges.
"I learned, firsthand, that Miss Etha truly cares about her coworkers, the patients of CTCA and their families," he wrote. "She consoled me and put my mind at ease for what we were about to face. She is a good soul, and in my mind a true Hero."
ImageFIRST provided a local celebration for Weems and her team at CTCA, where Gallman presented her with a crystal plaque, roses and a pin for the honor of winning. Kevin Ramaekers, ImageFIRST General Manager, then revealed the $1,500 winnings she'd earned.
Etha made a remarkable impression upon voters, and Ramaekers shared, "So many people who didn't even know her read her story and voted for her."
When asked how winning such an incredible honor made her feel, Weems responded, "It is enough of an honor to be nominated. To know that someone sees me, and sees what I do each day. Today is good."