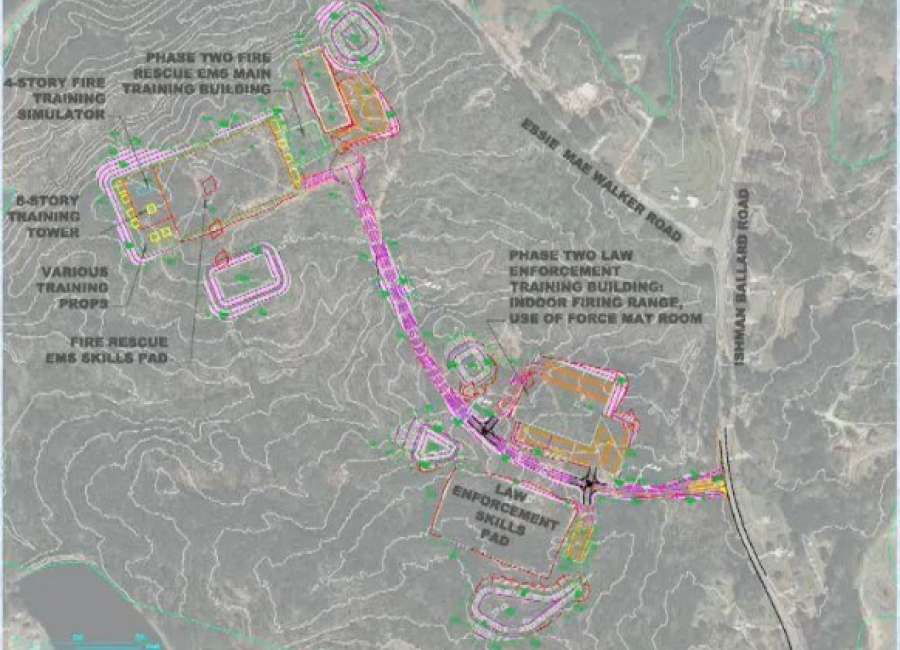 Coweta County has a location set for its proposed public safety training center, a location that was revealed at Thursday's Board of Commissioners meeting.

That location is on Ishman Ballard Road near Essie Mae Walker Road, revealed architect Joe Gardner, who works on a number of projects with the county.
Gardner said a number of sites in the Newnan area were reviewed before finding the Ishman Ballard Road site, which is a large site owned by the county.
One of the factors leading to the site selection was the need to mitigate impacts from noise and smoke from a fire training facility. Gardner said the 80 acres of land on the Ishman Ballard Road could address those considerations.
The new public safety training facility will feature a number of amenities when it is completed, including a 100-seat auditorium, 30-seat classrooms, 10-seat breakout rooms, a use-of-force mat room and an enclosed firing range for pistols and rifles.
As part of the indoor facilities, a high-level observation platform would also be present "so that what's happening on the skills pad can be observed inside the building," Gardner said.
In addition, an outdoor training facility would include a skills pad where law enforcement would receive training in vehicular law enforcement skills.
The outdoor facility would also include a four-story fire training simulator, a future six-story training tower, a training pavilion, draft pits to service fire trucks, car fire props, vehicle extrication pads and others.
Much of what the county has learned for their training facility, Gardner said, has come from the state's training facility south of Atlanta.
"We toured the Georgia State Public Safety Training facility in Forsyth, which is a very well-known and well-attended facility, and we learned a lot down there," Gardner said. "One thing we saw there was multiple uses of space, so we're trying to incorporate that as much as possible within this program."
In total, the first phase of the project, including initial site development and indoor and outdoor training facilities would cost between $17-20 million.
The second phase of the project, which would include the main training buildings for both law enforcement and its fire/rescue/EMS departments, would cost between $47-50 million.
The Coweta County Board of Commissioners voted in favor of the public safety training center concept, and asked county staff to determine "adequate funding sources," as Commissioner Bob Blackburn put it.
During the meeting, County Administrator Michael Fouts said that because the project was a large long-term investment, county staff proposed breaking it into multiple phases. Fouts also asked for the support of the BOC, so the county could start looking at funding options and start grading work on the site.