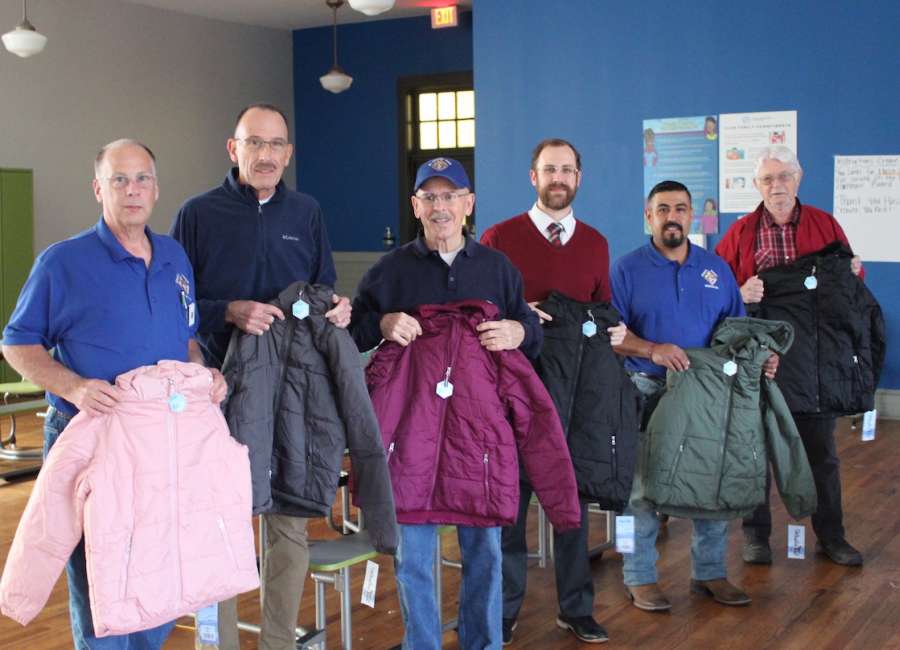 As summer gives way to fall and fall to winter, the temperature inevitably drops.

Days which once were stifling hot become brutally cold, and for most of the population, the time comes to pull out the winter wardrobe.
But not all of the population has winter gear. Not all of the people of Newnan and Coweta County have winter clothes and as a result, have to suffer through what can be freezing cold weather in the winter months.
To combat this, the Knights of Columbus, St. George Council 6622, have teamed with the Boys & Girls Clubs of Newnan to donate coats to children who truly need them.
On Wednesday, the Knights visited the Howard Warner Community Center in the Chalk Level community in Newnan, east of downtown, to supply the children there with a variety of coats.
Filling a need
Tom Lanyi, the Grand Knight of the St. George Council 6622 – a service fraternity based at St. George Catholic Church in Newnan – said the council is excited to provide children with coats for the winter season.
"There's a lot of kids in the county and the city that need this," Lanyi said. "This is really exciting (that) we can do this for the kids in the city."
During the event, Lanyi said the goal was to donate 72 coats to the children of the Boys and Girls Club. Last year, he said, they donated 67.
Members of the Boys & Girls Club in Newnan were just as excited as the Knights were, Lanyi said.
"When I came in today, I was talking to the staff, the kids were all excited about it," he said. "We've got these nice winter coats we're going to give out, and get to the kids that really need them, so they can wear them to school and out to play and be warm this year."
The Knights of Columbus Coats for Kids program has donated more than 500,000 coats to children in both the U.S. and Canada through the individual Knights of Columbus councils.
"Believe it or not, it still gets very cold in Georgia, and it's absolutely sad if there's a child that needs a coat and doesn't have a coat and has to suffer through this cold winter," said Brett Adams, deputy grand knight for the Knights of Columbus. "There shouldn't be a kid who's sad or disappointed or upset to go to school because they've got to suffer through that cold to get there."
Built to last
Coats are meant to last the children for not just this year, but beyond. That's why the Knights fit the children with larger coats.
"These are great high-quality coats, wind resistant, water resistant, very thick, very nice, lightweight and very difficult to tear," Adams said. "There's a kid that I know who … still has his, five years later. That's why we try to give ones bigger of a size so they've got room to grow. It's not something that, oh, by the end of the month, they'll outgrow."
When the children went out to pick out their coats, the biggest challenge was not finding them coats that fit, but rather finding the right colors for them.
"Football always makes things hard for us," Adams said. "Good luck giving a Georgia fan a crimson coat."
And sure enough, red and black coats were in demand among the Georgia fans in the class, while other colors such as lavender, pink and gray were sought after by other children.
"Last year, the kids were really excited to get them. We gave out a number of coats, most of the coats here, and there were a couple that contacted me outside this that lived in the neighborhood," Lanyi said. "Hopefully we can keep expanding this over the next year. This is the second year we've done this as a council."
Andrea Maxwell, the executive director of the Howard Warner and Newnan Boys & Girls Club and a native of Toronto, Ontario, Canada spoke of how weather like what Newnan encountered on Tuesday – wet, cold, windy, miserable – may have caught those children and others unprepared.
"It's a great experience for the kids to get these jackets, to see these people give back to the community. It's awesome for the kids to see that, and it's great that the Knights of Columbus were able to come and do this for them," she said.
Maxwell said she was thankful for the Knights of Columbus providing the coats.
"That was unexpected, and I'm glad they can come to facilitate," she said. "Sometimes people may not think it could get that cold this quickly at this time of year, so I'm glad they can help the community."
Maxwell said that, being from Canada, she has multiple coats to get her through the cold, but the children may not have.
Pancakes for coats
St. George Catholic Church held pancake breakfasts to raise money to purchase coats for the program.
"We've had breakfasts once a month, and we raise the funds through the parishioners up there at church after Mass, they come in, we serve them breakfast, and they donate," Lanyi said. "That's how we do it."
"We sold pancakes, eggs, sausage, to raise money to bring these coats in," Adams said. "It's something great that we do."
The coats, which are ordered through Knights of Columbus, are available in bundles for different age groups and for boys and girls.
But the Coats for Kids program is far from the only charity that the Knights of Columbus council participates in.
"We also support Coweta County Special Olympics (and) the food bank at One Roof," Lanyi said. "We also give money to the pregnancy center on Brown Street. All the monies we raise go to charities. This is one of our outside works we do."
And so far, Lanyi said, the council has raised around $1,700 for the cause. With that, the council has started on next year's Knights of Columbus Coats for Kids event.
Anyone wishing to donate to Coats for Kids can do so by mailing a check to St. George Catholic Church, c/o Knights of Columbus, 771 Roscoe Road, Newnan, GA, 30263.