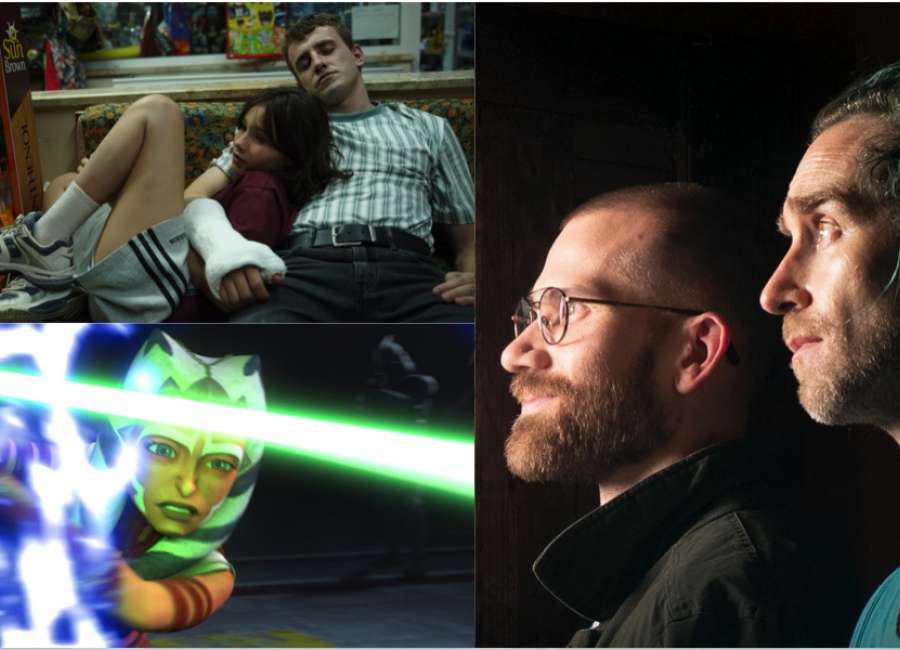 Reviews By: Jonathan W. Hickman
Something in the Dirt
Review Rating: 7/10
Film Details:
Director: Justin Benson and Aaron Moorhead
Cast: Aaron Moorhead, Justin Benson and the voice of C. Robert Cargill
MPAA Rating: R
Running time: 1 hour, 56 minutes
Available in limited theatrical and streaming release
The writing and directing team of Justin Benson and Aaron Moorhead are affectionately called "DIY wunderkinds." They achieved a cult-like level of success with their humbly produced movies like 2017's "The Endless" and the slightly bigger budgeted "Synchronic" in 2019. "Something in the Dirt" is a return to their indie roots after dipping their creative toes into the Marvel Cinematic Universe by directing two episodes of "Moon Knight."
"Dirt" has Benson and Moorhead once again directing themselves. Benson plays Levi Danube, a former teacher with a math background who now makes money photographing weddings. When an aimless bartender named John Daniels (Moorhead) takes a vacant apartment in Levi's building, the two men begin to chat about their dismal lives in Los Angeles.
While helping John set up his apartment, they witness something fantastic — a volleyball-sized crystal refracts strange light into the apartment's living room and then appears to levitate. Freaked out, Levi attempts to explain the phenomenon with science, but John suggests they try to capture the event on camera. After all, Netflix will pay handsomely for a documentary that proves the supernatural, right?
John and Levi begin a months-long odyssey that takes them down a paranoid rabbit hole. They may have become fast friends, but their instant connection doesn't extend to dark secrets in their past that might inform on their shaky present.
"Something in the Dirt" is a rough-and-tumble production that combines various digital and analogue video components. Smartly, the filmmakers make use of stock footage to spice up the visuals and introduce all manner of strange conspiracy elements. As the investigation proceeds, the theories get farther and farther afield to the point where anything is possible, so long as they can find a basis for the wacky idea via a Google search.
This movie is a fine example of DIY filmmaking. What's surprising is that Moorhead and Benson maintain viewer interest for nearly two hours with what is mainly two dudes drinking, smoking and speculating about the mysteries of the universe.
Aftersun
Review Rating: 8/10
Film Details:
Director: Charlotte Wells
Cast: Paul Mescal, Frankie Corio, Celia Rowlson-Hall
MPAA Rating: R
Running Time: 1 hour, 42 minutes
Available in limited theatrical release
Charlotte Wells' moody story of a father and a daughter on vacation is raw and authentic. Her use of a naturalistic camera sets a sincere tone that's uniquely engaging.
11-year-old Sophie (Frankie Corio) accompanies her father, Calum (Paul Mescal), on vacation at an aging 1990s-era resort. She's beginning to question things around her with more mature eyes. But she doesn't know the depth of Calum's struggles; only 20 years later will Sophie (Celia Rowlson-Hall) come to understand more clearly the formative events of her past.
Wells' inspiration for her film came from old family photos. She calls the pictures "the catalyst for the original idea, a fictional story of a young father and his daughter on holiday." And while Calum isn't a representation of her father and she isn't Sophie, the process of writing the script made it become more "personal, more emotionally autobiographical."
And by mining her own memories, she's discovered the bridge between memories of things past and the way those memories are untrustworthy. The film contains an honest and utterly profound narrative that Wells allows to unfold naturally over the course of a few days.
In her first acting role, Frankie Corio is excellent as the young Sophie. It helps that she has genuine parent/child chemistry with Paul Mescal, who might be on shortlists for acting awards.
"Aftersun" is an impressive feature debut for writer/director Wells, and the film won the 2022 Cannes Film Festival French Touch Prize of the Critics' Week Jury.
Tales of the Jedi
Series Details:
Creator: Dave Filoni
Voice Cast: Corey Burton, Ashley Eckstein, Matt Lanter, Clancy Brown, Phil LaMarr, Theo Rossi, Ian McDiarmid, Liam Neeson and Bryce Dallas Howard
Running time: Six 13- to 17-minute animated episodes
Available on Disney+
All I can say about this anthology series is, "Wow!" I was unprepared for my first exposure to the "Star Wars" animated universe. "Tales of the Jedi" is a terrific set of thrilling and emotionally connective stories delivered in bite-sized chunks.
Each short episode explores various Jedi characters from the prequel trilogy era. And the storytelling is superior in almost every way to its live-action counterparts.
Highlights include an epic battle between Yaddle, a Yoda-like female Jedi Master, and Dooku. It's an intense fight to the death that might put a lump in your throat. And in "Practice Makes Perfect," Anakin Skywalker tortures his Padawan, Ahsoka, with a painful series of training exercises that seem never-ending. It's a grueling and rewarding episode that links well and helps explain Ahsoka's skills and proclivities when the character appears in season two of "The Mandalorian."