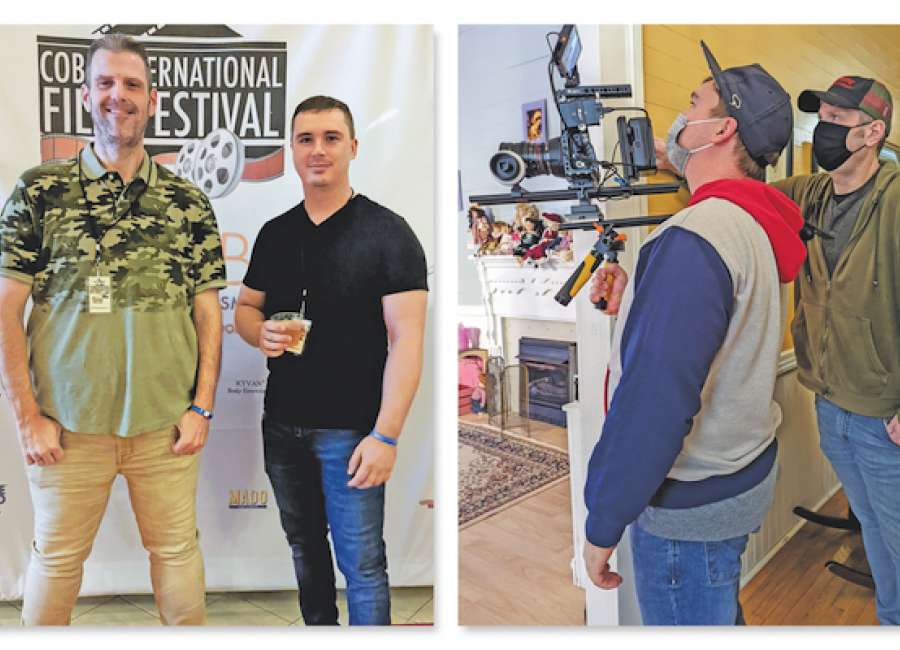 By Laura Camper, laura@newnan.com
Two new filmmakers are highlighting Newnan-Coweta Habitat for Humanity while making a name for themselves in short films.
It was a chance to do something they love while helping a cause they both believe is worthwhile and to build their portfolio, said Jason Kelly Lee, of McDonough, and Newnan resident, Craig Garmany. It has been a very moving experience, they said.
"Some of the people we interviewed got pretty emotional about where they were and how Habitat for Humanity helped them," Garmany said.
Lee said they attended a framing blitz in Newnan, and they interviewed the two soon-to-be homeowners and one Habitat for Humanity homeowner.
"Their stories were quite touching," he said. "We all left there feeling like we're really part of something special."
Eric Miller, president of Habitat for Humanity, said the documentary will be important in telling the community how the organization helps improve the housing market for residents. Habitat recently broke ground on the first two homes of a seven-home project on East Broad Street about one mile from downtown Newnan.
"We have big plans, and we've never been in a better position to help this community diversify its home stock," Miller said.
But people often have a preconceived notion of affordable housing as unattractive, subpar homes. Habitat though, builds pretty, quality homes for residents who will be well educated in taking care of their houses, he said.
Habitat homeowners take classes in budgeting, finance, home maintenance and repair to prepare them for owning a home, he said. They also put in 250 hours of sweat equity building their own homes, Miller said. Then, they pay a no-interest mortgage for their home. All of that promotes pride of ownership, he added.
The program makes a huge positive impact on the community, but it's not an inexpensive program, Miller said. So, getting the word out is important to recruiting volunteers and partners, Miller said.
That's why he was so pleased when Garmany and Lee volunteered to make the documentary, he said.
The making of filmmakers
Garmany and Lee met in October 2021 at Clayton State University's Film and Digital Media Center where they were taking classes. Garmany, 31, was focused on cinematography, while Lee, 47, was learning script writing and directing.
They both were following a dream of a different life.
Garmany, a welder at Yamaha, had wanted to work in film for years, but thought it was an unattainable dream. Then he found Clayton State's Continuing Education program full of students just like him.
"Most of these people have jobs and they're a little bit older, and they want to come back and do what they've always wanted to do," he said.
Lee, who was working in Chicago for United Airlines just a few years ago, believed the same thing.
"I've been writing since high school," Lee said. "I'd kind of stopped writing years ago, just due to life happening and personal issues. But the pandemic changed a lot for me."
He did some soul searching and decided to move back to the South. He arrived in Georgia in February 2021 and started classes in April.
"It was the best decision I ever made," Lee said.
He wrote a script, "These Sticks and Stones," and through the classes, he met Garmany. Together, they filmed the script with Garmany as the director of cinematography and Lee acting as director.
They are now showing the eight-minute film on the film festival circuit. The film is scheduled for almost 40 film festivals through next March, Lee said.
"With these festivals, you can submit your project, but that doesn't mean you'll be selected to compete," he said. "Like with Cobb (International Film Festival), they had thousands of submissions and they accepted, I think, 80. So to be one of those 80 felt pretty special, because ultimately, we're a student film."
So far, "These Sticks and Stones" has won Best Made in Georgia Film at Southern Shorts Awards, and Best Dramatic Short at Slice! Film Festival. Additionally, Garmany received an Award of Merit for Cinematography at Southern Shorts Awards.
Garmany is a very talented cinematographer, Lee said. Garmany had already worked with a couple of other student directors before working with Lee.
"I trust Craig (Garmany), that what I see in my head, he can make it come to life," Lee said.
Garmany said their project was the first he'd shot on location, and it gave him the confidence that he really could be a filmmaker.
They have since filmed a music video, "These Sticks and Stones" of the song used in the film. The music video features musicians Andrew Pierce and Amber Pierce Valentine. A second short film they worked on together, "Untethered," is set to premiere in March 2023.
Production in their future
Eventually, they would like to open a production company together, Garmany said. Lee definitely has a goal in mind for the future company.
"I've got a feature script that I'd written years ago," Lee said. "I want to rewrite it. It's called 'A Lighthouse Tale.'"
He eventually wants to film it as a full length feature film. But they both know that is years in the future and they're content with the work they're doing now.
Portions of the short film for Habitat for Humanity will probably be released on social media by the end of the year, they said. Garmany expected the full documentary to be about five minutes or so.
Miller said he has been pleased with Garmany's and Lee's professionalism and organization with the project.
"I'm not sure if I've ever had a better experience," Miller said. "I can't wait to see what they do in the future.