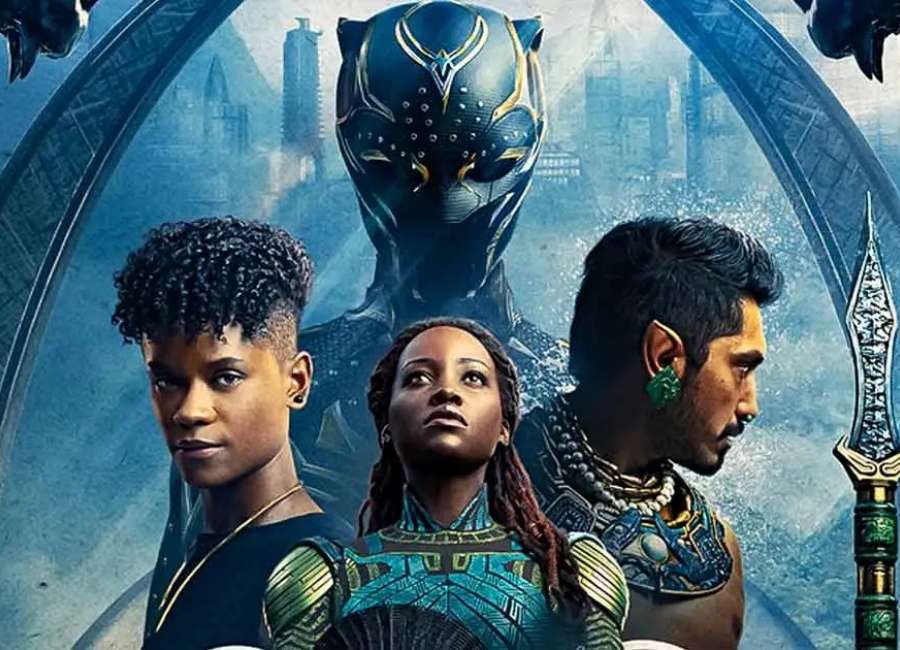 Review By: Jonathan W. Hickman
Film Details:
Director: Ryan Coogler
Cast: Letitia Wright, Lupita Nyong'o, Danai Gurira, Winston Duke, Angela Bassett, Tenoch Huerta, Martin Freeman, Dominque Thorne, Lake Bell, Robert John Burke, Richard Schiff, and Julia Louis-Dreyfus
MPAA Rating: PG-13
Running Time: 2 hours, 41 minutes
Available in wide theatrical release
Would you want to live under the rule of an absolute monarch? And would you consent to the monarch chosen through a haphazard combination of bloodline, fighting skills, and the ingestion of a mysterious flower that imparts supernatural power?
The Marvel Cinematic Universe has an authoritarian dilemma. The "Black Panther" sequel is an exciting and well-paced blockbuster, but, once again, the politics of Wakanda are utter nonsense. Still, the ruling class, at least, has its heart in the right place.
Ironically, "Black Panther: Wakanda Forever" opens during the same week of the pivotal United States midterm elections. Democracy was historically tested; thankfully, there was no violence at the polls. Even the Trump-endorsed candidate Mehmet Oz conceded in his hotly contested but not terribly close race against John Fetterman. Our republic appears to be working.
But in Wakanda, leaders are not chosen by the people. At least, there's no indication that any voting has ever taken place. And Wakanda is a far more technologically advanced nation than any on the face of the planet. The takeaway? Monarchies are good.
In the real-world absolute monarchies are not generally a place you want to inhabit, especially if you're gay or a woman. And, at some point, the MCU will have to reckon with how it cozies up to authoritarian figures, and it will have to let the people have a voice.
There are hints of this awareness in "Wakanda Forever." In one scene, Queen Ramonda (a fantastic Angela Bassett) is reminded that their political system allowed a madman to take control of the throne the last time there was trouble.
Despite thousands of years and all those marvelous high-tech toys, Wakanda is still politically stuck in the dark ages. And even though they appear to be a nation of great thinkers, it's up to a heroic queen to make all the fateful, desperate decisions. As I said, the politics of Wakanda are utter nonsense.
If I were in control of this franchise (something that will never happen), Stacey Abrams, Georgia's real-life superhero championing voting rights, would consult or even be a central character in the concluding chapter of the "Black Panther" trilogy. After all, her convincing loss to the old guard in our state has left her available to pursue new projects. And I'd love to see that fictitious "Black Panther" movie.
But setting aside my narrow focus on the political science at play roiling in the background, "Wakanda Forever" is an undeniable success. And it has a complex and tragic villain at the center that could factor into the MCU heavily moving forward.
From the opening title credits, the roll that includes the name "Marvel" with embedded images of other heroes and films in the canon, we're tenderly reminded of Chadwick Boseman. Possibly the best actor to ever play a Marvel superhero, Boseman died in 2020 from colon cancer. He was but 43 years old.
Boseman's legacy hangs heavy over this movie. And "Wakanda Forever" gives him several emotional moments that respectfully pay homage to his talent and influence. Director Ryan Coogler does almost the impossible; he makes a movie that is a thrilling comic book adaptation while also honoring his friend and collaborator. This feat is nothing short of remarkable. Viewers will likely shed tears.
As to the state of Wakanda, given the vacuum left by the loss of their protector and leader, Queen Ramonda rules with a vocal iron hand. And now that the long-hidden Wakanda has revealed itself, the other nations of the world want a piece of its technology, starting with the rare extraterrestrial metal called Vibranium that powers everything in their country.
The action opens on a deep-sea mining rig. Another source of the sought-after metal is located far away from Wakanda. However, when it is uncovered, its deadly protectors violently lash out. Of course, for various convenient reasons, Wakanda is blamed for the bloodshed.
The not-so-delicate process of negotiating control of Vibranium is clumsily handled in a meeting of what might be the United Nations or something akin to it in the MCU. The Queen enters the proceedings flanked by her armed escort and refuses to share her nation's resources. Her defiance is without logical discussion, and she delivers the kind of angry, finger-wagging speech often associated with authoritarian leaders.
One wonders whether tents were set up outside the UN headquarters for the Queen and her entourage to inhabit. Yes, I had shades of the late Libyan dictator Muammar Gaddafi that time he ran afoul of then real estate baron Donald Trump when Gaddafi attempted to pitch a tent before attending a UN general assembly. Look it up; it's crazy time.
But I digress. The Queen does point out that her nation was attacked by an elite and deadly military squad seeking to seize a store of Vibranium. The French (I believe that's who is responsible) had something to do with it. Blaming the French never gets old. Just ask the British.
So, the Queen returns to Wakanda and convenes other tribal leaders. Could there be another hidden nation that is in possession of Vibranium? It's certainly possible, she's told. After all, a separate meteorite containing the rare and powerful metal could have splashed into the ocean.
It's at this point where "Wakanda Forever" scores. Deep in the ocean, another leader has been disturbed, but this guy ain't playing around. He's Namor (Tenoch Huerta), a superpowered entity who can fly and breathe underwater, and if you mess with him, you get dead.
Namor is a terrific villain. His complex origin story is gripping. However, the way he ages, and the sources of his great power, are a little vague. This uncertainty provides the Wakandan forces with inventive ways to repel his eventual attack. However, the draconian decisions of the Queen and the ruling class are a bit of a headscratcher.
I was left wondering about the Wakandan citizenry. The people are depicted in glimpses as they are killed and ravaged in an ensuing battle on their home soil. Didn't Vibranium give everyone some of its supernatural power? No matter, celebrating a hero from the depths of the Wakandan streets will need to be addressed in a future installment. And I'm hoping that Abrams or an Abrams-like figure is there to be a community organizer.
"Wakanda Forever" does manage to thread the needle and avoid the big political questions in favor of dealing with personal ones. Letitia Wright shines as Shuri, the super-intelligent sister of the late King T'Challa/Black Panther. She blames herself for not being able to keep her brother alive. This haunts her as her nation drifts without a Panther to protect them.
Other characters are not as complex or layered in this tale. Dominique Thorne plays Riri, a gifted MIT student who factors into the search for Vibranium. She's instantly a teenaged Tony Stark without much concrete explanation. She seems destined to get a limited series on Disney+. But the speed at which her skills develop will be hard for some viewers to buy.
And then there's the Wakandan army. In this film, it's almost as if they are but a tiny fighting force instead of the impressive military that helped face down Thanos. The grand battle that marks this movie's climatic finish feels somewhat small, and the decisions are frustrating. Warriors perish, but the ones lost are reminiscent of a red shirt-wearing away team member on an old episode of "Star Trek."
The relatively bloodless battles earn a safe, family-friendly "PG-13" rating, having been scrubbed of much visible carnage. And some fight sequences feel so computer-generated that they lack weight. Still, the ultimate showdown with Namor is terrifying because Huerta manages to infuse some serious pathos into the character. It helps that his origin story is born in a heartfelt tragedy that should resonate. He's a killer with a purpose we can begrudgingly embrace.
"Black Panther: Wakanda Forever" works despite my reservations about its politics. As I said of the first movie, the MCU will need to address its authoritarian tendencies as it moves forward. Absolute monarchies are not the future.