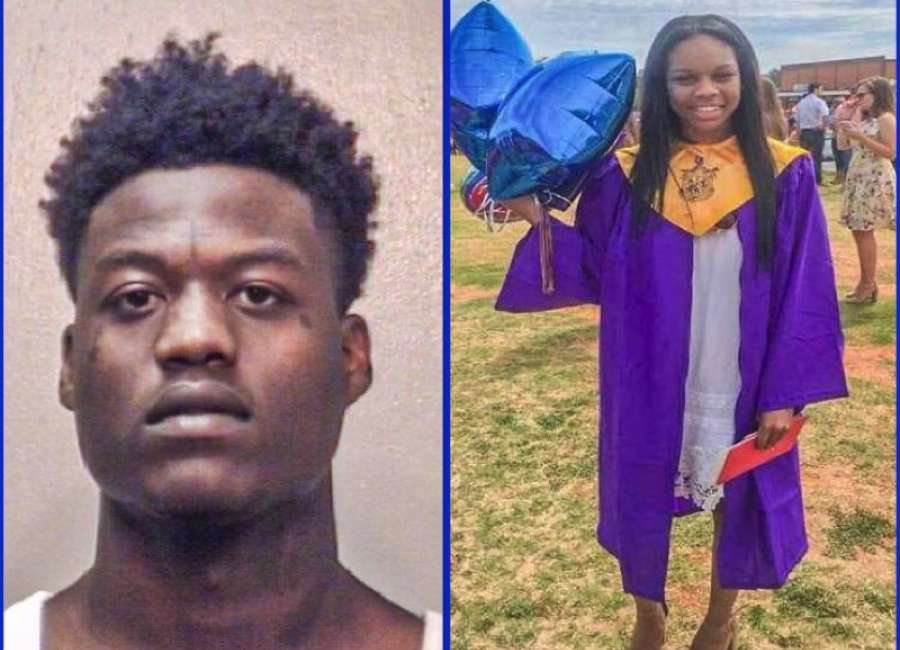 Four years after the brutal murder of a local teenager, the shooter is now heading to prison.

Denarvious Kizavion Carter, aka "Lil' Baby," of Manchester, Georgia, pleaded guilty in the Dec. 30, 2018, murder of Aubria "Bria" Foster.
On Monday, Carter, now 22, was charged with felony murder, six counts of aggravated assault with deadly weapon, one count of possession of a firearm during the commission of a crime and four counts of the violation of the Georgia Street Gang Act.
In a negotiated plea, Superior Court Judge Emory Palmer sentenced Carter to life in prison with the possibility of parole.
Carter was set to stand trial on Nov. 14, 2022.
Deputy Chief Assistant District Attorney Jack Winne prosecuted the case. Newnan Police Department Sergeant Vic McPhie and Lieutenant Greg Vansant were the lead investigators.
Foster was 19 when she was killed in a drive-by shooting while visiting a friend on Savannah Street in Newnan. One bullet entered through the exterior wall, striking Foster in the left upper back and shoulder area.
Multiple shell casings were located in the street, along with multiple bullet holes in the residence.
Foster was alive when police arrived at the scene, and officers performed CPR until emergency medical personnel arrived. Foster was transported to Piedmont Newnan Hospital, where she later died.
During their initial investigation, detectives determined several gunshots were fired at the residence from outside.
Five other victims occupied the residence at the time of the shooting but were not hit.
Carter was determined to be a member of a set of the "G-Shine" Bloods (aka the "Gangster Killer Bloods"), a criminal street gang out of Manchester.
According to District Attorney Herb Cranford Jr., on June 3, 2018, a higher ranking G-Shine member had planned to purchase a gun from another person from Newnan at an apartment complex in Manchester.
Carter was present alongside the higher ranking member for the would-be deal, which fell through and resulted in a verbal altercation.
Later, all parties present drove to another location in Manchester, where Carter fired shots at the other party. Later that evening, the higher ranking member's mother's house in Manchester was shot numerous times.
His elderly mother was in the home at the time of the shooting but was not hit. After that shooting, Carter and other G-Shine Bloods in Manchester believed the party from Newnan was responsible for that shooting and believed that he resided on Savannah Street in Newnan.
On Dec. 30, 2018, acting without order, approval or authorization from higher ups in the gang — but instead with an intent to increase his own status in the gang — Carter set out to retaliate for the June shooting at the elderly woman's house.
The investigation, including Facebook messages from Carter's account in the hours leading up to the murder, revealed Carter reached out to the leader of the set to borrow a firearm to "handle sum business (sic)," referring in another message to the people he believed were responsible for the prior shooting.
Other Facebook messages from that evening revealed Carter reached out to another G-Shine member, Eric J. Snelling, aka "E-Rokk," for a gun and messages to Snelling indicated Carter was coming to Newnan.
Carter eventually procured a vehicle and drove to Newnan with another individual, Malindzo Hatcher, who was not associated with the gang, and went to Snelling's house, which was one street over from the target house on Savannah Street. Snelling drove at Carter's direction, and Carter perpetrated the drive-by shooting from the passenger's seat.
On Nov. 3, 2022, Snelling pleaded guilty to six counts of aggravated assault with a deadly weapon, four firearm counts and two violations of the Georgia Street Gang Terrorism and Prevention Act, agreeing to cooperate and testify truthfully against Carter in exchange for a sentence of 40 years with 15 years to serve in prison. He is yet to be sentenced.
On Nov. 8, 2022, for his role, Hatcher pleaded guilty to tampering with evidence and hindering the apprehension of a criminal, receiving a sentence of 20 years with 10 years to serve in prison, also conditioned upon cooperation and truthful testimony.
Cranford said both Foster and Carter present opposing examples of life choices and yet each of their lives has been ruined by Carter's choice to act violently in an effort to increase his status in his criminal street gang.
"While both were young, 19 years old and 18 years old, respectively, at the time of this murder, Bria was a high school graduate, was taking college classes and was actively involved in her church, especially through their dance ministry," Cranford said.
"Carter, on the other hand, dropped out of high school, chose a life of gang violence and bragged in messages to his fellow gang members about his desire to increase the Violent Crime Index in Meriwether County," he continued. "It is telling and illustrative of the realities of criminal gang association that no one attended Carter's guilty plea while over 20 members of Bria's family attended to see him be held accountable."
Foster's grandmother, Sharon Foster-Wilkes, said the family feels vindicated in the sentencing, and they're grateful for the closure in this terrible chapter of their lives.
"To have the main one who pulled the trigger sentenced means a lot," she said. "It allows us to breathe, knowing they're not back out there to do it to someone else."
"It's taken four years to bring those guilty to justice for having done this terrible tragedy. While it gave our family some satisfaction knowing that Bria was not their target, the dissatisfaction and anger remain that someone so innocent ended up at the hands of someone who took her life away," she said. "All we have left is a marker, a grave and the memories. To have them behind bars, to hear them plead guilty, that means a lot."