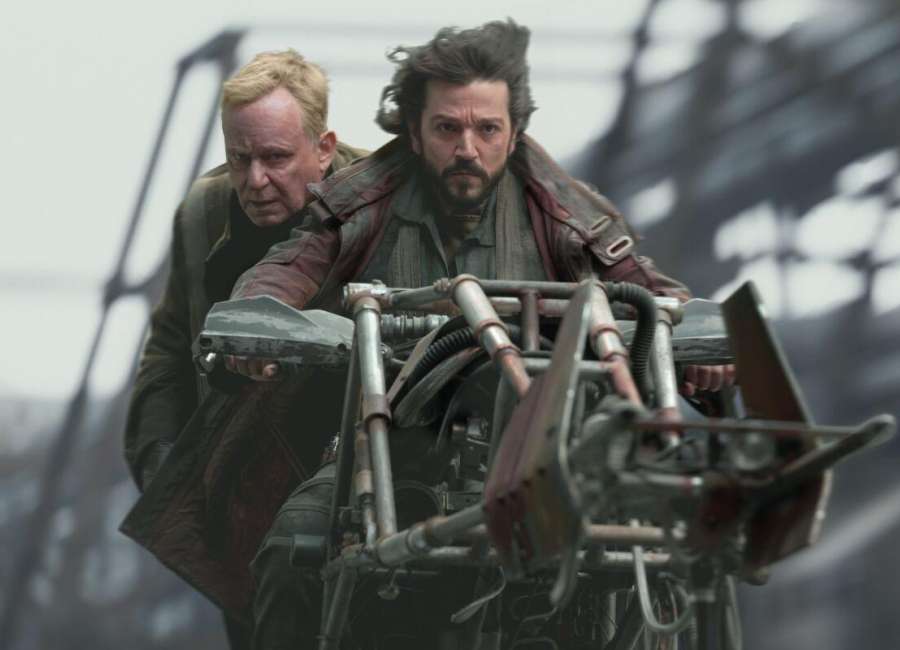 Review By: Jonathan W. Hickman
Series Details:
Creator: Tony Gilroy
Cast: Diego Luna, Stellan Skarsgård, Genevieve O'Reilly, Kyle Soller, Denise Gough, Anton Lesser, Adria Arjona, Varada Sethu, and Andy Serkis
12 episodes running through November 23
Streaming now on Disney+
While recently scanning various postings on Twitter, I noticed a fellow film critic comment on a report that Elon Musk informed Twitter employees that nothing, even bankruptcy, is off the table. Musk's tumultuous takeover of Twitter is like something out of the "Star Wars" universe. And his apparent faltering command of company priorities is reminiscent of Disney's struggles to find a proper way forward for the "Star Wars" franchise.
Of course, it occurred to me how much the often-unhinged billionaire resembled a cold, calculating, and maniacal leader of the Empire. All that's missing are alterations to his wardrobe—a brown shirt, one of those little black caps, and a high-tech cattle prod.
Despite missteps marked by many franchise lows ("The Rise of Skywalker" will forever haunt fans), the series "Andor" proves that Disney is figuring it out. And this show could tell even Elon Musk a great deal about the consequences of too much negative reinforcement. Push too much, and a rebellion is all but inevitable.
"Andor" follows the adventures of Cassian Andor (Diego Luna), the clever thief who assisted Jyn Erso (Felicity Jones) in procuring the plans for the Death Star in 2016's "Rogue One: A Star Wars Story." That arguably underappreciated movie is growing in stature as "Andor" expands the mythology. While it helps that you see "Rogue One" before watching "Andor," it isn't required. And watching "Rogue One" after completing "Andor" (which winds up later this month) will deepen your understanding of the character's place in the overarching franchise.
The "Andor" story takes place prior to the events of "Rogue One." Andor is a lower-level thief living in obscurity, pulling jobs for money while seeking incremental revenge. When an operation turns sour, he comes to the attention of corporate security in the employ of the Empire. But it's not just the Empire that is interested in his particular set of skills.
A shadowy mercenary named Luthen Rael (a perfect Stellan Skarsgård) recruits Andor for a dangerous heist. While Rael's motivations are mysterious, he's not driven purely by money. Rael appeals to Andor's quest for revenge against the Empire as well as his pocketbook.
Andor's journey is complex and engaging. After escaping his planet, he travels into space with Rael, who delivers him to rebels prepping for a heist. These episodes will test Andor's resolve and reveal his innate, sometimes awkward, ability to avoid capture. Of course, Andor can't stay one step ahead of the ruling power for too long; the forces of evil lurk around every corner.
I was not prepared for how deeply "Andor" would affect me. Sure, I remember seeing the original "Star Wars" in the late 1970s in the theater, literally down the street from my current home. On the veranda of my residence, there is a single row of theater seats taken from that same movie house that now serves a popular local watering hole and nightclub.
So, because "Star Wars" was an essential part of my cinematic upbringing, you can imagine my disillusionment as Disney seemed to falter in properly building on the franchise's potential. While "The Mandalorian" received a gold star from almost everyone, it was primarily an outlier, and I couldn't complete the cutesy insincerity of "Obi-Wan Kenobi." The clunkiness of "The Book of Boba Fett" was tough to get through.
But "Andor" is different. And the primary reason is the writing. Series creator Tony Gilroy (the two-time Oscar nominee for writing and directing 2007's "Michael Clayton") has the right feel for the material and a respect for the sophistication of the "Star Wars" audience. After all, he was the screenwriter of "Rogue One," and Disney smartly embraced his continuing vision.
Gilroy partners with other writers, including his talented brother Dan Gilroy (see the excellent 2014 film "Nightcrawler"), to construct a very detailed and mature narrative arc for various players in this tragedy. The dialogue is sharp and engaging, avoiding the simplistic trappings associated with George Lucas' toothless prequels and J.J. Abrams' nearly franchise killing "The Rise of Skywalker." "Andor" feels very much like it was written for adults.
While Andor's origin story plays out, we get political machinations involving a galactic senator named Mon Mathma (Genevieve O'Reilly). The clinical diplomatic battles and secret financial maneuverings of the universe contrast perfectly with Andor's hard-scrabble existence. The two worlds are far removed from one another but should converge by the series' end.
And Mathma's passage through the levers of power is like something from the "Game of Thrones." Through episode 11, her place in this epic tale is beginning to come fully into focus. The aspect of money and power on display is so intelligent that it defies almost anything ever explored in a "Star Wars" project.
And episode 11, titled "One Way Out," which dropped on Disney+ this week, is one of the most thrilling of the series. Marooned in a prison surrounded by an ocean, Cassian must enlist the help of fellow inmate Kino Loy (a gritty Andy Serkis) to stage a prison break. The prison, which doubles as a manufacturing plant, is a fortress, but Cassian is very resourceful.
"Andor" should work well for die-hard fans and those merely looking for a good way to start their modern "Star Wars" journey. By combining excellent writing with top-tier acting talent, Disney looks to chart a new, improved path for the "Star Wars" franchise. And Elon Musk should tune in.