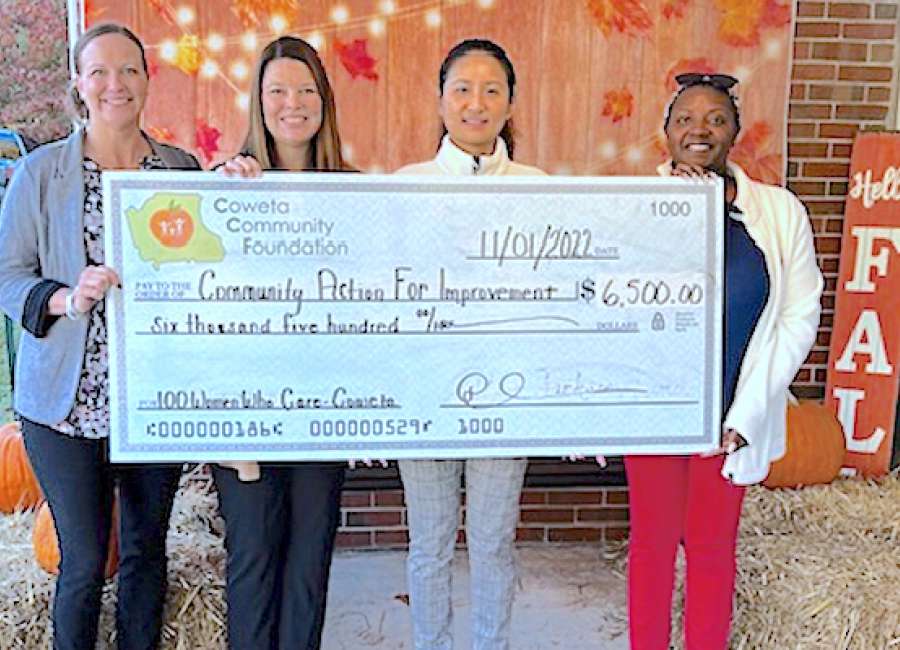 In the run-up to Giving Tuesday, 100 Women Who Care Coweta County has awarded its fourth-quarter grant of $6,500 to Community Action for Improvement, which will use the funds for CAFI's new playground.

Since 2018, the grassroots organization – which was launched under the auspices of the Coweta Community Foundation in 2016 – has awarded some $115,500 in grants to local nonprofits.
Over the past six years, the group has also awarded grants to One Roof Ecumenical
Alliance Outreach, Newnan-Coweta Angel's House, Meals on Wheels of Coweta, Christian City Inc., Hope Global Initiative, Coweta Ferst Foundation, Southern Arc Dance Theater,
ChildrenConnect Museum and Newnan City Church NEST.
"We're so grateful to 100 Women Who Care for being leaders and community advocates in Coweta," said CCF Executive Director Kristin Webb. "These women lead the way in encouraging philanthropy here in Coweta County, and right now, they're also accepting new
members. With holiday giving and Giving Tuesday on everyone's minds, it's a great time for new members to join and make charitable giving one of their goals for 2023."
Spearheaded by the Foundation's 2015 Woman of the Year, Newnan attorney Leah Sumner, 100 Women Who Care Coweta County was first announced at the Foundation's Power
of the Purse event in 2016. The concept was for 100 women to come together and each choose a personal container in which to place one dollar daily as a reminder that by giving a little each
day, the women can ultimately make a difference in the community.
The group is currently accepting applications for new members. Those interested in joining may visit www.cowetafoundation.org/100-women/ .
Members are eligible to nominate a charitable need for consideration, and the nomination
must be made at one of the group's quarterly meetings. Only members can nominate a potential recipient or speak at the meeting about the organization or need.
The 100 Women Who Care Coweta County organization operates as a project of the Coweta Community Foundation Inc. All contributions are tax-deductible, and except for the $25 registration fee, all contributions go directly to benefit a local charitable need.
The Giving Tuesday campaign was created in 2012 as a simple idea: a day that
encourages people to do good. Over the last decade, this idea has grown into a global movement that inspires millions of people to give, collaborate and celebrate generosity. ⁠This year, the Coweta Community Foundation is celebrating its 25th anniversary and is encouraging gifts of $25 on Giving Tuesday.
"For over 25 years, we have been where local good grows, working side by side with people and organizations as a catalyst for positive change," Webb said.
To make a donation, visit https://cowetacf.fcsuite.com/erp/donate/list/event?event_date_id=1963 .
For more information about the Coweta Community Foundation, please visit www.cowetafoundation.org .