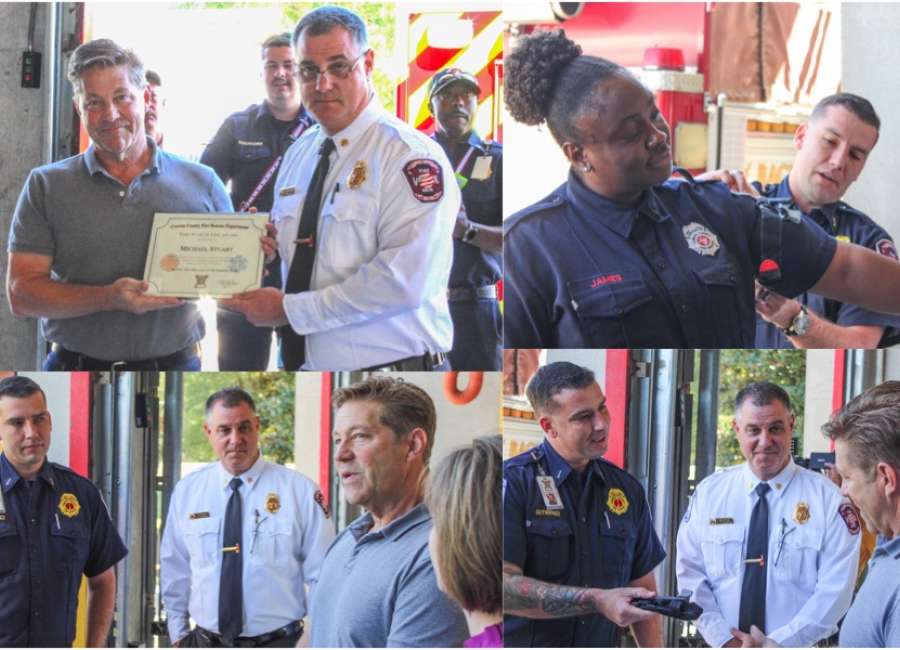 A Coweta County resident is alive and recovering today because of the actions of Michael Stuart, an area man who stepped in after a nearby man was crushed between two vehicles.

For his actions, the Coweta County Fire and Rescue Department and Chief Robby Flanagan awarded Stuart with the Star of Life award at the fire station in Turin.
The accident happened on Sept. 8 around 8 a.m., Flanagan said.
"We received a call that was dispatched to a traumatic injury, just on the street," Flanagan said. "This traumatic injury involved a worker that was standing behind a vehicle, and another vehicle ran into the back of him, trapping the person in between, amputating his leg right above the knee."
Flanagan said that Stuart sprung into action, applying an improvised tourniquet to control the bleeding until paramedics from Coweta County Fire and Rescue were able to arrive and conduct their trauma protocol.
The victim was airlifted to a trauma center in Atlanta.
"Your actions the other day gave us the time to provide care and save somebody's life," Flanagan said. "It was the teamwork of the citizen that went above and beyond their normal citizenship that they would do to provide care for that person, not knowing where or whom, it didn't matter, but controlled that bleeding until our team was able to get there and provide aid to continue to save this person's life."
Also on hand were representatives from Battalion 2 and Engine 3, who responded to the incident.
"I just want to say thank you to everyone," Stuart said. "These are the ones that deserve this. If you guys do it every day, and after one time, I can only imagine what this is like in your life to have to live this on a constant basis."
Stuart said he was grateful that God put him in that position at that time to help save the person's life.
Flanagan said it was a reflection on the Coweta County community.
"It is great to see," Flanagan said. "With several calls that have gone on lately, we've seen this more and more with our community. We recognize that the community support we have in Coweta County is far greater than a lot of places, and we're lucky to have it."
Flanagan said they take their relationship to the community very seriously.
"We want them to come by the fire stations and visit," Flanagan said. "We go out and do P.R. events. That's what builds this relationship for things like this to happen today. This ordinary citizen took the time, and everyone always asks what they would do in that situation; they took the time to act, and it made a difference in saving someone's life."
The best outcome from the worst case scenario
Making the situation more difficult was the fact that every ambulance in the area was tied up with other calls at the time.
Paramedics discussed the situation with Stuart on Friday, saying that when the incident happened, it was a perfect storm of circumstances that led to the accident.
"It's just a chain of events, it had to have been that time of the day," one paramedic said. "The sun would have never been in that guy's eyes, that guy was standing right where he did, the truck he was in sits higher in the rear, the car sits lower, so it kind of went under and did a scissoring. It was a very unfortunate chain of events that happened."
On top of that, it happened on top of a shift change, with one paramedic saying it was just like "Murphy's Law."
"The ambulance that's out of this station was on another call," another paramedic said. "The second closest was on another call. The third closest was on another call. The fourth closest was on another call."
The fifth-closest ambulance was in Moreland, 20 minutes away, and responded to the incident.
"Every ambulance on the east side of the county was on a call," one paramedic said. "We had a cardiac arrest, two car wrecks, another motorcycle wreck down on 16 at the roundabout, a cardiac arrest, and all this was dispatched in a period of 10 minutes."
There was probably something that delayed Stuart beforehand that possibly put him where he needed to do to save the man's life that day.
"About 45 minutes before that, I had a friend of mine, we were supposed to go walking, but he wasn't feeling too well," Stuart said. "He said he'd just stay here, but I noticed it was 8 a.m., people were going to work but there was no one else coming up."
Stuart said the accident happened three lots away from his house.
An accident leads to new friendships
In the aftermath of the accident, Stuart said that he had been in contact with both the victim, a friend of the victim and the other person involved in the incident. Fortunately, it appears as if the victim remains in good spirits even after the accident that cost him his leg.
"I've been in constant contact with a buddy of his," Stuart said. "He's in good spirits, he's already talking about getting back out and working that Bobcat with only one leg, he said, and he thinks he can do it. He's looking forward to healing up."
On the other end, Stuart said the family of the other person involved in the accident said they feel awful about what happened.
"We went and took dinner to the family of the man that hit the gentleman, and got to know them a bit. They're just devastated. It was one of those things where I don't care what skill level you have, that sun on that street is just horrendous. You can't see anything. They're devastated that it happened. They're looking forward to being able to meet him as well and offer their apologies," Stuart said.
"What's neat about this is they've built a relationship and still talk, and they check on each other. Hopefully he has a full recovery as possible and gets back in action and heals quickly," Flanagan said.