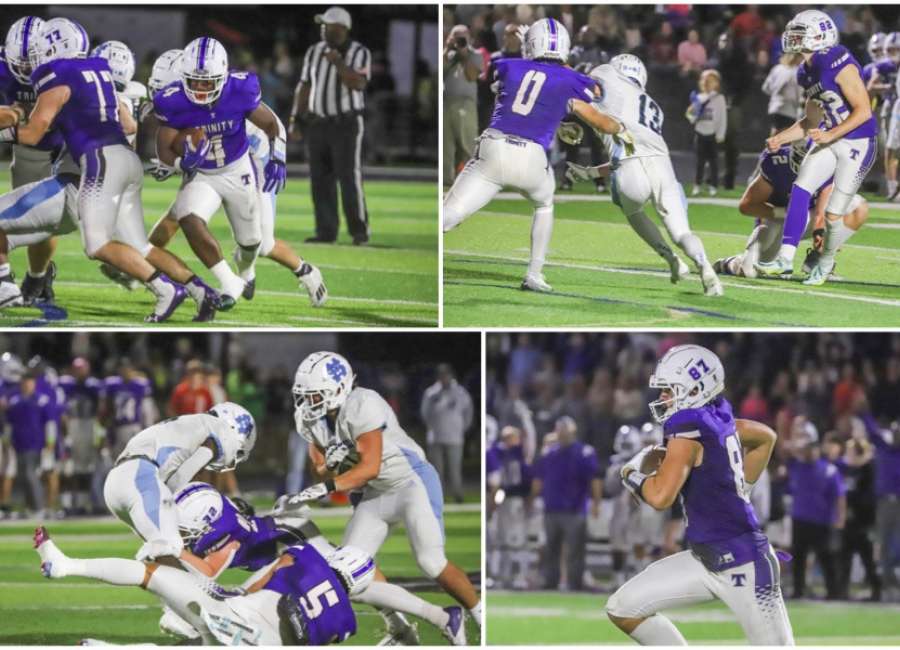 Trinity Christian Head Football Coach Kenny Dallas has always joked that a perfect game to him would be a 2-0 victory with the only points resulting from a defensive safety.
He almost got his wish when the Lions defeated the Starr's Mill Panthers 3-0 in a game that was a defensive masterpiece.

The Lions got all the offense they needed on the first play of the fourth quarter when kicker Luke Schwarting drilled a 21-yard field goal. It was just the second game for Schwarting, who earned the position after an injury earlier in the season.
While all 10 games on the Trinity Christian schedule are important, this one had extra significance. The two schools are only eight miles apart and are fighting for a sport in the state playoffs from region 4-4A.
Built around precision and efficiency, the Panthers option offense routinely puts up 300-yard rushing a game and controls the time-of-possession battle. The Lions defense, led by defensive coordinator Roby Ross, had other ideas.
The Lions defensive front dominated from start to finish and never gave the Panthers a chance to get on track. Cam Matthews blew up multiple from his nose tackle position and disrupted the point of attack throughout the game.
Another key to the contest was field position. Trinity Christan punter Joshua Taylor consistently put his kicks 10 to 15 yards deeper than his Panther counterpart, and those dividends paid off on the Lions' scoring drive.
Coach Dallas said of his punter, "He consistently hits punts when they are most needed. To me, the definition of a great player is to be great in moments when you need them. My respect for him has grown tremendously during the year, not just as a punter."
The Panthers started their final possession of the night with four minutes remaining. Needing a touchdown, they put back-to-back first downs together to create some offensive momentum for the first time of the night. Matthews changed all that in one play when he recorded a 23-yard sack.
A few moments later, Taylor intercepted a last-chance Panthers pass, and quarterback Henry Brodnax was able to run the clock out for the victory.
It was the second time the Lions have had an all-call for a kicker in three years. In 2020, Nauh Maupin missed a game, and Coach Dallas brought Ty Kopca in for a critical game against Brookstone.
Coach Dallas shared, "Luke Schwarting was a guy who came to me and said, Coach, I think I could kick for you. And I would also love to give props to Chris Hanson, our special teams coordinator. Chris punted in the NFL for 11 years. We have an unbelievable dude who's working with those guys."
While the offense did not produce a touchdown, they controlled the clock, did not turn the ball over and did enough to win. Quarterback Henry Brodnax completed 10 passes for 85 yards and led the Lions in rushing with 68 yards on six carries.
Additionally, Coach Dallas recognized a player that did not even get a chance to play in the game, Aaron Gates. Coach Dallas said, "Even though he cannot play, he is still coaching the kids. Omari (Stewart) is playing well because Aaron is coaching his butt off."
With the win, the Lions remain tied for first place in the region with the Troup County Tigers. Every game is a dogfight for the Lions, and this week will be no different. Trinity Christian will travel to Fayetteville to play the Whitewater Wildcats in another critical game.
To Coach Dallas, the plan is simple. "I do not want my kids afraid to lose. I want them to be afraid of not taking their shot at life. And so we take our shot, and if we lose, we shake our opponents' hands and get our butts back to work for the next year and take our shot again. But what I do not want them to do is walk around with a whole bunch of regret."
For the defending Class A-State Champion Lions, there is no regret, only the next challenge.